Jerome L. Greene Science Center
The Jerome L. Greene Science Center was conceived as a place for human connection, intellectual excellence and pioneering research that cuts across traditional academic boundaries. Home to Columbia's Mortimer B. Zuckerman Mind Brain Behavior Institute, it is a hub that brings together faculty and students from across Columbia University, scholars from around the world and members of the local community.
Mortimer B. Zuckerman Mind Brain Behavior Institute
The Zuckerman Institute brings together a constellation of neuroscientists, engineers, statisticians, psychologists and other scholars from across Columbia University who collaborate on research, teaching and public programming. A deeper understanding of the brain promises to transform human health and society. From effective treatments for disorders like Alzheimer's, Parkinson's, depression and autism, to advances in fields as fundamental as computer science, economics, law, the arts and social policy, the potential impact for humanity is enormous.
Community Programs and Dining at Jerome Greene
Designed to serve both the campus and local community, the building's ground floor houses restaurant and retail options, as well as public events and interactive installations that engage people of all ages in the wonders of brain science.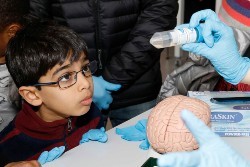 Designed with feedback from the community, the Zuckerman Education Lab is open year-round and hosts a variety of hands-on brain science programs. These programs harness the groundbreaking research of the Institute in creative ways for school children, families, after-school groups and adults. Two of the Education Lab's programs are Saturday Science and STEM Starters. 
In addition to the Education Lab, the Zuckerman Institute offers a wide range of programming, for children, youth, adults, and educators. Those programs include BRAINYAC summer lab internships for high school students, Girls Who Code Club, and BrainSTEM lesson plans and activities.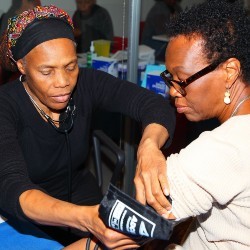 The Community Wellness Center provides education and resources to empower people in making healthy lifestyle adjustments. Services provided by the Wellness Center include health insurance enrollment, healthcare referrals, blood pressure and cholesterol screenings, mental health first aid, and stroke prevention training. They also offer workshops on a variety of health and wellness topics.
Dear Mama's second location is a flagship venue across 5,000 square feet of indoor and outdoor space: coffee & cocktail bar, live music, full restaurant and mezzanine lounge with beautiful sunset views. In addition to coffee and espresso drinks, Dear Mama offers a food menu with a selection of freshly-baked croissants and cookies with seasonally-inspired sandwiches, soups, salads, and more.
Acclaimed chef, author, autism activist and TV personality, Franklin Becker, has assembled some of the best culinary talent to create Manhattanville Market. You can check out all of the food offerings here. 

Chef Franklin Becker brings authentic Spanish tapas to Harlem in a vibrant open space for all.
Established in 2010, Vital Climbing is a family of rock climbing gyms in Manhattan, Brooklyn, and across the country. The location in the Jerome L. Greene Science Center offers classes for adults and youth in bouldering and other strength training, after-school programming, and parties and events. 
Sustainability & Development
The nine-story, 450,000-square-foot structure is the largest that Columbia has ever built and the biggest academic science building in New York City. The building was made possible by a gift from the late Dawn M. Greene (HON '80) and the Jerome L. Greene Foundation in memory of Jerome L. Greene (CC '26, LAW '28). The Zuckerman Institute was established through a gift from New York philanthropist and business leader Mortimer B. Zuckerman. Designed by Pritzker Prize-winning architect Renzo Piano Building Workshop with Davis Brody Bond, LLP, as executive architect and Body Lawson Associates, a Harlem-based certified Minority Business Enterprise (MBE), as associate architect, the Greene Science Center creates innovative spaces that fuel a collision of ideas. Find an in-depth description (PDF) of the Jerome L. Greene Science Center's architecture and of the design and construction teams.
Through the building's design, Columbia University sought to ensure that the Jerome L. Greene Science Center would be a model of sustainable urban design. Read more about sustainability on the Manhattanville campus.