Sustainability
A core value of both the Manhattanville campus plan and the design of each new building is environmental sustainability. From the materials employed to the creative use of natural light and air flow, the result has been an award-winning approach to maximizing energy efficiency and limiting carbon emissions.
U.S. Green Building Council Designation
The Jerome L. Greene Science Center and Lenfest Center for the Arts—the first two new building constructed at Columbia's Manhattanville campus—have been awarded LEED® Gold certification from the U.S. Green Building Council (USGBC) under the New Construction rating system. Columbia achieved the Gold certification through a broad spectrum of strategies, from leveraging site advantages to innovative designs to reducing energy demand, using sustainable construction techniques, selecting sustainable materials and more.
The campus's environmentally sustainable design and overall project plan achieved Stage 1 LEED Platinum certification under the U.S. Green Building Council's Neighborhood Development pilot rating system—the highest designation in the rating system. It is the first such award in New York City and the first given to a campus plan anywhere in the United States.
Strengths of the Manhattanville campus plan include proximity to mass transit; planned mixed uses including arts, community, academic, retail and residential; open neighborhood access; open space; pedestrian-friendly streets and sidewalks; and a commitment to best practices in clean, low-emission construction. 

Energy Efficiency
A centralized energy plant beneath the campus is far more energy efficient than the traditional approach, which requires boilers and stacks for each building. It is a single, central location that provides chilled water, high pressure steam and normal electric power service across the Manhattanville campus. Located below the Jerome L. Greene Science Center and the Lenfest Center for the Arts, the central energy facility includes a refrigeration plant, high-efficiency dual fuel-fired (oil and natural gas) boiler plant, normal electric power service from Con Edison, a robust emergency/standby/diesel generator plant and associated support and advanced control systems.
Clean and Quiet Construction
Columbia is a participant in the New York Building Foundation's Construction for a Livable City (CLC) program to manage construction sites more effectively, improve relationships with the surrounding community and share key information regarding innovative techniques such as the Manhattanville clean construction program. 
Construction in an urban environment can be disruptive. Columbia's pioneering partnership with Environmental Defense Fund led to the use of the most cutting-edge clean construction techniques that ensured the lowest possible emissions of carbon dust, sound and vibrations in the construction process. 
On site, we allow only the latest EPA-approved diesel engine equipment or recent models with approved retrofits to minimize pollution emissions.  Every truck that leaves the site must have its wheels and undercarriage washed so it doesn't take dust out into the city streets. 
Noise reduction measures include:
New and less noisy equipment
Ambient sensitive, self-adjusting back-up alarms
Equipment mufflers
Cantilevered construction fence covered in noise-mitigating blankets
Portable noise barriers
In announcing Columbia's issuing of $50 million in green bonds to fund construction of the Jerome L. Greene Science Center, New York State Governor Andrew Cuomo called the construction of the building an example of "how the public and private sectors can work together to promote a cleaner and greener tomorrow."
Other efforts have included recycling more than 90 percent of building materials from demolition, training community members in green construction skills, improving infrastructure to reduce wastewater overflow into the Hudson River by an estimated 1.5 million gallons per year and salvaging 40,000 square feet of long leaf pine, with a portion of the wood returned to Manhattanville and Morningside campuses.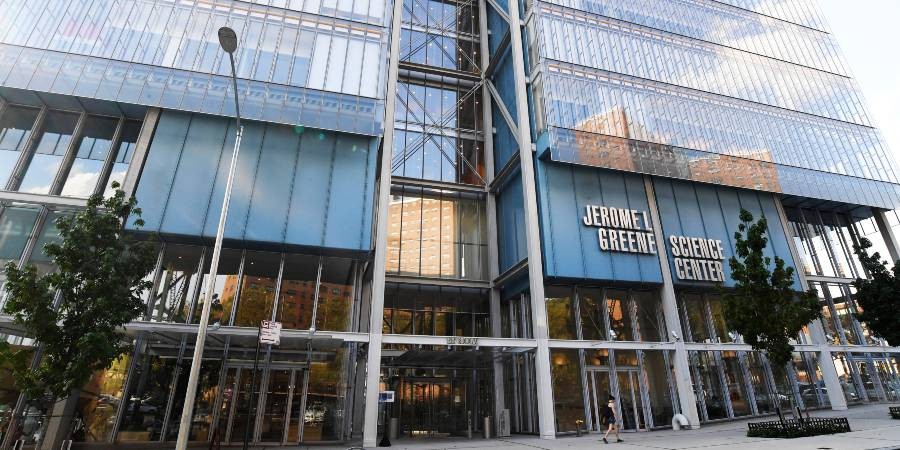 In the Jerome L. Greene Science Center
Through the building's design, Columbia University sought to ensure that the Jerome L. Greene Science Center would be a model of sustainable urban design. Unique elements of the Greene Science Center's design will set a new standard for sustainable technology.
High-reflective "cool roof" materials protect against the urban heat island effect and reduce greenhouse gas emissions.
Solar sensors on the roof work continuously to raise or lower perimeter shades for maximum heating or cooling efficiency.
Intuitive lighting controls regulate internal brightness to maximize natural light flow in the workspace and conserve energy.
A double-skin aluminum and glass façade system creates a high-performance envelope that acts as an insulation blanket to help keep the building warm in the winter and cool in the summer.
Maximizing select products from local and regional manufacturers within 500 miles of the project site and using recycled building materials reduced waste and minimized the University's carbon footprint.