The Forum
The Forum, located on the corner of 125th Street and Broadway, is a unique community gathering space that serves as the gateway to Columbia University's developing Manhattanville campus. Open to the entire university as well as the local New York City community, The Forum is a multi-use venue that houses a state-of-the-art auditorium, meeting and event spaces, and communal work areas. 
Since its opening in September 2018, The Forum has hosted a variety of events, drawing together neighborhood residents, students and faculty from across disciplines, and academic visitors and distinguished guests from around the world. From Manhattanville Community Days to World Leaders Forum events, The Forum is proud to support a wide range of programs that aim to bring local and global challenges into conversation.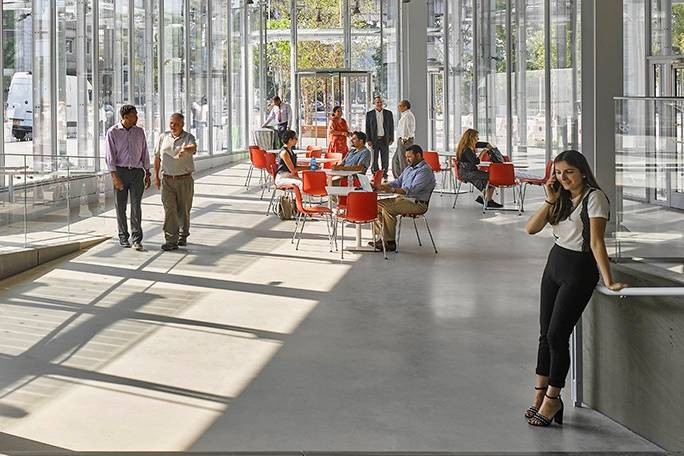 Open to the Community
The Forum's ground floor Atrium is a gathering space open to the public seven days a week from 8:00 a.m. to 8:00 p.m. (except University holidays).* With ample seating, tech tables for charging devices, and free WiFi, the Atrium is ideal for those needing a place to work, study, or meet a friend over a cup of coffee. 
The Atrium often hosts mini lectures, musical performances and art installations open to the public, and has served as a Covid-19 vaccine pop-up site and an Early Voting polling location. Throughout the year, The Forum joins with other Manhattanville-based Columbia departments to host Community Days, which fill the campus and The Forum with a diverse selection of family-oriented programs for Columbia neighbors.
Multipurpose Meeting Space
The Forum rental spaces include a conference auditorium, with a capacity of 438 people; an adjoining foyer, which can accommodate up to 176 people; and four meeting rooms, ranging in size from a small conference room for 10 to a large meeting room that holds up to 55 people. Each of these rooms includes or can accommodate state-of-the-art technology. For an overview of The Forum's rental rates and occupancy details by room, please click here. 
A Community of Scholars and Changemakers
In addition to serving as the university's premier event venue, The Forum is home to Columbia World Projects (CWP) and the Obama Foundation Scholars Program, whose participants utilize office and meeting space in the building. Launched in 2017, Columbia World Projects mobilizes the university's researchers and scholars to work with governments, organizations, businesses and communities to tackle global challenges.  
The Forum also is home to the student affairs division of Columbia's Climate School. Launched in 2021 as the university's first new school in 25 years, the Climate School's mission is to develop and inspire knowledge-based solutions and to educate future leaders for just and prosperous societies on a healthy planet.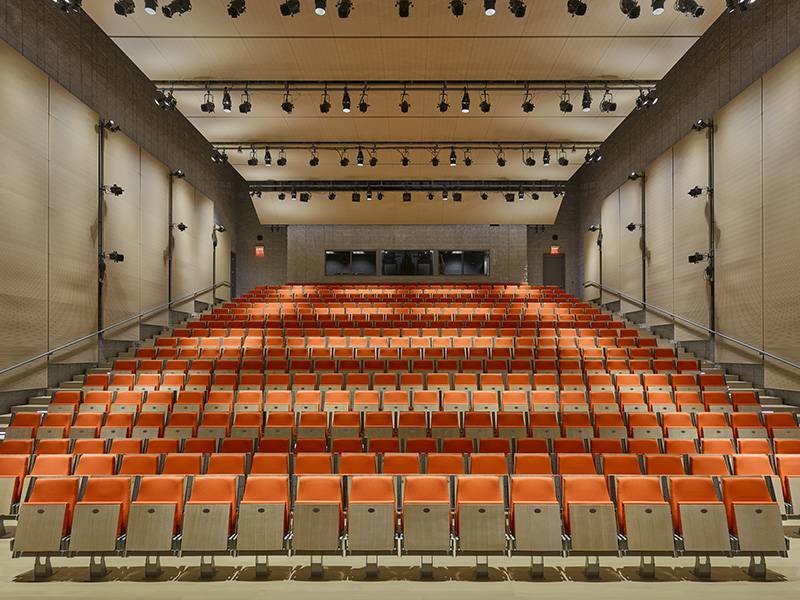 Sustainable Design
A core value of The Forum and of the Manhattanville campus is environmental sustainability, which Columbia is committed to as part of its Sustainability Plan. From the building materials to the creative incorporation of natural light and airflow throughout The Forum, the result of this commitment to sustainability is an award-winning approach to maximizing energy efficiency and limiting carbon emissions.
The Forum, awarded LEED Gold for its sustainable design, was designed by Renzo Piano Building Workshop, with Dattner Architects as executive architect and Caples Jefferson Architects, a certified Minority Business Enterprise, as associate architect.  The Forum was recognized by the Municipal Art Society of New York with the 2019 Best New Building Award and by AIA New York with a 2019 Merit Award for prestigious architecture.