600 W. 125th Street
Columbia University is constructing a new 34-story building to house graduate students and faculty members on the southwest corner of 125th Street and Broadway. The new building will be comprised of approximately 182,000 square feet and include 142 apartments and 5,000 square feet of retail space on the ground level, which will be occupied by returning lessee, McDonald's.
Open Ground Floor
The project follows the design, construction and sustainability principles established for the Manhattanville campus across the street. It aims to enhance the human-scale experience with active ground floor retail use, transparent storefront façade that promotes safety and connectivity at the urban layer, and slender building volume that provides for light and air with its generous setbacks.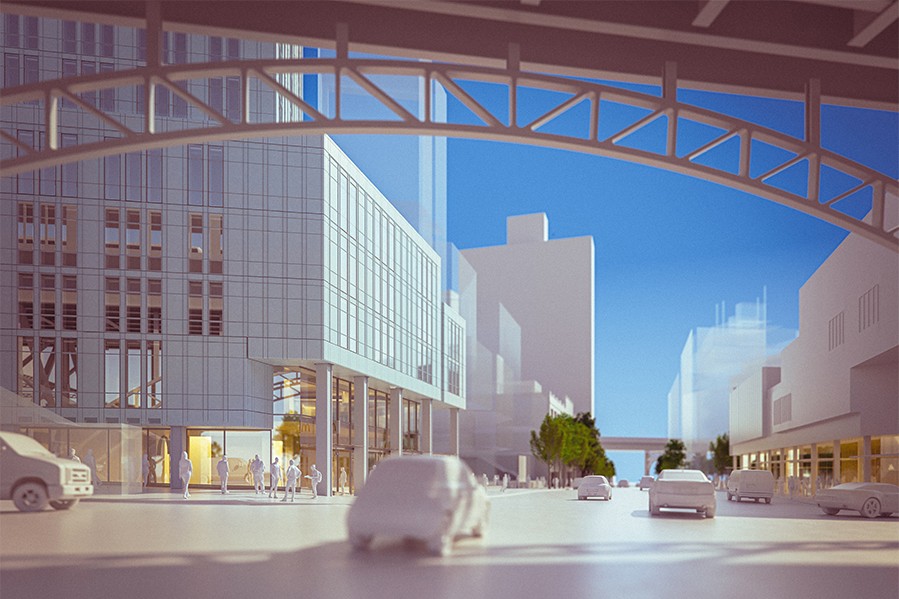 Design and Sustainability
600 W. 125th Street was designed by Renzo Piano Building Workshop with CetraRuddy Architecture as the Executive Architect.  The project is currently tracking certification of LEED v4.0 Gold, with notable sustainability features including a high-performance façade, optimized equipment efficiency, limited gas usage to achieve long-term carbon emissions reductions, enhanced Clean Construction program, vegetated roofs, stormwater detention, and wellness considerations.  In addition, the project is pursuing Fitwel Version 2.1 Multifamily rating, with a target of 2 stars. Fitwel is a building certification that supports healthier building environments to help improve occupant health and productivity.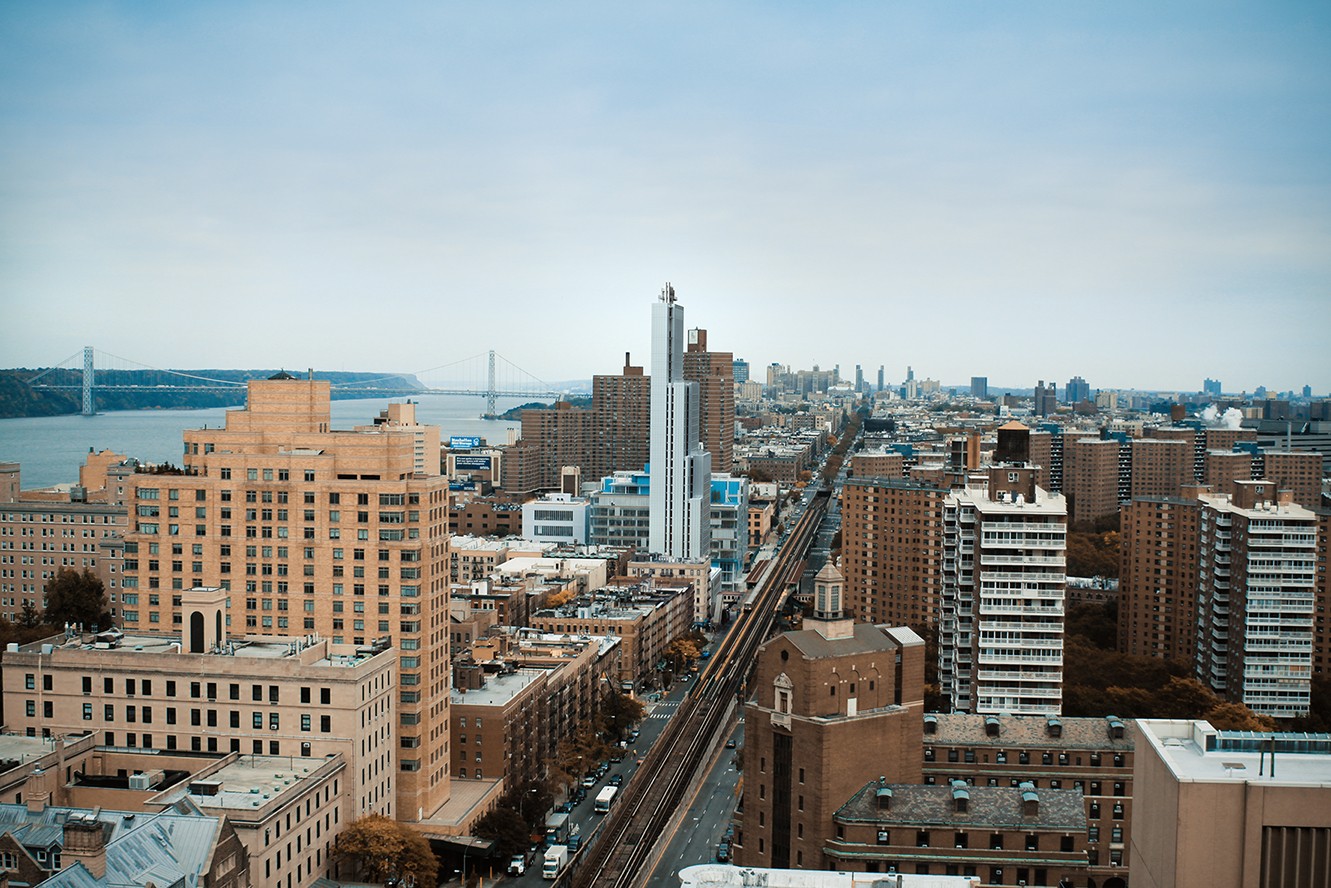 Frequently Asked Questions
The project started in Spring 2021 with excavation and foundation work, followed by reinforced concrete superstructure construction and curtain wall installation. Construction is expected to be completed in 2024. 
Excavation / Foundation – approximately six months
Superstructure – approximately six months
Curtainwall – approximately ten months
Interior Fit Out – approximately 17 months (includes mechanical, electrical, and plumbing riser and branch work, elevator installation, interior layouts, ceiling and wall installation, and interior finishes.)
NOTE: The construction timeline is an estimate only.  The timeline is subject to change due to weather, field conditions and other external factors.
Anticipated construction hours are Monday through Friday from 7:00 a.m. to 6:00 p.m., in accordance with New York City permits, with hours adjusted within that window depending on the construction activity. Some work may be performed on weekends from 9:00 a.m. to 3:00 p.m. and after hours in accordance with all necessary permits. Note that contractors may mobilize on site approximately 30 to 45 minutes before work commences.
Although contractors carefully stage construction activities to minimize disruption to the surrounding community, the nature of construction work is such that some disruptions will occur. Columbia University, the construction manager, Pavarini McGovern, and our trade partners are committed to minimizing construction impacts as much as possible.
Noise Mitigation: A perimeter construction fence with noise reducing blankets will be installed, going beyond standard noise reduction requirements. In addition, construction equipment will be fitted with ambient sensitive, self-adjusting backup alarms that modulate warning beeps at the lowest range to reduce overall noise.
Dust Mitigation Aggressive controls are in place to minimize dust inside and outside the confines of the project site. Contractors will take proactive measures to suppress dust that might arise during their work. In addition, gravel and/or concrete gate ramps will be used along with wheel washing to prevent sediment tracking onto sidewalks and streets. Compliance with OSHA dust requirements will also be observed.
Clean Construction Program Limits Construction Emissions: Electrical-powered equipment, which offers a significant reduction in particulates and other pollutants, will be prioritized over diesel equipment. When electric powered equipment is not available, EPA-approved diesel engine equipment or recent models with EPA or California Air Resources Board approved exhaust filter retrofits will be used. Collectively, this approach will significantly reduce emissions at the construction site.
Vibration Monitoring: Vibration monitoring will be established at the adjacent premises and other nearby locations to monitor vibration levels continuously from the start of the excavation phase through the completion of the first floor of the superstructure.
Integrated Pest Management: Prior to demolition, the site was cleared of rodents, which was confirmed by a New York City Department of Health inspection. Vigorous onsite monitoring to ensure the rodents do not return is being performed weekly for the length of the entire construction project by a New York State Department of Environmental Conservation-registered pest control service, using an environmentally sensitive approach.
Protection will be in place at a minimum of 20 feet of the property line as per NYC Department of Buildings requirements. In some sections of the sidewalk bridge, it will be higher than required and equipped with security cameras and lighting for safety. Protected areas will include rooftops, cell towers, pedestrian walkways, and vehicular traffic lanes.
Deliveries should be limited to the use of 125th Street. Pavarini McGovern will address traffic patterns for deliveries to limit idling as much as possible. Idling will be reserved to the use of concrete trucks, concrete pump trucks, fuel delivery, and delivery trucks.
There will be brief impacts as a safety precaution when overhead protection is installed. All closures will be managed by and be in accordance with Transit Authority rules and regulations.
On 125th Street, the southernmost, eastbound traveling lane near Broadway will be impacted. All traffic pattern changes will be in accordance with NYC Department of Transportation stipulations.
Columbia has a long-held commitment of working with minority, women and local (MWL) businesses and prioritizing the employment of a qualified, diverse, and local workforce, consistently setting ambitious employment and contracting goals. For this project, Columbia has set minority, woman, and local (MWL) construction goals that at least 35 percent of all construction dollars be spent with MWL firms and at least 40 percent of the labor force made up of MWL construction workers for the duration of the project.
Local residents interested in construction work at the project should visit Crescent Consulting for information session information and applications.
You can find the latest construction updates and information about this project on our Neighbors website where you can also sign up to receive weekly construction updates sent via email.