Manhattanville Community Day Returns for the First Time in 2+ Years—Here's How to Take Part
The celebration, which takes place on Columbia's Manhattanville campus, halted during the pandemic, but it is back in a big way on May 21, 2022.
May 17, 2022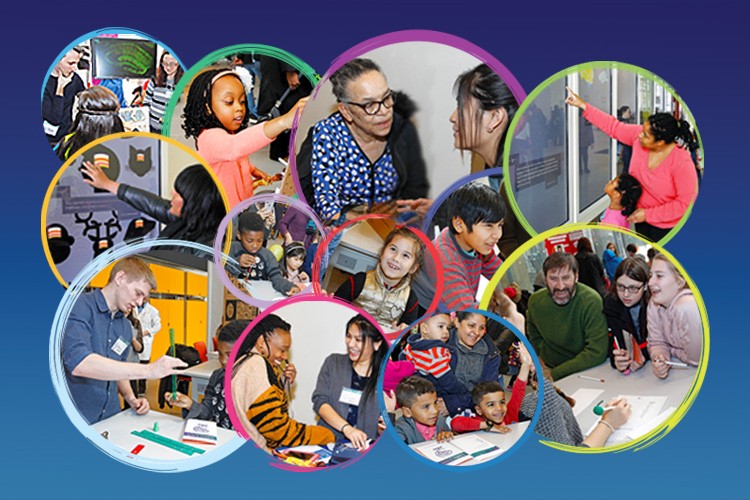 It has been 2+ years since our last Manhattanville Community Day, which takes place several times a year, but we're so excited to be back in person with our neighbors this year. We know it has been awhile (we missed you!), so here are some answers to commonly asked questions about the event, so you can enjoy the day. Bring your friends! Bring your family! All events are free and open to the public.
How long has Manhattanville Community Day been around?
Manhattanville Community Day first started in 2018 as a way to invite our local community to Columbia's Manhattanville campus in West Harlem to take part in family-friendly fun. It happened several times a year until the spring of 2020, when almost all campus activities shut down due to the COVID-19 pandemic. This spring, Manhattanville Community Day is back and bigger than ever with partners from across the Manhattanville campus. 
Who can come and how much does it cost to attend?
The more, the merrier! We invite our neighbors surrounding Columbia's campuses in Morningside Heights, West Harlem, and Washington Heights as well as Columbia affiliates to partake in this day of celebration. All events are free and open to the public. Some events, however, may require registration due to supply or space limits. You can find a full list of events that need registration here. 
Wait...where is this again?
There have been a lot of changes on the Manhattanville campus since the last Community Day in 2019. For one thing, two new Columbia Business School buildings opened just this spring, in addition to the new Manhattanville Market in 2020. We're particularly excited about the completion of The Square, a publicly accessible green space in the heart of campus. 
But, first things first: If you head to 125th St. and Broadway, this serves as a good starting point for checking out the rest of the Manhattanville campus. Here's a list of all the different buildings and spaces to access on campus, but take a look at the map below, which will help you find key Community Day locations. In fact, when you first get to the campus, head inside The Forum, right at 125th and Broadway, where a team of friendly volunteers can help you get your bearings and where there will be tables set up with information about community programs, wellness screenings, and music.
The map below also notes the three locations of our food crawl (in addition to free food samples available!) at Dear Mama Coffee, Dinosaur-Bar-B-Que, and the Manhattanville Market.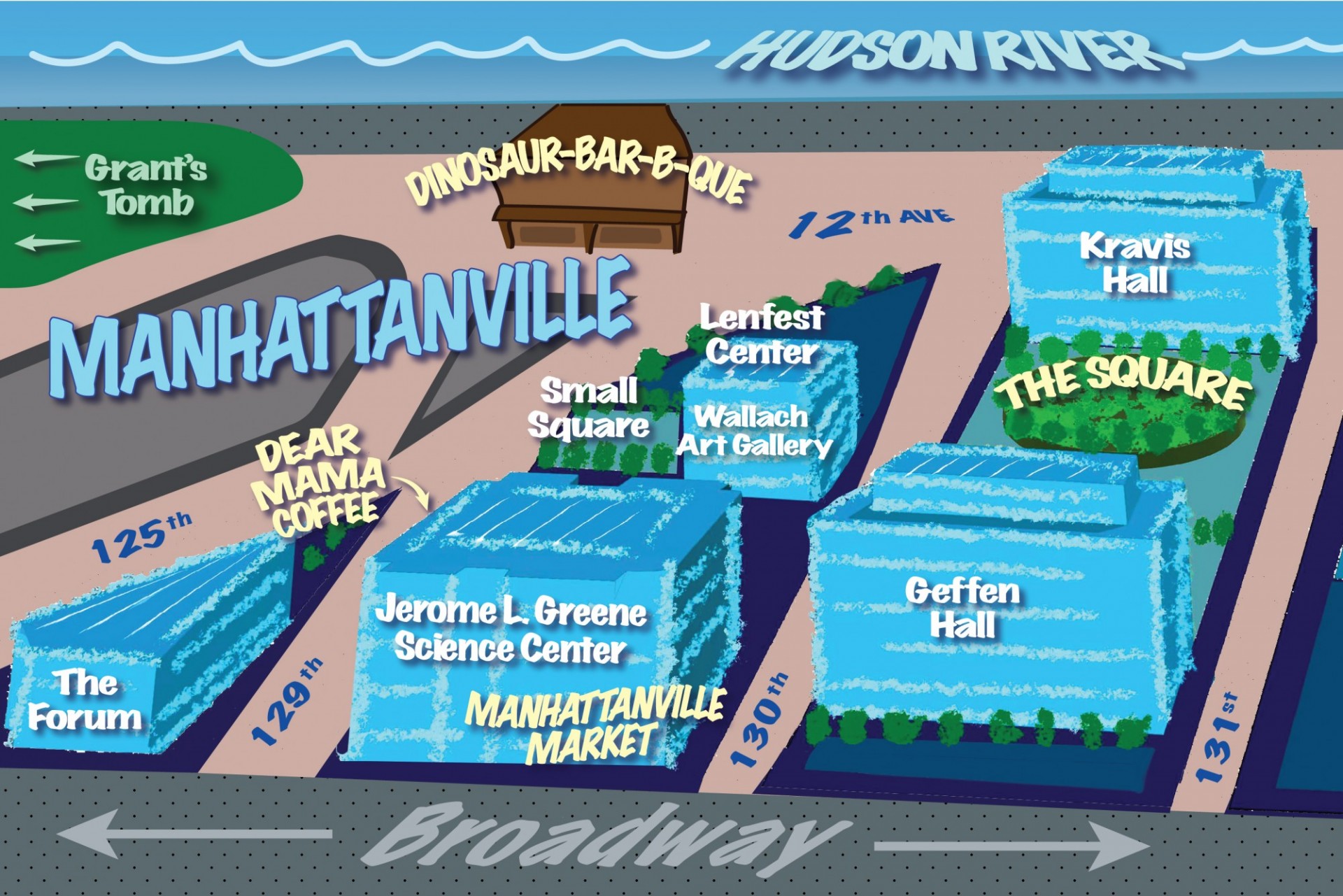 Do I need to bring anything?
Bring yourself, your friends, and your family! Other than that, for all visitors over 5 years of age, be prepared to show proof of a primary vaccination series as part of visitor attestation. 
What will there be to do and where do I find activities?
Attend live performances, enjoy free food samples from clients of the Columbia-Harlem Small Business Development Center, sketch the Harlem Streets with the Wallach Art Gallery, learn about the future of the mind at Saturday Science, jam to the music of DJ Stormin' Norman, attend a local restaurant food crawl, watch the films Wall-E and E.T., and get free swag—plus so much more. 
You can find a full list of activities listed by location on the event invite, but here's a handy map that shows what activities are taking place at what time: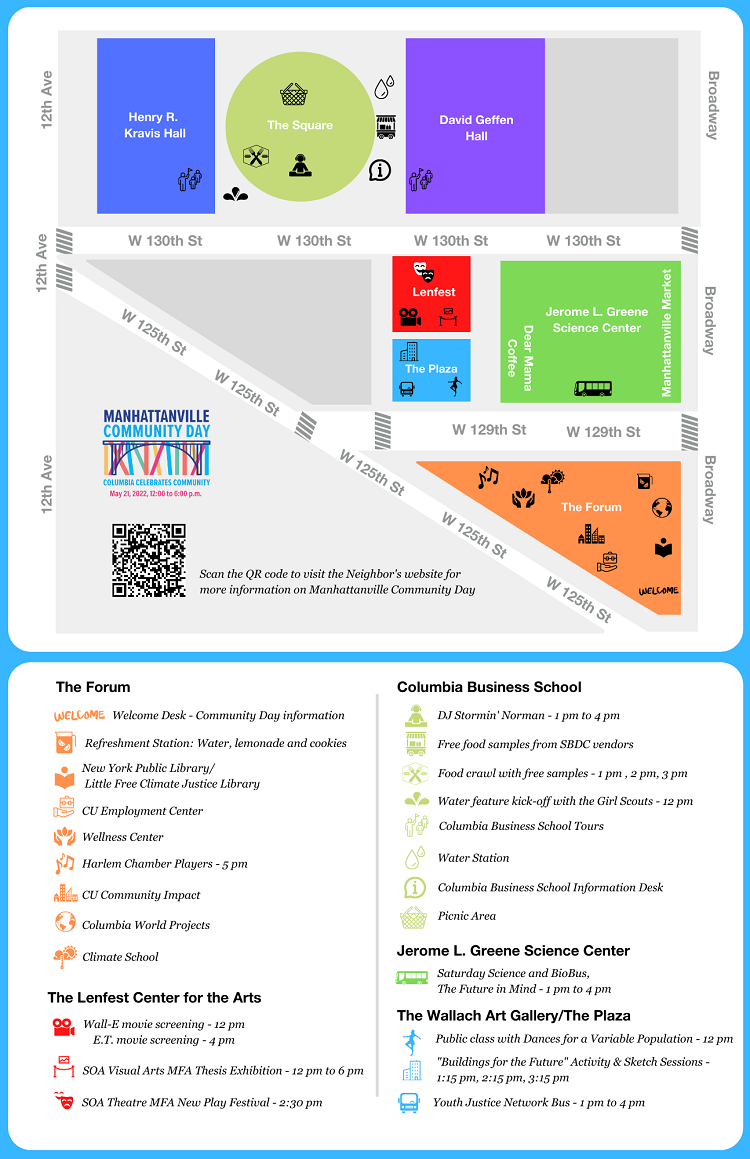 More questions?
Don't hesitate to reach out to us at @neighborshub on Twitter, Instagram, or Facebook or email us at [email protected]. Don't forget to share the fun in any social media posts with the hashtag #Manhattanville.
You can also sign up for the Neighbors newsletter here for updates: