Here's How You and Your Family Can Learn the Workings of the Brain at Columbia's Zuckerman Institute
Here is some of the public programming available for little ones and adults at the Zuckerman Institute on the Manhattanville campus, from Saturday Science to Music on the Brain.
March 22, 2023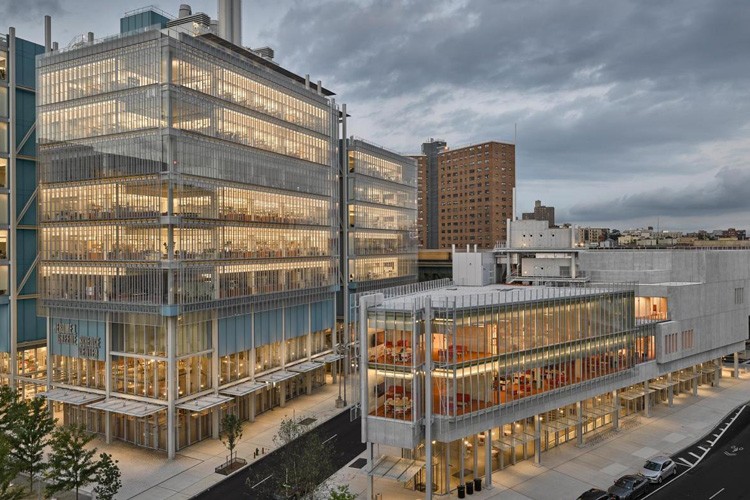 Are you or your family looking to satisfy your curiosity about the brain?
Columbia University's Zuckerman Institute on the Manhattanville campus is dedicated to unlocking the brain's mysteries and how it affects our mind and behavior. Through its free programming, the Zuckerman Institute shares the excitement and challenges of neuroscience research with children and interested adults. 
Situated on the ground floor of the Jerome L. Greene Science Center on 129th Street, the Zuckerman Institute's Education Lab hosts a variety of hands-on brain science programs for friends and families in Upper Manhattan. These programs are meant to be fun and educational for people of all backgrounds, so there's no need to come with any prior knowledge about the brain – just bring your curiosity! From after-school programs to jazz concerts, here's how you can join in and learn more about the workings of the brain at the Zuckerman Institute.
Youth and Family Programming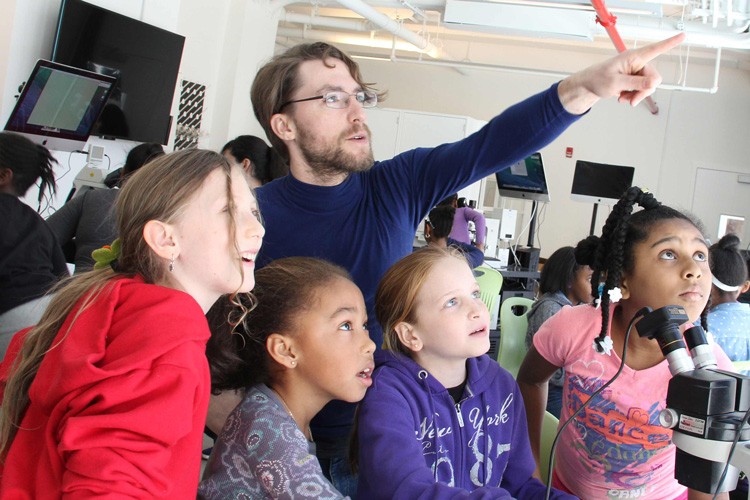 Saturday Science is the perfect opportunity for kindergarten to fifth-grade students to do hands-on work in a neuroscience lab – but learners of all ages are welcome!
Hosted in the Education Lab, Saturday Science invites students and their families onto the Manhattanville campus to enjoy a full day of science learning around a monthly theme. Participants rotate between learning stations, take part in brand-new activities every month, and engage with scientists on exciting research topics.
The Zuckerman Institute also partners with the nonprofit BioBus, a mobile science platform that visits schools across Harlem, Washington Heights, the South Bronx, and Manhattanville. 
You can now register for this March's Saturday Science event, The Mind in Bloom. The May 20 Saturday Science event, Growing Together, will be coinciding with Manhattanville Community Day. Join Saturday Science every month for an afternoon of science and more community fun! 
Hosted by Columbia University Neuroscience Outreach (CUNO), Late Night Science is a seminar series for students of all ages and their families to have one-on-one discussions with graduate students and learn about their research. 
An opportunity to create a dialogue between researchers and the community, the program focuses on a different topic each month, allowing participants to get a chance to cover a full range of neuroscience research.
Due to the pandemic, Late Night Science's popular in-person lab tours were operating online, but the program is beginning to welcome families back into the labs. 
Look out for the next Late Night Science event by checking their website or by following them on Eventbrite. 
Is your child interested in science, but also technology, engineering, and math (STEM)? 
STEM Starters is an outreach program run by Columbia graduate students who are passionate about teaching children in the community about STEM. Hosted at the Education Lab, the program invites middle and high school students to join in an afternoon of experiments in different scientific fields.
The goal is simple: to help every child embrace their inner scientist. The activities show how interconnected science is with the world around us, touching everything from how electronic circuits work to animal behavior. 
STEM Starters is geared towards a middle school-level science background, but all ages are welcome. Learn more about STEM Starters and look out for their next event on their website. 
Programming for Teachers and Adults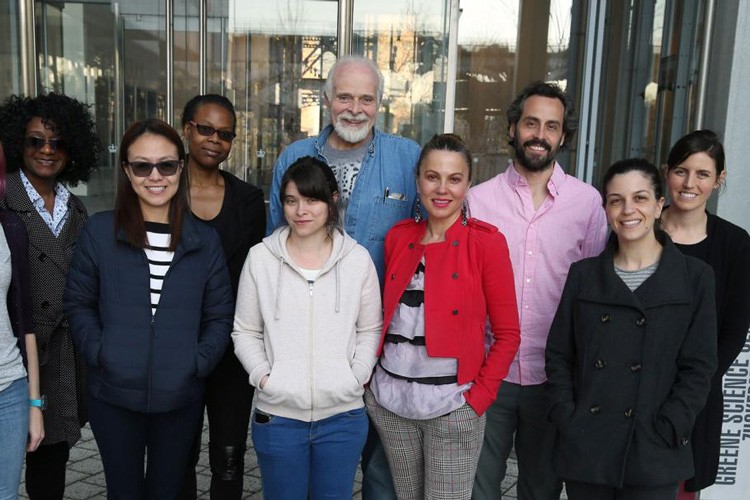 Through Breakout Science, the Zuckerman Institute "breaks out" from the traditional expectations of scientific programming by hosting events that meld together art, music, and science. In partnership with Uptown institutions, the Zuckerman Institute hosts concerts, film festivals, lectures, and workshops that make the connection between art, culture, and neuroscience.
Music on the Brain is an in-person and virtual event series that brings together jazz music and science by exploring the way that music affects our brains and bodies. 
In each session, neuroscientists from Columbia University are paired with a jazz musician to discuss a different topic relating to music's effects on the brain and our behavior. 
During the pandemic, the series continued virtually. You can watch the virtual recordings of recent Music on the Brain events on their website.
Music on the Brain has now returned to in-person programming at the National Jazz Museum of Harlem. You can register here for the next event, "Mind, Body, & Soul" with jazz saxophonist TK Blue and neuroscientist and NSF Fellow Rachel Frazer.
Each year, the Zuckerman Institute commissions an artist to create a public artwork that invites the community to explore science through an artistic lens. 
The chosen artist spends time in conversation with neuroscientists at the Zuckerman Institute to help inspire their work.
The Art in the Education Lab program recently rolled out its newest art commission: a striking 13.5-foot-long collage called How Do You Measure Pleasure?, by NYC-based artist and educator Damali Abrams, who was inspired by the spectrograms and histograms – special charts and graphs – that she encountered during a conversation with the neuroscientists. 
You can see this piece on display near the entrance to the Education Lab. See the works from previous Art in the Education Lab artists online here: Dister Rondon (2021) and Ivan Forde (2020).
The Stavros Niarchos Foundation Teacher-Scholar Program is geared towards middle and high school science teachers who want to bring neuroscience into their classrooms. 
During the school year, these teacher-scholars attend Stavros Niarchos Foundation Brain Insight lectures, participate in workshops, and co-create lesson plans that help introduce cutting-edge neuroscience to their students. 
The program will be recruiting teachers for the 2023-2024 Teacher-Scholar Program in late spring 2023. Learn more about the Teacher-Scholar Program on their website.
Every year, on Chancellor's Day (June 9), BrainSTEM in Action offers STEM teachers in New York City-based high schools the chance to learn about research while pursuing a fun and engaging professional development opportunity.
Exploring a different topic each year, participants complete Continuing Teacher and Leader Education (CTLE) training while touring research spaces, engaging in hands-on demos, discussing research, and tailoring lesson plans to their own classrooms. 
In April 2023, the application to participate in the next BrainSTEM In Action 2023 Chancellor's Day workshop will be released along with the research topics that will be covered. 
---