Sleepyfoot?, Artist at Columbia's Zuckerman Institute, to Unveil "Sensory Bop"
The interdisciplinary artist will debut her piece on October 19 at the Zuckerman Institute's Education Lab. 
September 27, 2023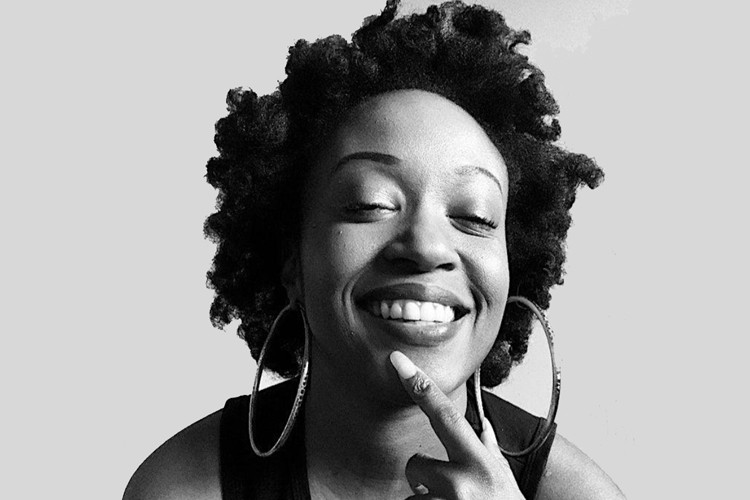 New York-based artist Manon Casimir-Sainton, or Sleepyfoot?, was five when she first noticed that she can see color in sounds.
"Michael Jackson's Billie Jean was playing and I saw all of these flashes of oranges and browns," said Sleepyfoot?. "I was afraid to bring it up because no one was talking about seeing color like this. I kept it all to myself." 
Sleepyfoot?—affectionately named after her beloved pet cat—was in college when she realized that she wasn't alone. After hearing Pharrell talk about seeing color in music in an interview with Oprah, Sleepyfoot? concluded that she had the same condition—a form of synesthesia called chromesthesia.
Synesthesia is a rare condition that is present in approximately four percent of the population. It's been described by researchers as a 'union of the senses,' in which the simulation of one sense triggers a reaction in another unstimulated sense. For people with chromesthesia, the condition is triggered by music, which stimulates visions of color.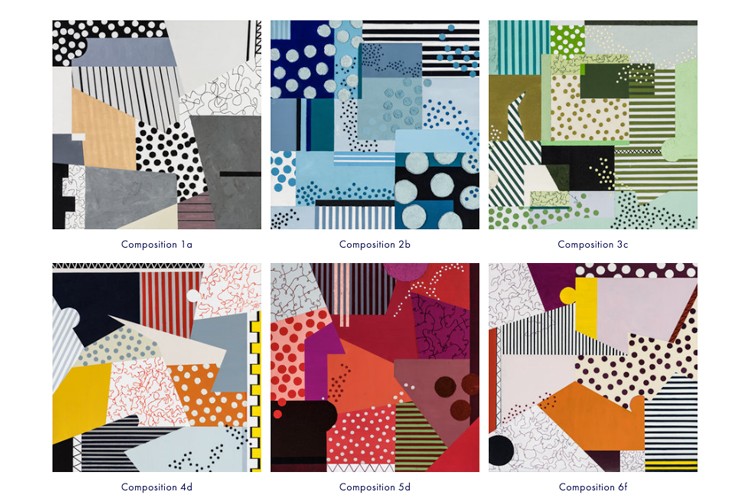 As an interdisciplinary artist, Sleepyfoot? uses her unique sense of perception to fuse different media together in her art. Sleepyfoot? similarly used animation and music to create "Sensory Bop," a new artwork that will be premiering at the Education Lab in the Jerome L. Greene building, 605 W 129th St., on the Manhattanville campus on October 19.
The Zuckerman Institute's ​​Art in the Education Lab (AEL) program invites one New York-based artist every year to meet with neuroscience researchers over the course of the summer. The artist is tasked with conveying their findings to the wider community through public art. 
On the eve of her upcoming unveiling, Columbia Neighbors spoke with Sleepyfoot? to learn about her journey with chromesthesia, her passion for STEM, and how she hopes the community will engage with "Sensory Bop."
You've explored a lot of different career interests. Tell us a bit about that and how you cultivated your artistry along the way. 
I started teaching after college and I would tell my students, "you could be whatever you want to be." But there was a part of myself that wasn't being true to that. I was told I was a good artist growing up, and I always said I wanted to become a teacher and an artist. Because I didn't have much exposure to the art world, I didn't think I could pursue it as a career. I made a promise to myself and to my students to follow my own advice, and get back to art. I started painting and producing music. I saw that both of those mediums spoke to each other, so I would paint what I hear.
I taught all over New York. I worked in the Upper West Side, Morningside Heights, and in Brooklyn. After a while, I found that I wanted to cultivate my interests outside of the classroom. In 2020, I entered an engineering bootcamp, learned web development, and became an engineer. I saw how creative it was and enjoyed animating things and designing with code. There's a lot of potential in this space, from image to video to animation to generative AI.
You're an engineer by trade and you used code to create this animation. What made you decide to integrate code in this way and how did it work?
This was my first time using code in an art piece so it was definitely a learning opportunity. I first thought about keeping my art and engineering interests separate, but the Zuckerman Institute staff and community were really encouraging when I brought up the potential of using code. It made me feel like I was meant to do this. 
I learned a brand new coding framework that I didn't know about before this and there was a lot of heavy math involved. I even had to use some functions that I haven't thought about since high school!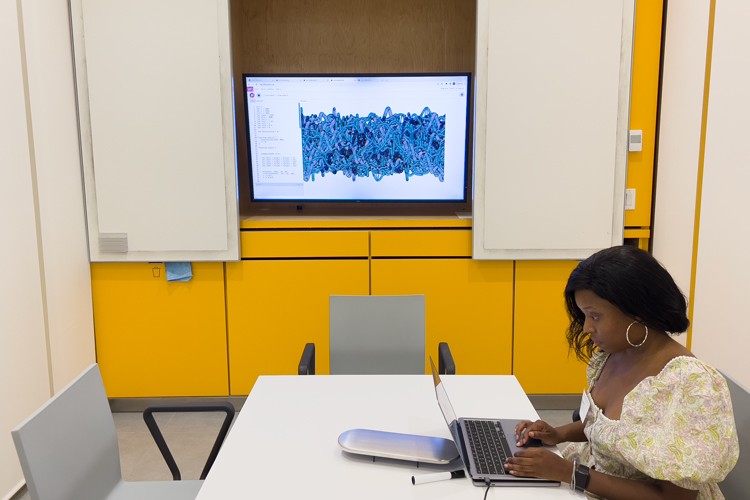 I wanted to use code because I think it's cool for people to know more about STEM and what tech can achieve. It's something that I'm also exploring myself because I've had to work with code in a very static way in the past. I love working with colors and I wanted to engage more in visual engineering.
I also wanted to show this community what people can do with code and to see an example of someone who is a woman and a minority, and also a coder and engineer. This work is really a representation of where I am now and I'm excited to see what else I can create in the future. 
How was your experience learning from the neuroscience researchers at the Zuckerman Institute and how did that influence your thinking on "Sensory Bop"? 
When I visited all the Zuckerman labs, I had many big "aha!" moments. I learned about the amygdala, which processes stimuli and triggers emotions. I also learned about saliency in our memories and how we retain what we see, feel, and sense, which was instrumental to my thinking about this project. But I learned so much from every lab and I wanted to create something that spoke to my whole experience.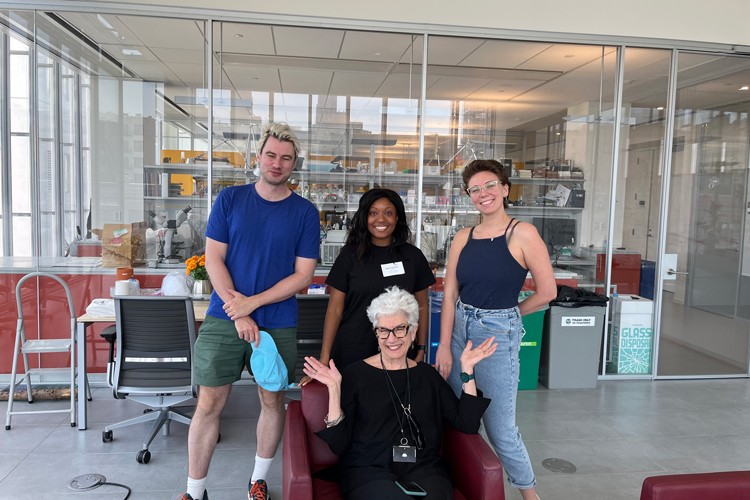 Overall, I kept hearing the word "connectivity." The labs I spoke to studied the different senses, but the research is all interconnected because of the nature of our senses. The goal of the AEL program is also to use art to connect the work of the Zuckerman Institute with the local community and foster a connection. Even my chromesthesia connects two different senses together, so I knew I wanted to take this into my project in some way and have my artwork visualize "connectivity." 
Tell us a bit about the artwork you created for the AEL program, "Sensory Bop."
I wanted to tell the story of the connection between the sensory network and stimuli. In our brains, a stimulus has to move through our nerves to form a connection with our sensory network, which then sends the stimulus back and triggers a reaction in the body. I wanted to depict this pattern and create a digital animation that visualizes the whole sequence. 
I call this a "short neuroaesthetic clip," but really it's a bright, fun and colorful video that takes you through a little bit of a story. 
"Sensory Bop" is such a fun name. Can you tell us the meaning behind it? 
This project is about the senses, so I knew that I had to have that be a part of the name. 
But I also produced some background music for the animation that has a hip hop beat. I had been doing a lot of reading and thinking about Jean-Michel Basquiat, and when I completed the project it was around the time of the 50th anniversary of hip hop.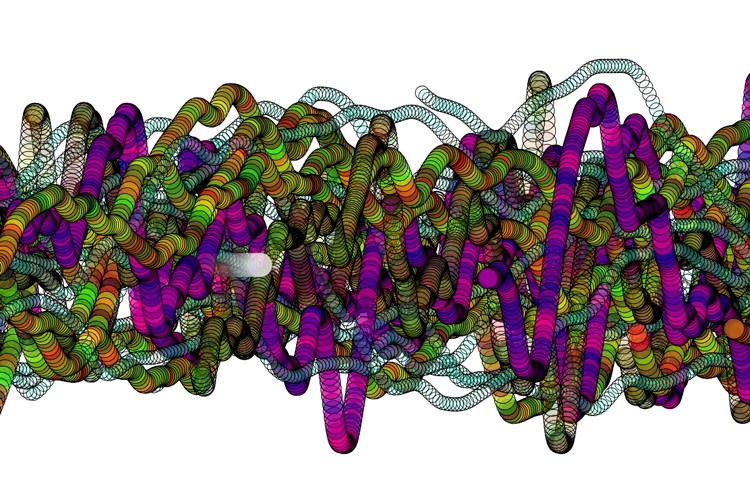 Basquiat produced and arranged this track called "Beat Bop" by hip hop artists Rammellzee and K-Rob. I was reading about how it's one of the most important hip hop tracks of all time and sparked the beginnings of hip hop, and that was really influential to me. I was also thinking about Harlem and the Bronx, which are two important places in hip hop's history.
I wanted to pay homage to all of that. I also thought about how when our brain can be stimulated by music and sounds and you get moving—it's almost like a "bop" happens in your brain!
How are you hoping the community will receive your project?
I'm hoping that people will be excited to watch the animation and get curious about how it was made. I want people to see that there are so many ways to create art and that there are different avenues of expression, even in the STEM field. I want students to get curious about other career paths, especially in STEM, that they might not know of otherwise. These are conversations that are often left out of communities of color. 
I want the Harlem community to see themselves and their culture in this work. I want them to know that there are New Yorkers from all backgrounds creating art here and to see themselves doing something similar in the future. It's so important for young people to know that they can use tech as a way to create and not just consume. 
"I want the Harlem community to see themselves and their culture in this work. I want them to know that there are New Yorkers from all backgrounds creating art here and to see themselves doing something similar in the future."
I've worked in the Upper West Side and Manhattanville and I've shown my work in Harlem, so this entire community is very dear to me. It's taken care of me. I've had so many experiences in these neighborhoods, so I wanted to give back to the community and hopefully the public can resonate with this work.
---
Sleepyfoot? is New York City-based interdisciplinary artist Manon Casimir-Sainton. Her paintings mirror her synesthesia induced by personal multi-genre sound compositions and mental health experiences. Sleepyfoot?'s work has been exhibited nationally including Site:Brooklyn,The Sheen Center, and Plaxall Gallery, and her music has been commissioned by music and spirituality based organizations in NYC. 
Learn more about the AEL program and stay tuned for next year's application opening on the Zuckerman Institute's website. For more information about the program, contact [email protected].