Four Uptown Gems to Add to Your Small Business Saturday Itinerary
Check out this list of four locally owned businesses to support on Small Business Saturday—and all year long.
November 23, 2022
Small businesses are pillars within local communities. They serve as economic engines, curators of culture, and physical spaces that provide a definitive lens into the unique vibe of a neighborhood. From community-driven bookstores to local eateries and bespoke retail shops, behind every small business lies a story of resilience, tradition, and an unwavering commitment to using entrepreneurship as an avenue to uplift the communities they serve.
Ahead of Small Business Saturday—which takes place on November 26—we've curated a list of locally owned businesses in Upper Manhattan to support this weekend and all year round. These community gems are worth adding to your Small Business Saturday itineraries.
Ginjan Café, East Harlem
85 E 125th St.
Kick off your Small Business Saturday morning with a caffeinated boost at Ginjan Café. The beloved community café—which sits inside the historic Corn Exchange Building on 125th Street, Harlem's main thoroughfare—is the brainchild of award-winning brother-duo Mohammed and Rahim Diallo. They launched their business back in 2014 with $200 and a dream, making small batches of Ethiopian-inspired Ginjan organic ginger juice inside of their New York City apartment.
Their current menu is a love letter to their African heritage, including specialty drinks like Bissap, which is a blend of West African hibiscus, mint, and other spices, and Afrique coffee created by La Colombe. You can also pair your drink with Fattaya, a chicken yassa wrap, or a flaky pastry crafted by a local Harlem baker.
NiLu Gift Boutique, Central Harlem
191 Malcolm X Blvd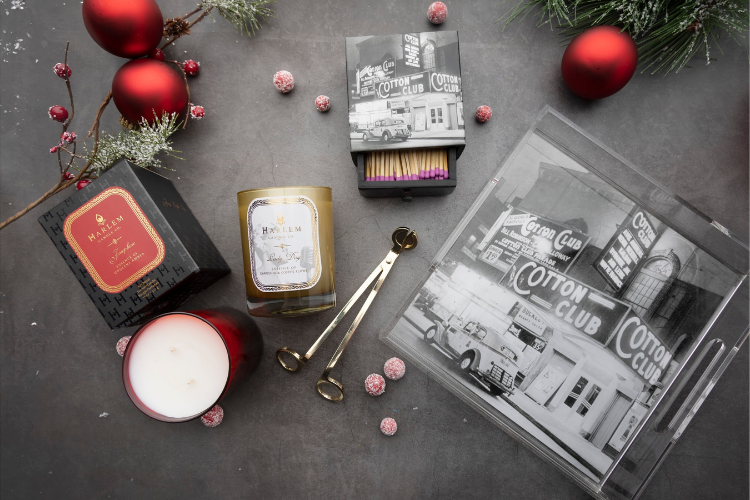 Entrepreneurial innovation lives and thrives in Harlem. Launched in 2015 by Katrina Parris Pinn and her husband Mark Pinn, Nilu Gift Boutique was cultivated to amplify and celebrate the artistry and creativity of Black and POC makers and artisans. When perusing the store, you'll discover it's a space where the beauty of the community's past and future meet. Inside the boutique, you'll find an array of Harlem-inspired trinkets including mugs and key chains emblazoned with vintage cityscapes of the local community, sweet-smelling candles created by Harlem Candle Company, and vibrant pieces of art made by local creatives.
The store also offers a wonderful collection of coffee table books—including Black Ivy: A Revolt in Style, Young Gifted and Black: A New Generation of Artists, and Art Kane, Harlem 1958—that explore the different facets of African American history and culture. If you need some holiday gifting inspiration before making your way over to Lenox Ave., check out Nilu's official Holiday Gift Guide.
Mondel Chocolates
2913 Broadway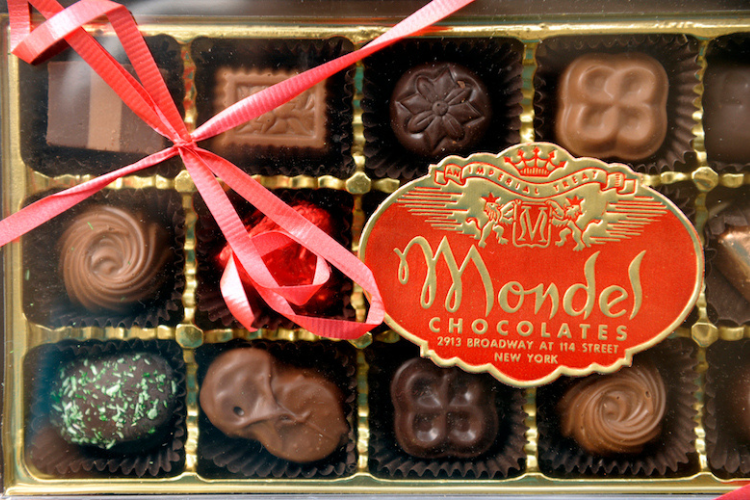 The holiday season would not be complete without confectionary treats. One of the best artisanal chocolatiers is located in the heart of Morningside Heights. Mondel Chocolates—a neighborhood mainstay—opened its doors in 1943 and has been a sweet spot in the community ever since. The store was founded by Hungary native Carl Mondel who traveled to America in 1923. The vision for Mondel Chocolates was derived from his candy-making pastime and since its inception, the family-run mom-and-pop shop generated acclaim; drawing in customers like the late legendary actress Katharine Hepburn.
Their menu features creamy chocolate truffles, tarty chocolate-dipped fruit, and white chocolate-covered almond barks that are a must-try; the perfect gift for those who have a sweet tooth.
Daniela's Flower Shop, Washington Heights
714 W 181st St.
Brighten up the holiday season with festive florals from Daniela's Flower Shop in Washington Heights. The beautiful botanical boutique is the perfect escape from the bustling concrete sidewalks of New York City. The shop features a selection that includes red roses, purple Peruvian lilies, button poms and burgundy carnations, plants like rich red poinsettias, and other exotic flowers.
Daniela's Flower Shop specializes in tropical green and blooming plants, dish gardens, and silk and dry floral arrangements. Their creations make the best centerpieces for holiday gatherings.
---
Check out Neighbors' Shop & Dine Local guide.