Community Scholars Program Renamed to Honor Trustee A'Lelia Bundles
Editor's note:
Updated June 16, 2020, to include a quote from A'Lelia Bundles.
June 12, 2020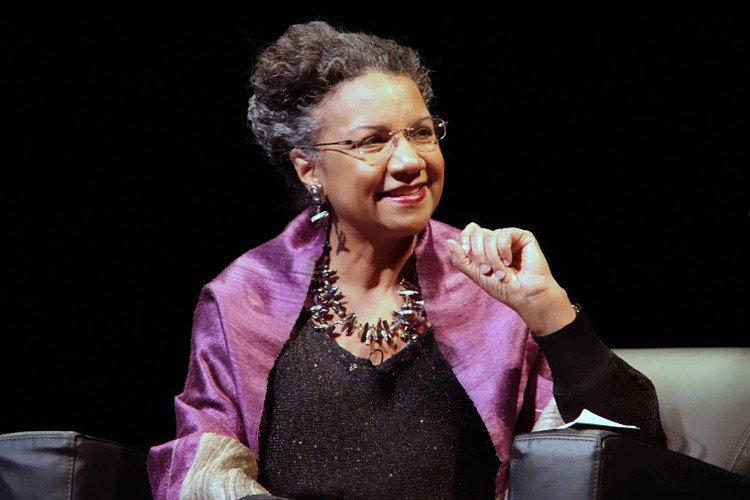 The Columbia Community Scholars Program has been renamed the A'Lelia Bundles Community Scholars Program in honor of Columbia University Trustee and longtime program supporter A'Lelia Bundles. The renaming was announced as a surprise for Bundles at the trustees meeting on June 12. 
"I am grateful beyond measure. I've loved this program from the moment I met the first cohort in 2013 and began to learn about their innovative intellectual and creative projects," said Bundles after learning of the renaming. "While Columbia provides much deserved recognition to the Community Scholars, we also benefit from their presence in our classrooms and in our libraries. The brilliance of the program is that it has begun to foster collaboration between the Columbia campus and the authors, composers, artists, activists and independent scholars who already bring vibrance to the community above 96th Street. In less than a decade, we've celebrated new books, museum exhibits and community wellness and art programs. I can't wait for our tenth anniversary reunion."
The program, which gives local researchers access to Columbia resources and faculty, was established as part of the University's agreement with the state of New York during the Manhattanville campus expansion. The first cohort of scholars began their three-year terms in 2013, and the selection process for the eighth cohort is underway. There are currently 14 A'Lelia Bundles Community Scholars, as well as 18 who have completed the program. 
"A'Lelia Bundles has been an invaluable trustee of the University, and renaming this program for her is absolutely fitting," said Columbia President Lee C. Bollinger. "The Community Scholars Program brings to life Columbia's core mission of teaching, scholarship and civic engagement, and it will now bear the name of our admired colleague and friend, who has spent her life celebrating and serving the communities of Upper Manhattan."
A'Lelia Bundles, the great-great-granddaughter of Madam C. J. Walker and an alumnus of Columbia's Graduate School of Journalism, is currently a vice chair of the University Board of Trustees. She will complete her term as a trustee in the next academic year, following a short extension due to the COVID-19 pandemic. Bundles is the author of four books, including the biography On Her Own Ground: The Life and Times of Madam C. J. Walker. Throughout her tenure as a trustee, Bundles has been an enthusiastic supporter of the program and the independent scholars who come to Columbia to pursue their work. 
"A'Lelia has been such a great friend and champion of the Community Scholars program from its inception. Her active engagement over the years, her willingness to sit down informally with scholars and chat about their work and her own, is part of what makes the program so special," said former program director and vice president of Government and Community Affairs Karen Jewett, who oversaw the program's development and launch. "I am also deeply grateful that she made sure this tiny, but important program was given the opportunity to shine in the Trustees' Public Affairs Committee meetings–and of course, it was always just fun to work with A'Lelia, and I am so happy to have had that opportunity."
Since the program launched, Bundles Scholars have pursued projects that include the  development of the nonprofits ProjectArt, which helps create art classes for children, and the Harlem Wellness Center, which works to build health conscious communities. The research undertaken by the program's scholars includes a historical study of Harlem's Black and Jewish communities, the creation of a mixtape museum, a project to create a narrative that amplifies the voices of Haitian Americans, and more. Current scholars continue to work towards expanding knowledge of Harlem history and its notable personages, creating programming to support the Upper Manhattan community, and understanding the impact of artificial intelligence on underserved communities.
"Naming the community scholars program after A'Lelia honors her extraordinary commitment to this small but mighty project. As a senior administrator, I strove to link the intellectual resources of the University to the needs of our neighbors in surrounding communities," said Maxine Griffith, former executive vice president of Government and Community Affairs who along with Jewett led the creation of the program. "As a trustee, A'Lelia consistently heralded and supported our efforts and ensured that community issues were front and center in trustee discussions. A'lelia Bundles is the very definition of 'a friend in high places'."
In the summer of 2019, 136th Street at Lenox Avenue (Malcolm X Boulevard) was co-named in honor of Madam C. J. Walker and her daughter A'Lelia Walker, for whom Bundles is named. Bundles' biography of her great-great-grandmother was recently adapted into a Netflix series, Self-Made, which premiered earlier this year.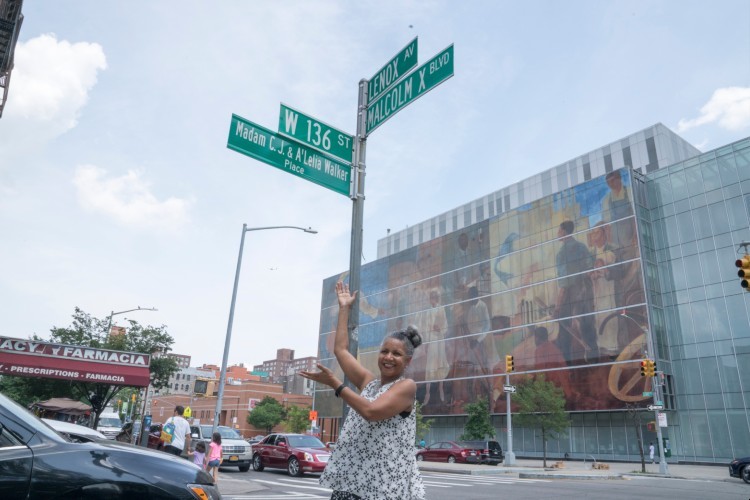 "I can't think of a more worthy namesake for the Community Scholars Program than A'Lelia Bundles. Notwithstanding her frequent material support – in the form of countless midnight emails attached with illuminating documents, wondrous photos and golden anecdotes – her constantly sage and generous encouragement was invaluable to me, well beyond my tenure in the program, said former Bundles Scholar Eric K. Washington, an author and a longtime friend of Bundles who completed research for his book, Boss of the Grips: The Life of James H. Williams and the Red Caps of Grand Central Terminal, during his tenure in the program. 
"It's a certainty that I could never have realized the completion of my history project without the resources of the Community Scholars Program under the guiding light of A'Lelia Bundles," said Washington.