Teachers College Graduate Emily Ditkovski Reflects on Using Arts for Activism in Washington Heights
We spoke with Ditkovski about her involvement in the Washington Heights-based People's Theatre Project and the symbolism of Commencement.
April 21, 2023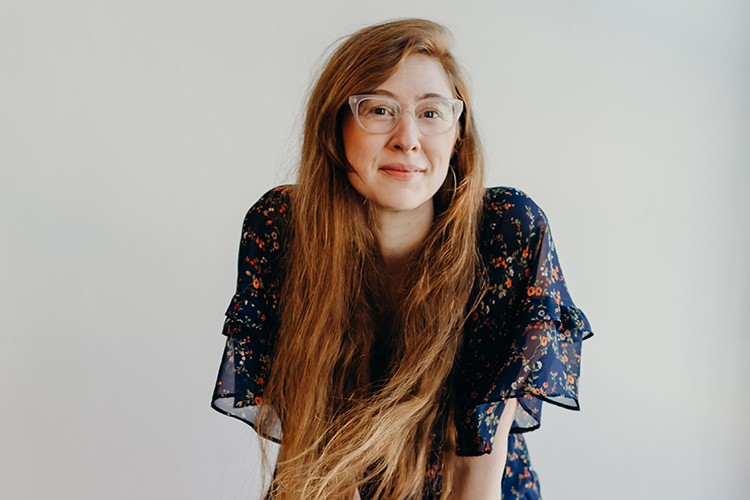 For Los Angeles native Emily Ditkovski, the healing and restorative power of the arts is something that has always been evident. While coming of age on the West Coast, the arts education advocate—whose parents are thespians and educators—witnessed how the stage could serve as a safe space for presenting stories that amplify societal truths and encourage change.
When she stepped into the theater, she felt a therapeutic sense of freedom. Her unwavering commitment to ensuring historically marginalized communities can experience that form of liberation through the arts is what led her to Washington Heights. The Uptown community is where she launched her teaching career and honed her passion for using theater as a means for social justice activism. Through her work in education and the nonprofit space, Ditkovski has led and contributed to efforts centered on supporting immigrant communities and eradicating socioeconomic barriers within the arts.
When she strides across the Commencement stage at the United Palace in May, as part of Teachers College's 2023 graduating class, her journey will come full circle. 
Columbia Neighbors spoke with Ditkovski about her upbringing in California, her involvement in the Washington Heights-based People's Theatre Project (PTP), and what Commencement symbolizes for her. 
What inspired you to chart a path in the arts?
My parents were theater people and educators and I grew up in the black box theater that my dad built. There was a lot going on in other parts of our lives, but somehow the theater was a safe space for me. I quickly learned that was an enormous privilege. So many people, due to systems of white supremacy and racial capitalism, unfortunately don't have access. Pretty quickly, by the time I was 17, I was working as an arts educator with many populations, but predominately focused on historically excluded folks and kids in foster care. We also performed and led workshops in youth prisons.
What motivated you to get involved in the People's Theatre Project?
When I got into Teachers College, I knew we had an internship program and I'd been following the People's Theatre Project for a little while. For me, there's no theater without a social justice component and that can take so many forms. It depends on the community and the facilitators. With the People's Theatre Project, I was inspired by the idea that they are merging theater and activism on the education front and in their professional company; giving people tools to be activists in their communities.
To work in Washington Heights and amplify the stories of the immigrant population living here, especially with what's going on in this climate, is crucial. There's a lot of brain science on why storytelling is a compelling way to build empathy. It's a really, really big piece of the puzzle. That was all combined in PTP for me. 
You began your teaching career in Washington Heights and now you're supporting a Washington Heights-based nonprofit, can you delve into the significance of this full-circle moment?
Washington Heights is where I built my first classroom, with the help of my students of course. One thing I noticed quickly is that because of underfunding of the arts in public schools, and especially in low-income communities, there was very little exposure to any kind of arts. I wanted to give my students as many avenues to discover an artistic outlet as possible. I had never worked Uptown before, but the Washington Heights community was so embracing and receptive. I felt welcomed, seen, and taken care of. Every day, I walk by the school where I taught on my way to the Northern Manhattan Arts Alliance (NoMAA), where I teach with PTP, and it's just a beautiful moment to take in.
Can you discuss your passion for using the arts to holistically benefit the community?
As a young person, I've had that very powerful experience. All of the data shows that when we are in touch with ourselves and we know who we are, we can be the best version of ourselves. The arts gives young people that opportunity. The world tells immigrant youth and historically silenced populations not to be in touch with themselves, so seeking self-actualization is quite revolutionary. When somebody's story is on stage, whether it's for your immediate community or a larger community, we are saying this story matters.
What led you to Teachers College?
I've been an educator for so long and I transitioned into arts administration with the hope to start a nonprofit. What brought me to Teachers College was the focus on looking at the deep roots of the issues around access to the arts. Nobody is talking about a band-aid solution. Nobody is talking about equity in a superficial way. It's really about getting at the systemic issues.
What brought me to Teachers College was the focus on looking at the deep roots of the issues around access to the arts. Nobody is talking about a band-aid solution.
From your perspective, what makes Washington Heights special?
It's vibrant. Sometimes I'll walk all the way up to Washington Heights from Morningside. I can hear the music from people's windows. There are so many generations of people on the street together. To have that togetherness outside is something I appreciate. It's truly extraordinary for me and it impacted the way that I taught and understood families as part of the educational experiences of young people.
What's your favorite Uptown spot?
I grew up in LA and we don't have a lot of Dominican food there. When I eat at Malecon I'm just in heaven. It's so good. Also, when I'm walking and I see the George Washington Bridge and I realize where I am, what's going on, and the significance of this neighborhood to so many people, that's always a moment where I breathe and take time to feel that gratitude for being up there.
I realize where I am, what's going on, and the significance of this neighborhood to so many people.
Who is an Upper Manhattan-based community hero or leader that you admire?
This is not going to be a surprise, but Mino Lora who is the Founding Executive Director of PTP. I admire her so much. She is looking at solving the problems faced by immigrants, with immigrants, and for immigrants in such a holistic way and from so many different angles. She leads with love always, but her standards are so high. That combination propels people to stick with the work.
What does Commencement symbolize for you?
On one hand, it symbolizes a homecoming and being with my family again, but it's just an incredible moment to realize how many skills I have to work toward equity and justice in arts education. On another level, I struggled in many aspects of school and I had some teachers who would be shocked to know that I am graduating from Columbia University. To say that I was able to hold my own in this kind of space is something that I won't forget and I think will also help me as an educator.
Everybody is going to go at their own pace. Time looks different for everyone. I'm much older than most people in my cohort. You can change your course and go and do something that you've always wanted—even if you think it's too late.
What is the best piece of advice you've received?
The deeper, more holistic advice that I have is from my advisor Dr. Gregory-Kameka. She's a truly incredible human being. She talks a lot about the power of listening and learning to listen more than talk—especially for someone in my positionality within justice work. I went through my studies in that way; seeking classes where I needed to listen the most. That profoundly changed the whole trajectory of my career.
What's on the horizon for you?
I'm actually moving abroad to Ireland. It's an exciting place to be in educational theater because they have a different concept of what theater can be that is aligned with my values of theater for change. I want to listen to the community and see how I can be helpful in this space.