Meet 3 Local Businesses That Are Flourishing After Support from Columbia During the Pandemic
Local business owners dug deep and got creative to keep their doors open during the worst of the COVID pandemic. Here's how things are going for a few of them now.
July 15, 2022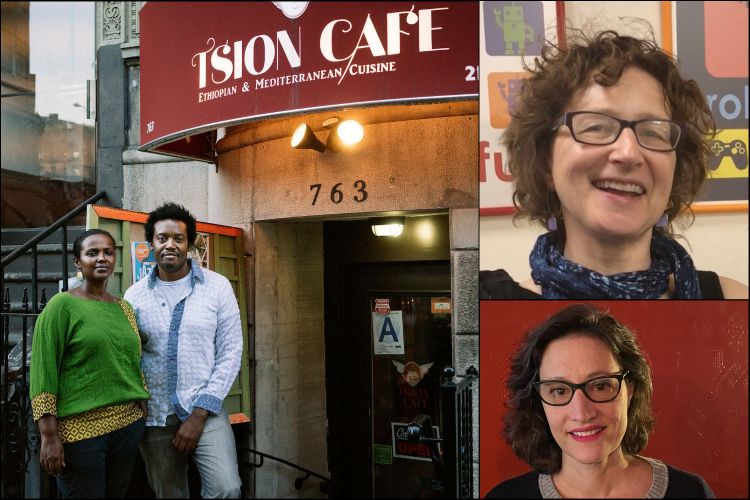 The COVID-19 pandemic has been a difficult time for many of our local small businesses. They've struggled to keep their doors open and the lights on as limits on gatherings and other public health measures were put into place. Across the city, businesses rose to the challenges to the best of their abilities, figuring out how to package food for delivery, adapt hands-on learning to a virtual environment, connect with their fellow business owners, and shift their goals.
With all the scrappiness that you'd expect of small business owners, the people behind these valuable community establishments searched out new opportunities, kept up with all the available grants and loans, and even expanded their business models to help address unique challenges. At Columbia, we've done our best to be a good neighbor, providing financial relief and support to many local businesses and tenants in university spaces.
The Columbia-Harlem Small Business Development Center (SBDC), housed at Columbia Business School, has been an invaluable partner in this, providing resources to their many clients and helping administer the Columbia Emergency Loan Fund for Small Businesses. In 2020, that fund distributed more than $900,000 in loans to businesses in Upper Manhattan. That money, along with funding from other organizations and institutions, and support from the government and the community, allowed many small businesses to stay open or reopen.
With life returning to normal at restaurants, summer camps, and entertainment venues, Columbia Neighbors spoke to the owners of three local businesses that received loans from the university to see how they made it through, and what they'll be doing over the next few months.
---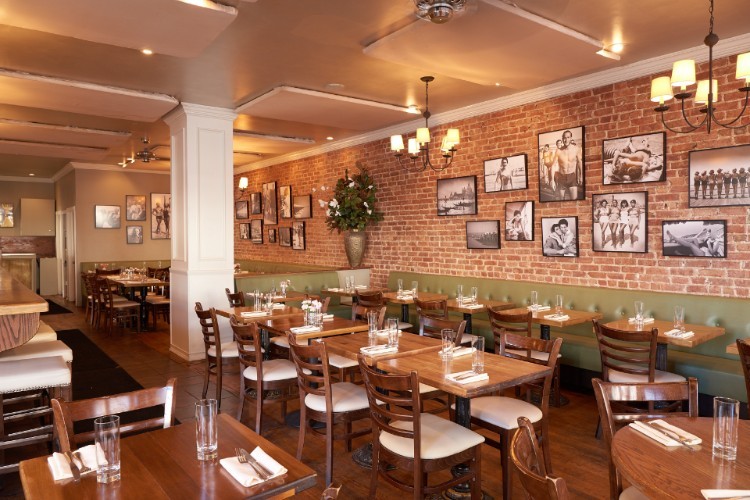 More About Small Businesses
Susannah Koteen, owner of Lido Harlem
Since opening the restaurant in 2011, Harlem resident and Frederick Douglass Boulevard Alliance co-president Susannah Koteen has operated Lido Harlem with Executive Chef Serena Bass. The restaurant, located at 2168 Frederick Douglass Boulevard on the street's Restaurant Row, is named after Lido di Venezia, the island in northern Italy where the Venice Film Festival is held. 
Chef Serena Bass, longtime society caterer and James Beard award winning author, crafts seasonal menus with organic, locally sourced ingredients. Prior to their venture at Lido Harlem, Koteen worked for Bass's catering company.
To Koteen, a big part of the appeal of having a restaurant in Central Harlem is the neighborhood's mix of locals and tourists, with a lot of locally owned businesses and people who are deeply invested in and involved with the community. With Columbia just up the hill in Morningside Heights—Koteen hopes that students and staff will remember to come east to visit—and two new restaurants in the vicinity, Koteen is dedicated to helping Frederick Douglass Boulevard and Central Harlem thrive.
How did running a restaurant change during the COVID pandemic?
It was really, really tough. We had to close and everyone asked, "Oh, can't you do delivery?" But that's not really our business model. We do some delivery, but to make it worth keeping your doors open and staff employed, you've got to be doing a lot of delivery. So we closed twice. 
What helped you keep Lido afloat during COVID?
We're very grateful for the Columbia loan. And I'm very grateful for the [Paycheck Protection Program], which we got both rounds of. I was able to keep some people employed that weren't able to get unemployment. We're very lucky that our landlord understood what was going on and wasn't demanding rent, because otherwise we wouldn't have survived. I think people were really trying to order when we were open for delivery. People were tipping a lot but there's only so much the general public can do.
How did you find out about the loans that Columbia was offering through the SBDC? 
I took [the SBDC's] two year course, so I'm on their mailing list. It's one of the reasons why I agreed to be a mentor. They're doing a mentor program right now. We had one meeting so far. 
How have things been going as everything has reopened? 
We're close to back to pre-pandemic numbers. We were and then Omicron happened. That was tough in December and January. We also opened two new restaurants, The Fox and Bixi. Bixi had been planned for a long time and we were working on that while everything was closed down. It's an Asian fusion cocktail bar two doors down from Lido. The Fox is on 120th and Frederick Douglass, and that's a sports bar and gastropub.
What can the community do to continue supporting Lido and other local restaurants?
Frederick Douglass Boulevard in general is a really vibrant place with lots of different options for everyone. We're looking forward to the Open Street on Frederick Douglass. And we hope that people from Columbia remember to come down the hill. We've got lots of outside seating at The Fox and Bixi. All the food's great because it's Serena. Whenever people can come and support, it's good.
---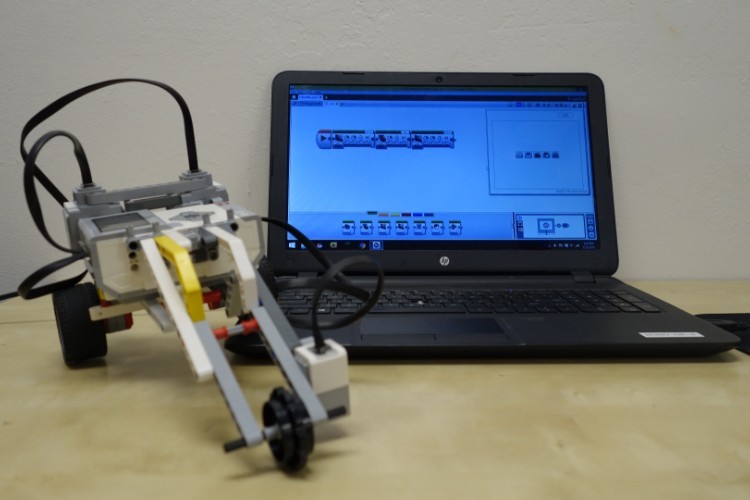 Laura Hart, owner of Robofun
More than 10 years ago, Laura Hart moved Robofun from East 23rd Street to Broadway and West 102nd Street. She lives on the Upper West Side, a neighborhood she loves, and it had become clear that the new location would be more convenient for her clients. 
At Robofun, Hart uses her background in education and the arts to develop curricula that use robotics tools to help students learn about a wide range of topics and disciplines. Through robotics, children ages 3-13 are able to explore not just technology and coding but topics like medicine as well; one of Hart's instructors built a code-based project that showed how microbes and white blood cells interacted to demonstrate a disease.
Located at 2672 Broadway in Loft A, they offer school year classes and summer camps that help children learn to enjoy robotics, circuity, and emerging technologies. Robofun also works with schools in the New York City area to provide introductions to these subjects and foster a love of learning.
What were the challenges and successes you had as a business owner before the Covid-19 pandemic?
For me, it's always about how we maintain good quality in our programs. You can grow things very quickly if you don't care about the quality, but if you care about the quality you need to have a lot of things in place and those things cost money, like training for staff and evaluation of how teachers are doing.
I raised an education company while being a single mom and educating my son. By the time the pandemic came I was on track to have our best revenue year yet. Then about March 13, I felt like I had to say, I'm alive, my son is alive, we're healthy. My priorities had to switch.
How did those challenges change as you faced the pandemic? 
In two weeks, thanks to my really really amazing staff, we took all of our curricula and made them usable online. That was a big feat especially with robotics, but within two weeks we were up and running with our school partners and with our Robofun studio programs. The challenge is that it's very hard to do a zoom class as effectively with as many children. We had to do [some of our programs] with fewer children but we couldn't really charge more so our profit percentage went down. Our goal was survival. 
What kind of support did you get to help stay open and survive the pandemic?
I have to give my landlord a lot of credit as he was very good at reducing our rent. The Columbia loan we got made a huge difference for us. It was maybe 1-2 months of our payroll, which helped with our overhead. A couple of our parents just donated money which was very touching. We got PPP loans, which were incredible. My job changed, too. I tend to be very involved in sales and project development and I became very involved in chasing money.
How have things been going as everything has reopened?
It's really coming back. It's very exciting for us to see. We tend to have smaller classes, with lots of Covid protections. The largest class we're running now is 10 children. 
What are you looking forward to with Robofun this summer? 
We have two new curricula that I was involved in writing this spring. One is with a new platform of lego robotics. We're in our second week of summer camp and the kids are loving it. It's always very satisfying to put a lot of work into writing something and see it going well. 
What can the community do to continue supporting Robofun and other local companies?
You can take advantage of our services. I think that we [small businesses] really are the lifeblood of the city. As convenient as other ways of spending money are, check us out. Support us. Communicate with us. Get to know small business owners in the neighborhood. Let us know if we're hitting the mark.
---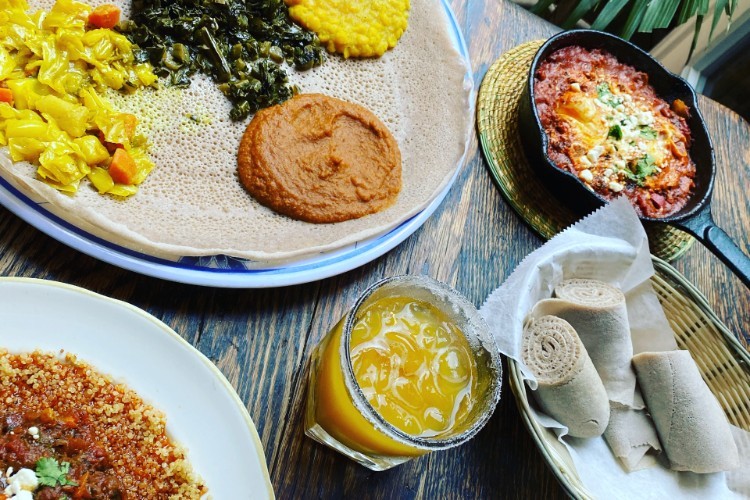 Padmore John, co-owner of Tsion Cafe
A Jewish-Ethiopian restaurant located at 763 St. Nicholas Avenue, Tsion Cafe serves Ethiopian Jewish food, creative cocktails, and live musical experiences, from a small Sugar Hill space that includes a back patio for outdoor dining.
Owner Beejhy Barhany, who was born in Ethiopia and grew up in Israel, came to New York as a young adult. She worked, and continues to work, extensively with the Ethiopian Jewish community here. Between the many Shabbat dinners, large gatherings, and other occasions at which there was always food, Barhany and her husband Padmore John realized that a restaurant would help the community meet some of those needs. 
Barhany and John, who live in Harlem, wanted their restaurant to be connected to the community they've lived in for decades. No one could say Tsion Cafe's location is lacking in history: the landmark building used to house Jimmy's Chicken Shack, where both Malcolm X and Redd Foxx worked, and where icons like Art Tatum would perform. Now Tsion Cafe uses the location to serve up local art, live music, and community connections to a new generation.
What were the challenges/successes you faced as a business owner and restaurateur before the Covid-19 pandemic?
Challenges were like any other small business: being able to get funding, being able to get our name out there so that people know. We are at a slight disadvantage in that it's not a typical storefront restaurant so we had to be innovative. We wanted to have art and music as part of the atmosphere, so being able to get artists and musicians come through and play and show their art was both a challenge and a success. 
How did those challenges change as you faced the pandemic?
One of the biggest challenges for us as an Ethiopian restaurant is the Ethiopian tradition that you eat with your hands and eat communally. Another key aspect is gursha, the action of feeding someone else by taking the food and putting it into another person's mouth. That can no longer be done because of Covid. We were a space that was heavily devoted to the atmosphere we created. We very seldom did any deliveries prior to Covid. We had to change our model to really connect with people who were just going to stop in, and work with delivery partners to figure out the best way to provide our food in a to go model.
How were you able to keep your business afloat during Covid?
We were able to stay alive in a variety of ways. We got a contract where the city funded us to provide to-go meals for frontline workers. We also partnered with organizations in the community who paid us to provide food to frontline workers. We got a grant from a group doing very localized grants for West Harlem restaurants or organizations. That meant we did not have to compete with the entire world or all the restaurants across the city. We were forced to go into delivery, which helped us out as well. We had community residents and customers who ordered food or just sent us a check to help keep us open.
How did you find out about the Columbia-Harlem SBDC loan program?
We were clients of the SBDC from the time we got started. Prior to 2014, I started doing research on small business services and ways that entities in the community could be supported. The SBDC connected us with an accelerated program that the city does for restaurants that helps with a lot of the red tape and bureaucracy.
We were always in the network so every now and then we got information. We were also plugged into a variety of different spaces sending out information about different grants like Community Board 9. We're still working with the SBDC and will be part of the Harlem Local Vendor Program. 
How have things been going as everything has reopened?
It's been up and down, but it's been a busy month, which is good. The challenge we're facing is staffing and making sure we have the appropriate people in there. We are starting up some of our programming and music. We just put up new artwork. We're also looking to pivot into selling our food items independently of the restaurant in supermarkets and other stores that the community will have access to. 
What are you looking forward to at Tsion Cafe this summer? Any favorite dishes people should put on their to-eat lists?
Every second Saturday we have live jazz music, and every third Thursday we have an open mic night. The final Saturday of each month we have a DJ that plays music from a variety of genres, which is an opportunity to really get a flavor of the different types of music in Harlem. New cocktails that we're putting on the menu incorporate a lot of the history of our community. We have a drink called the X, a drink called Redd Foxx. All of these use special spirits, including Ethiopian spirits. We have a few new items such as our chicken fried chicken wings with Ethiopian spice sauce, and brought back our lamb goulash. One of our favorite dishes is a sambusa, which has lentil and chicken options. 
What can the community do to continue supporting Tsion Cafe and other local restaurants?
Come in, have a seat, taste our delicious vegetarian and vegan options. We encourage people to come and see the artwork. It's up for sale by the artists, we get a very small percentage but goes to the artists and the curator. We're hiring local musicians, so come to events to support those local musicians.