Here Are 8+ Free and Low-Cost Events in NYC to Observe Juneteenth 2022
Learn more about the history of Juneteenth and find free and low-cost events around the city to honor the day. 
June 14, 2022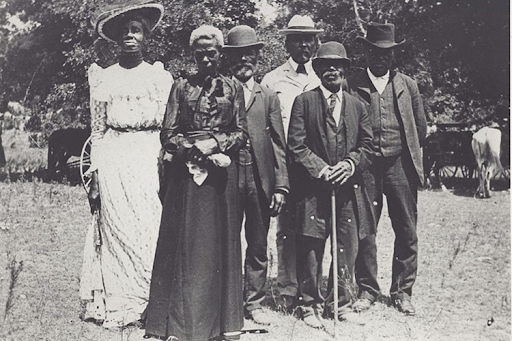 For more than 150 years, Juneteenth has been celebrated with storytelling by elders, barbecuing, and eating together at gatherings. June 19, nationally known as Juneteenth or Emancipation Day, is a national holiday celebrated annually to commemorate the end of slavery in the United States.
While it has long been celebrated, there has been a growing awareness of the holiday over the past few years, particularly renewed after the nationwide protests that followed the police killings of Black Americans, including George Floyd and Breonna Taylor in 2020. Now, Juneteenth is both a holiday and a reminder to continue to push for racial justice. 
Traditionally, to honor the blood shed by slaves, celebrants have sipped on red drinks like strawberry soda pop, strawberry lemonade, hibiscus tea, and red punches; while nibbling on red foods like red beans and rice, hot sauce, red fruits, and, for a sweet treat, red velvet cake. 
On June 17, 2021, President Joe Biden signed a bill into law, making Juneteenth a federal holiday. 
"Juneteenth has never been a celebration of victory or an acceptance of the way things are. It's a celebration of progress," said President Barack Obama (CC'83). "It's an affirmation that despite the most painful parts of our history, change is possible — and there is still so much work to do."
This year, you can celebrate Juneteenth at free and low-cost events in Upper Manhattan and all around New York City.
Here are a few upcoming events to mark the holiday:
Saturday, June 18, 2022
African Burial Ground Way (formerly Elk Street) and Duane Street
The African Burial Ground National Monument's Juneteenth Celebration will be held on Saturday, June 18, at the outdoor memorial located on Duane Street. The event will include speakers, a ranger-led tour, music ministry, step performances, and musical performances. 10 am - 4 pm
898 St. Nicholas Avenue at 155th Street
Celebrate Juneteenth with Grammy-Nominated Music Artist Fyütch. He will perform original songs and share stories about the day we celebrate the ending of American enslavement. You are invited to sing, dance, and learn more about this historic event that is now a federally recognized holiday. nvite you to sing, dance, and learn more about this historic event that is now a federally recognized holiday. 11 am and 1 pm
Morningside Park: Yoga, African Dance & Drumming by Harlem Wellness in 2nd Annual Historic Harlem Parks Juneteenth Festival
Harlem Wellness brings yoga, African dance classes, and drumming to Morningside Park's lawn across from the pond in partnership with NYC Parks and Friends of Morningside Park as part of the 2nd annual Historic Harlem Parks Juneteenth Festival. 12 - 3 pm
St. Nicholas Park: GoodVibesInThePark Black Wellness in 2nd Annual Historic Harlem Parks Juneteenth Festival
Ayo and Friends of St Nicholas Park bring back last year's favorite Black health and wellness and arts event GoodVibesInThePark on the James Baldwin lawn and at the 135th Street plaza in partnership with NYC Parks as part of the 2nd annual Historic Harlem Parks Juneteenth Festival. 1 - 8 pm
Jackie Robinson Park: National Jazz Museum in Harlem Global Music & Dance in 2nd Annual Historic Harlem Parks Juneteenth Festival
National Jazz Museum in Harlem brings world music and dance - including dance classes! - and the global star Wunmi to Jackie Robinson Park's bandshell in partnership with NYC Parks for the 2nd annual Historic Harlem Parks Juneteenth Festival.  2 - 5 pm
Marcus Garvey Park: Harlem's own Allan Harris & The Black Cowboys in 2nd Annual Historic Harlem Parks Juneteenth Festival
Cross That River - Join the Federation of Black Cowboys and then Harlem's own star Allan Harris - globally renowned for his jazz vocals, guitar, and songwriting - in the story of Blu, who runs away from slavery to become a cowboy out west. 6:30 - 9:15 pm
181 West 135th Street
Head to Central Harlem to celebrate Juneteenth at the Black Entrepreneur's Juneteenth Pop-Up Shop. Support our Black entrepreneurs as they showcase their brands: jewelry, apparel, skin and hair care, health and wellness, and more. 2 pm - 7 pm
Sunday, June 19, 2022
Central Park West between 82nd and 89th streets
Seneca Village was a predominately African American community that existed before New York City created Central Park. On June 19, enjoy performances by world-renowned artists as they interpret the fascinating history and significance of Juneteenth and Seneca Village through dance, poetry, music, storytelling, art activities, and more! 10 am - 2 pm
119 West 23rd Street
In celebration of Juneteenth, Poster House is pleased to offer free admission to the museum on Sunday, June 19 (discount applied at check-out). Poster House is dedicated to presenting the impact, culture, and design of posters, both as historical documents and methods of contemporary visual communication. 10 am - 6 pm
Museum of the City of New York, 1220 Fifth Ave. at 103rd Street
Celebrate Juneteenth at MCNY with a soulful acoustic performance by the Martha Redbone Roots Project. This seated, outdoor concert is the culminating event of the Museum's "Freedom Week: A Journey into Art & Activism" and takes place on the museum's south terrace. 6 pm
Virtual
Through music, dance, and commentary, Rev. Dr. James A. Forbes Jr. leads this celebration — with Mistress of Ceremonies Tamara Tunie, special guest Wayne Brady, Martin Luther King III, and Annette Gordon-Reed to recognize the importance of this historic day and to acknowledge the long road still ahead. 7:30 pm
---
Here are some other ways you can get involved this Juneteenth: