Five Uptown NYC Oases with Majestic Fall Foliage Views
Add these spots to your autumn bucket list and experience fall foliage in its fullness Uptown.
November 15, 2023
A crisp autumnal season in New York City wouldn't be complete without majestic fall foliage views. It's the time of year when the Big Apple's landscape undergoes a visual transformation, and the concrete jungle is enveloped in nature's rich harvest hues. During peak foliage season, we've rounded up outdoor spaces in Upper Manhattan and the Bronx where you can experience fall in its fullness.
Whether you're looking for a scenic trail for a morning jog or you're in search of the perfect park for a Saturday stroll to catch up with friends over pumpkin spice lattes, these Uptown places deserve a spot on your autumn bucket list.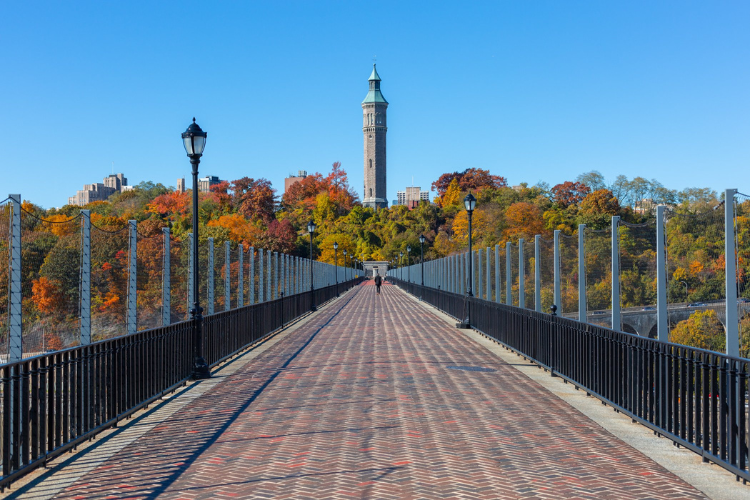 Standing 140 feet above the Harlem River, the High Bridge—New York City's oldest-standing bridge and a pillar within the Croton Aqueduct system—has a pedestrian walkway that boasts elevated panoramic views along Uptown's eastern coastal line as far as the eye can see. Atop the landmark—which links Washington Heights to the Bronx's Highbridge neighborhood—you'll be able to take in the bountiful fall blooms of Highbridge Park. The Uptown green space is home to a medley of red oak, Norway maple, hickory, white ash, and black birch trees. The High Bridge is an ideal spot for amazing views paired with NYC history.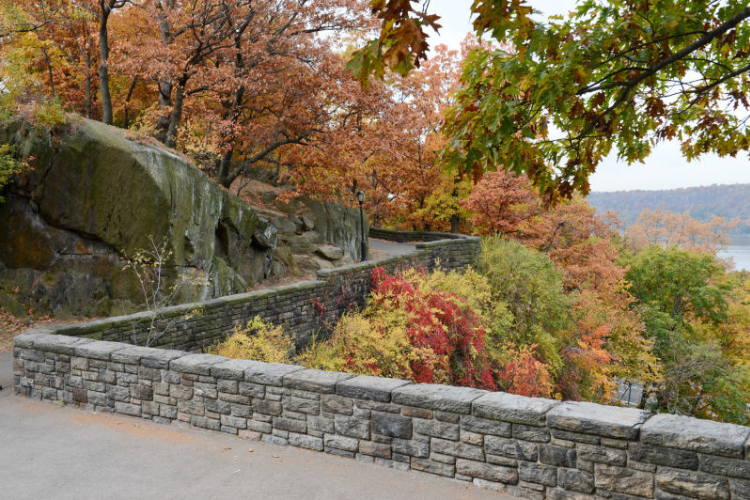 Nestled in the vibrant neighborhood of Washington Heights, Fort Tryon Park has an autumnal assemblage of seasonal plants and trees. The scenic land—historically inhabited by theWeckquaesgeek Tribe—is where you can find breathtaking, expansive views of The Palisades across the Hudson River. Within the park itself, which is home to New York City's largest publicly accessible garden, you'll find rare American elm trees with bright green and chartreuse hues. Across the river in New Jersey, you'll be able to take in captivating sights of fall forestation; a nice mix of maple and oak trees that bear bright-colored red, orange, and yellow leaves. If you have a passion for art history, swing by The Met Cloisters after your nature excursion. Housed inside of the park, the museum features medieval European architecture, gardens, and hundreds of pieces of art.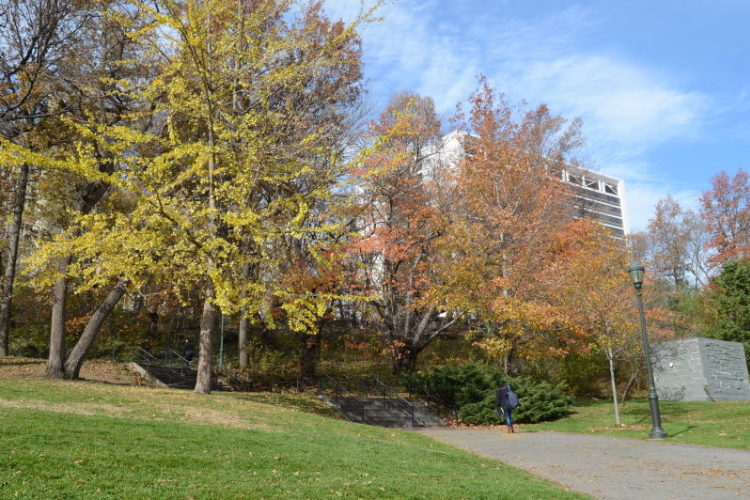 From concerts to yoga sessions, St. Nicholas Park is often the backdrop of community-driven cultural happenings Uptown, and this season is a special time to see the hilly green space in all its splendor. Situated on the edge of Hamilton Heights and Manhattanville, the 117-year-old park harbors nearly 23 acres of picturesque nature trails lined with oak trees, green ashes, and golden honey locusts. The park is home to the James Baldwin lawn, named after the late literary giant and civil rights activist, who was born in Harlem.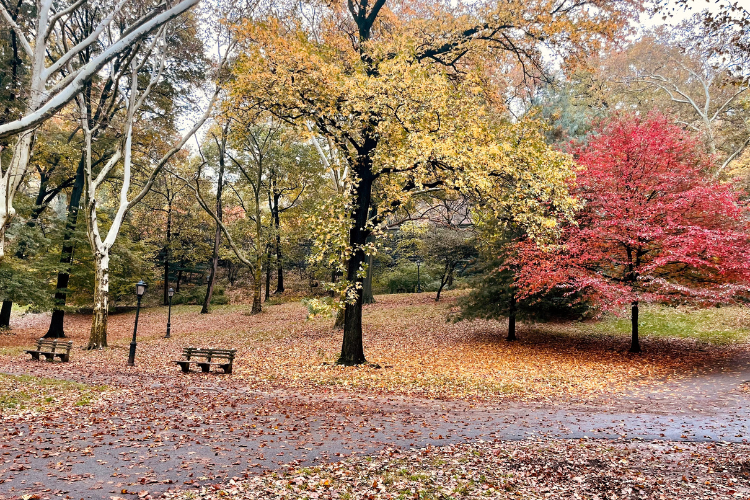 Riverside Park is yet another green space for sylvan sights with a side of waterfront views. The park's Cherry Walk—a four-mile trail spanning from 158th Street in Harlem to 72nd Street is the perfect path to see basswood, sweetgum, golden rain, ironwood, and maple trees, up close and personal, along your morning jog. The park is also home to Japanese zelkovas, which transition into vibrant red and yellow colors during the fall. The adjacent West Harlem Piers Park is also a great spot to marvel at New Jersey's fall foliage.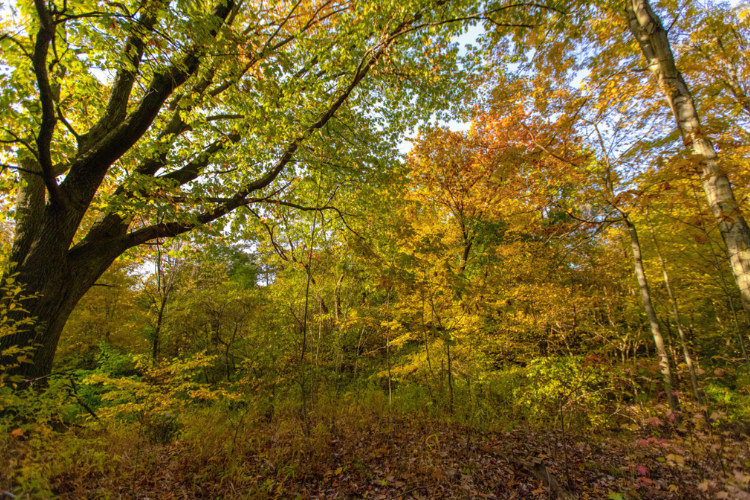 Central Park is the horticultural heartbeat of New York City, and some of the best spots for fall foliage views within the urban green space are Uptown. The North Woods section of the park, which stretches from 101st to 110th streets, features 40 acres of photo-worthy sights. Its woodland landscape is made up of scarlet oaks, black cherries that turn red and yellow during the autumn season, red maples, and other types of trees. Other great spots for festive fall vibes include the Great Hill, the North Meadow, and the Reservoir. It's the perfect oasis to take a break from the hustle and bustle of NYC.