Exploring Civil Rights Pioneer Martin Luther King Jr.'s Harlem Connections
These five historic Uptown spaces are connected to Dr. Martin Luther King Jr.'s journey for justice.
January 13, 2023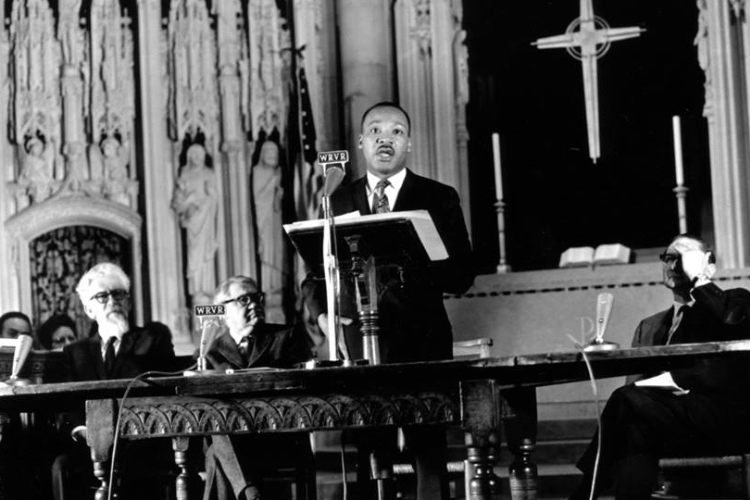 From the shores of Ghana where he decried colonialism, racism, and global inequality to the steps of the Lincoln Memorial in Washington, D.C., where he orated his poignant and prolific "I Have a Dream" speech, the echoes of Dr. Martin Luther King Jr.'s voice for change have reverberated across the world and inspired generations of changemakers.
Although the pioneering civil rights leader's global legacy knows no bounds, his activism has local roots. As we reflect on Dr. King's storied life and transformative contributions toward advancing racial equity, we've collected a list of historic spaces Uptown that are connected to his journey for justice.
The Riverside Church
490 Riverside Dr.
Dr. King spoke truth to power. His wisdom-packed words were reflective of the human condition, brought deeply-rooted issues surrounding racial injustice to the surface, and provided a sense of hope that societal change was attainable. Among his most notable speeches is "Beyond Vietnam: A Time to Break Silence," which was delivered at the historic Riverside Church nestled in the heart of Morningside Heights.
On April 4, 1967 — exactly one year before his tragic assassination — he stood before a crowd of more than 3,000 people that packed the pews at the place of worship and expressed his opposition toward the Vietnam War. Within his speech he drew parallels between the vulnerable Vietnamese communities and impoverished populations within America, delving into how both would feel the brunt of the war. Staying true to his unwavering belief in nonviolence, he outlined five strategies to peacefully end the war during his speech.
"A genuine revolution of values means in the final analysis that our loyalties must become ecumenical rather than sectional," said Dr. King. "Every nation must now develop an overriding loyalty to mankind as a whole in order to preserve the best in their individual societies. This call for a worldwide fellowship that lifts neighborly concern beyond one's tribe, race, class, and nation is in reality a call for an all-embracing and unconditional love for all mankind."
During his address, he was joined by Union Theological Seminary President John Bennett, Amherst College Professor Henry Commager, and Rabbi Abraham Joshua Heschel. "Beyond Vietnam" is one of Dr. King's most controversial speeches as he initially received backlash for connecting global issues to the civil rights movement, however, he felt morally propelled to elevate his voice of concern.
The Cathedral Church of St. John the Divine
1047 Amsterdam Ave.
Eleven years prior to his riveting speech at The Riverside Church, Dr. King stopped by another Harlem-based place of worship to deliver an uplifting message. On May 17, 1956, he spoke at The Cathedral Church of St. John the Divine. Dr. King delivered a speech dubbed "The Death of Evil upon the Seashore" before a crowd of 10,000 people to mark the National Day of Prayer.
Within his address, he discussed commonalities in global struggles for equality, the evils of injustice, the need to eradicate socio-economic inequities, and the perils of mass incarceration.
"We must ask ourselves what kind of communities we want, not just today but fifty years from now," said Dr. King. "We must intentionally acknowledge that institutional racism is alive and well, and be willing to speak "truth to power" regarding the racial problems that persist in America today."
St. John the Divine continues to lead programming, including choral celebrations, that celebrate the legacy of Dr. King.
Dr. Martin Luther King Jr. Blvd.
125th St.
The stretch of Harlem's central corridor — 125th Street —  is honorarily named after the social justice pioneer. It was named after Dr. King in 1984.
From First Avenue to the Henry Hudson Parkway lined along both sides of the street are locally-owned businesses, grassroots nonprofits, and other neighborhood gems that serve as actualizations of his visions for economic and social progress, cultural innovation, service, and the power of community. It's one of 1,000 streets throughout the country named for Dr. King.
Harlem Hospital
506 Lenox Ave.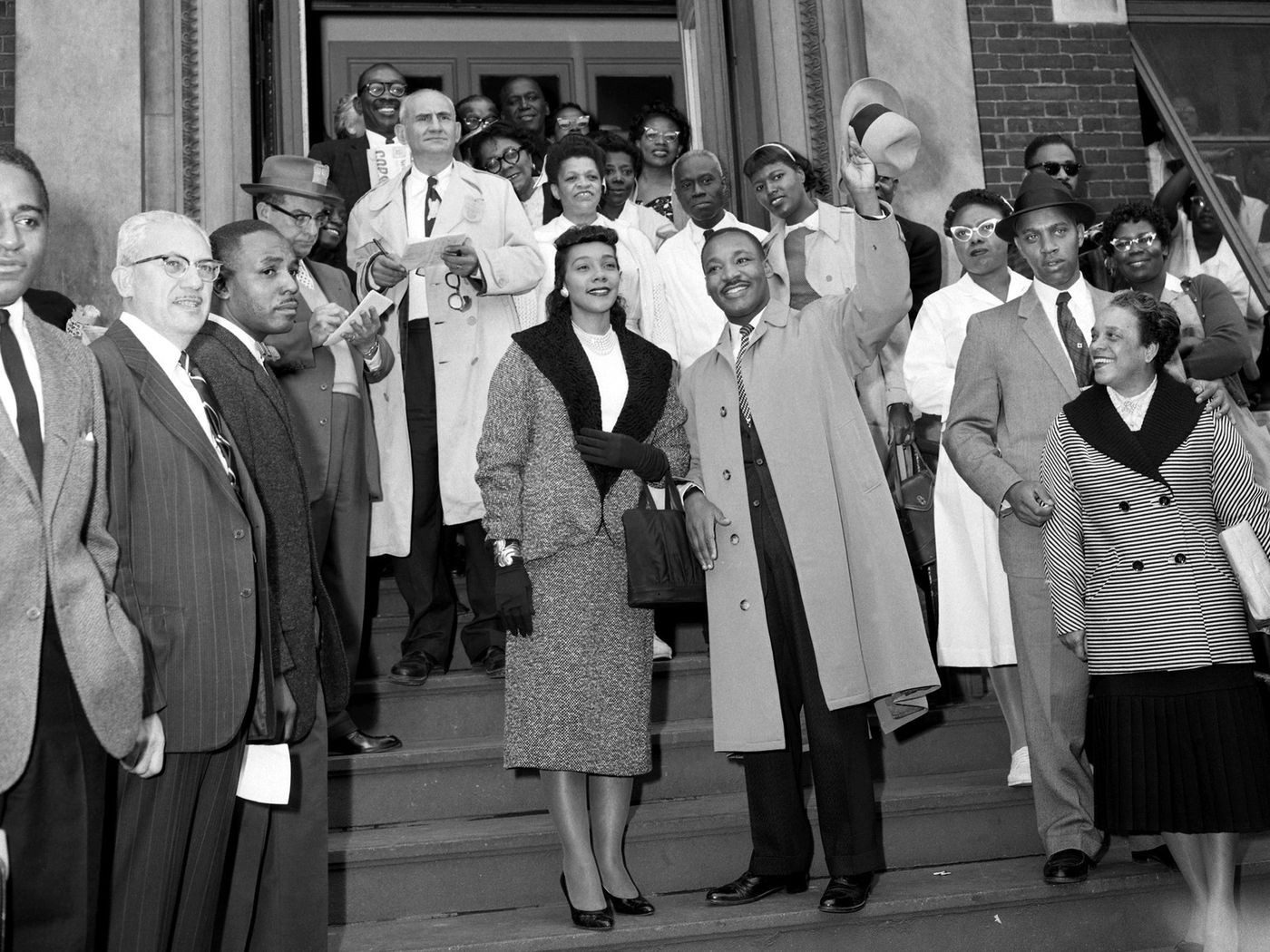 On Sept. 20, 1958, while visiting the now-shuttered Blumstein's Department Store in Harlem for a book signing that celebrated the release of his memoir "Stride Toward Freedom: The Montgomery Story," Dr. King was harrowingly attacked and stabbed by Izola Ware Curry.
The weapon was lodged near his aorta and he underwent life-saving surgery led by trailblazing doctor Aubre de Lambert Maynard — who was a clinical professor of surgery at Columbia's Vagelos College of Physicians and Surgeons — at Harlem Hospital. Following the procedure, Dr. Maynard monitored King's progress and he fully recovered from the unfortunate incident on January 16, 1959. Dr. King penned a letter of gratitude to the surgeon after his recovery.
"I have no doubt that it was your skilled surgery and your genuine concern that brought me from a very low ebb to a healthy body again," King wrote. "Your thoughtful and considerate concern will remain dear to me so long as the cords of memory shall lengthen."
Today, the hospital harbors the Martin Luther King Pavilion to commemorate the day he was saved and honor his enduring legacy.
Columbia University, Miller Theatre
2960 Broadway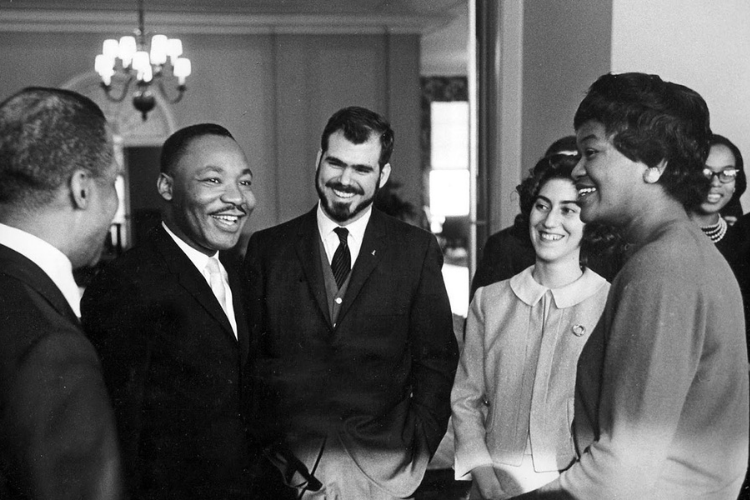 Columbia University served as the backdrop for one of Dr. King's powerful speeches. On October 27, 1961, he spoke at the McMillan Theatre — presently known as the Miller Theatre — about voter registration and the need to eradicate segregation entrenched within federal programs. During his speech, he also spoke about his dismay with the White House's lack of involvement in the advancement of civil rights for disenfranchised communities.
He was invited by The Columbia Owl, a publication of Columbia's School of General Studies. Over 300 people attended and proceeds from the event were given to the Southern Christian Leadership Conference: a nonprofit centered on teaching youth and adults about the different facts of civic engagement. Student activists also donated to the grassroots social justice organization.
"Morality can't be legislated, but behavior can be regulated," Dr. King said. "Our laws must control the effects of bad internal attitudes."