A Delicious Guide to Exploring New York City Restaurant Week Uptown
Add these Uptown spots to your bucket list for NYC Restaurant Week, running July 24 to Aug. 20.
July 24, 2023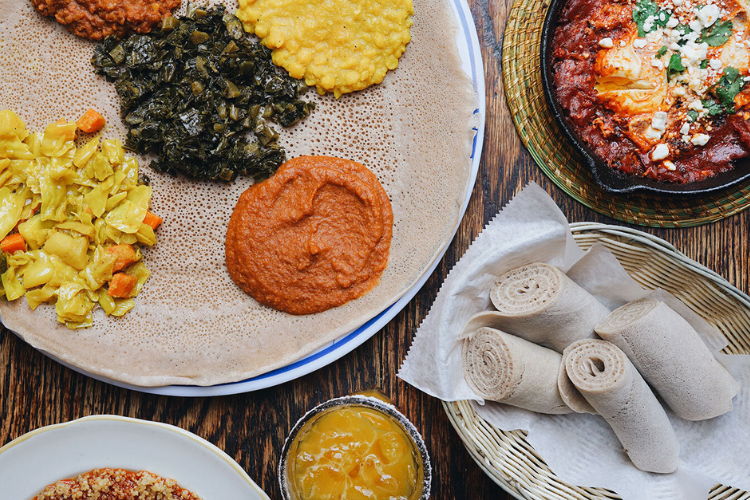 New York City is a melting pot. With one stroll down a Big Apple block, you can see and smell the global influences that are embedded into the city's culinary scene.
New York City Restaurant Week—a twice-annual event where patrons can enjoy prix fixe meals (two-course lunches and three-course dinners) across the five boroughs—presents the perfect opportunity to explore the city's diversity through food. The event runs from July 24 through August 20, 2023.
Whether you're in search of a new brunch spot to try with friends this weekend, want the scoop on a Michelin-star restaurant that's creating buzz around town, or simply want to be transported to a different country through a delectable meal, there's something on the list for everyone.
The Columbia Neighbors team rounded up our favorite Uptown-based participating eateries. Bon Appétit!
Brandee's Pick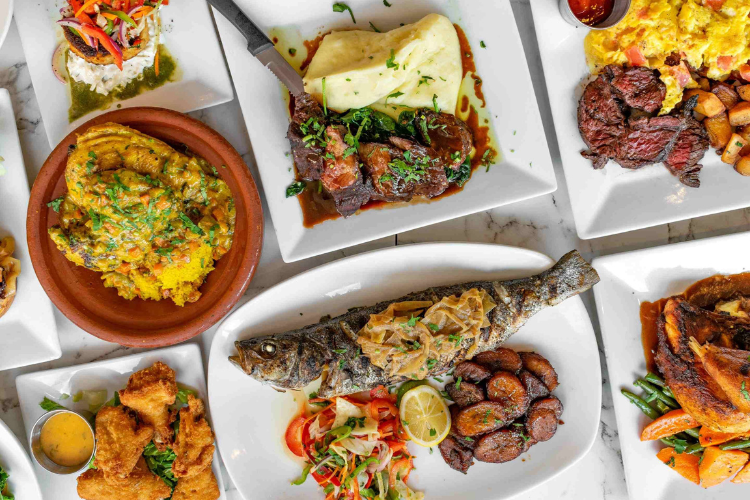 2375 Adam Clayton Powell Jr Blvd.
"One of the most alluring things about this West African and French fusion neighborhood gem is the storytelling that's done through its menu. With every dish, you can taste Chef Cisse's reverence for his Senegalese roots. The meals here are plated to perfection and are just as vibrant and picturesque as the artwork that hangs on the restaurant's walls. My must-have menu items are the Poisson Yassa, a traditional Senegalese whole branzino seasoned in tasty spices, and the Grilled Shrimp Basquaise served with coconut rice and brightly flavored lemongrass curry coconut sauce. Beyond the fare, I fell in love with this restaurant's chic decor and top-tier ambiance."
Janrey's Picks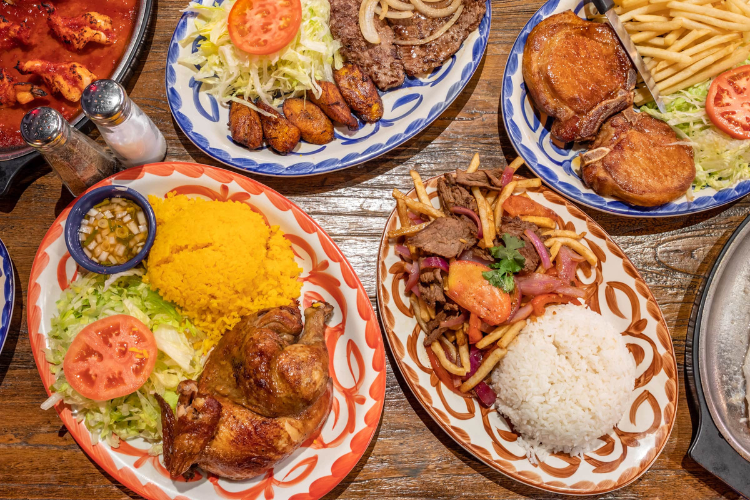 4160 Broadway
"New York's Chino Latino restaurants have taken TikTok by storm—and for good reason. They're an emblem of the cross-cultural history that defines New York City's diverse culinary scene. There are also only a few Chino Latino restaurants left in the city, and Flor De Mayo is one of them. Started in 1977 by a group of Chinese immigrants migrating from Peru, this spot has a unique history you can literally taste in their dishes. Chinese-Peruvian food is as good as it sounds so you can't go wrong, but my perfect meal is a Fish Ceviche to start, the Lomo Saltado—paired perfectly with Chinese-style fried rice—and a Cafe con Leche."
251 E. 110th Street
"Spanish food is one of my all-time favorite cuisines. So naturally, I can be pretty picky when it comes to my tapas. But when I tried the Croquetas Cremosas at East Harlem's GAUDIr (which means "to enjoy" in Catalan), I knew they were some of the best I've ever had. The main entrees were no different. After sharing a gorgeous platter of Paella de Mariscos and the freshly grilled Pulpo a la Plancha, my table immediately started checking flight prices to Barcelona. We didn't book the trip, but whenever I'm craving a Spanish adventure, I'll remember that I can book a reservation at GAUDIr and enjoy some amazing Spanish food."
Kelly's Picks
763 St. Nicholas Ave.
"This Jewish-Ethiopian spot reflects New York's status as the ultimate melting pot and I love how this restaurant truly cultivates community through artwork and live music. Must-tries include the ful (this fava bean dish is so refreshing in the summer months), malawach (a buttery Mediterranean pancake with grated tomatoes and spiced green sauce), and, of course, doro wot (a traditional Ethiopian chicken stew with oh-so-spongy injera). Last year, Neighbors had the honor of speaking with co-owner Padmore John, who gave us the skinny on the delicious Ethiopian spirits on tap and how the local community rallied behind the restaurant during COVID-19."
142 Hamilton Place
"Looking for a romantic spot featuring Northern Italian cuisine? Restaurant week goers are in luck when it comes to L'Artista Italian Kitchen & Bar in Hamilton Heights. Their restaurant week menu includes the "Cocomero," a watermelon, almond, arugula, and ricotta salad with balsamic dressing. Refreshing! Pair that with a Mediterranean branzino filet or lemon-ricotta ravioli — heaven. And there's gelato involved? You don't have to tell me twice. The restaurant itself is situated right in front of Hartman Square, so named for undersung jazz great Johnny Hartman. Head by on a Sunday night and you will hear live music, curated by the owner of the restaurant, renowned composer Daniel Schnyder. "
Kymani's Picks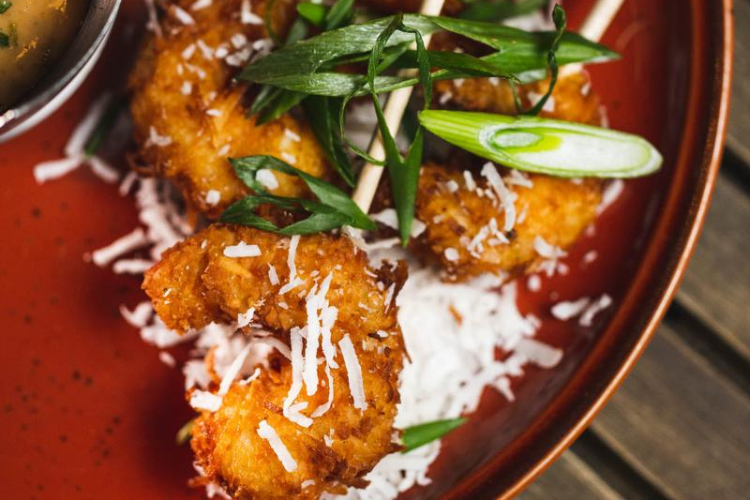 2164 Frederick Douglass Blvd.
"As a lover of Asian cuisine, stumbling across BIXI was one of the best things that could've happened to me this past winter. Their menu pulls from so many cultures across the continent, but their chicken katsu sliders and skewered coconut shrimp won me over 100%. The ambiance is vibrant with a dimly lit dining area, guaranteed to transport you to a vacation bursting with fun flavors and the perfect weekend energy. My friends and I indulge in our shared plates every time – including the pork belly bao buns, before diving into the best cheesecake you'll ever eat. In need of the perfect Friday dinner? Look no further than BIXI."
200 Malcolm X Blvd.
"My first time dining at Barawine, I didn't have specific expectations of food considering I knew I was entering a wine bar, but vino aside, their creative menu is inclusive of different cultures that are bound to satisfy your palate. The options at Barawine touch across Thai, American, Italian, and French cuisine and my personal favorites include their Braised Lamb Shank and Tiger Shrimp. Anytime I find myself in Central Harlem, I swing by and stop at the bar for their red sangria and treat myself to an order of yummy BaraFries. Not sure what to order? Not a problem, the selections are endless!"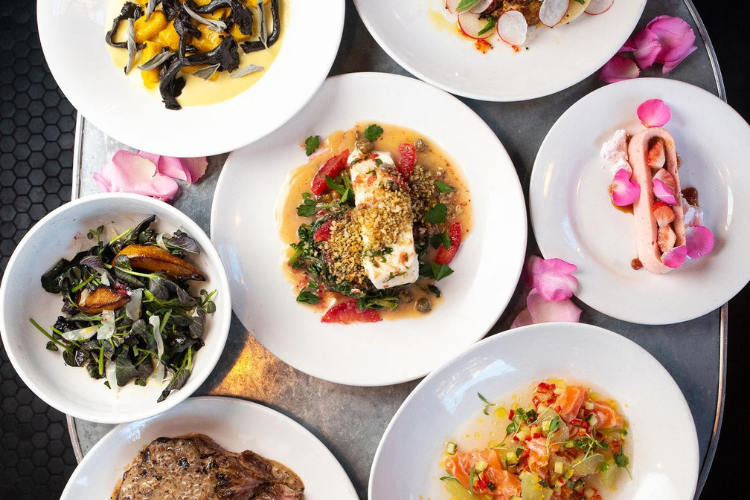 2211 Frederick Douglass Blvd.
"I tell anyone who'll listen that Vinateria is one of the best spots for food in Harlem. The Mediterranean menu is consistently delicious and seasonal, and the dining room is casually chic, perfect for a date or family meal. Don't miss the buttery black pasta overflowing with seafood or the inspired saffron pancakes, a more savory than sweet take on the brunch staple. Their wines and spirits lean towards boutique offerings, which is perfect for the adventurous. It's a thoughtfully curated place, founded by a Barnard alumna, and offers a great experience on every front."
2168 Frederick Douglass Blvd.
"This chef here has a James Beard award, which says plenty about the quality of the food. What makes it a double winner is the vibe. It's a friendly neighborhood spot for a good meal at any time or for any occasion. I'm partial to the brunch where there's something for every taste, from biscuit sandwiches and omelets, to short rib hash and mussels. What's not to love?"
---
Check out the full list participating NYC Restaurant Week eateries.