6 Uptown Brunch Spots in Harlem and Washington Heights to Add to Your Spring Bucket List
Dine locally and explore Upper Manhattan's burgeoning culinary scene.
April 05, 2023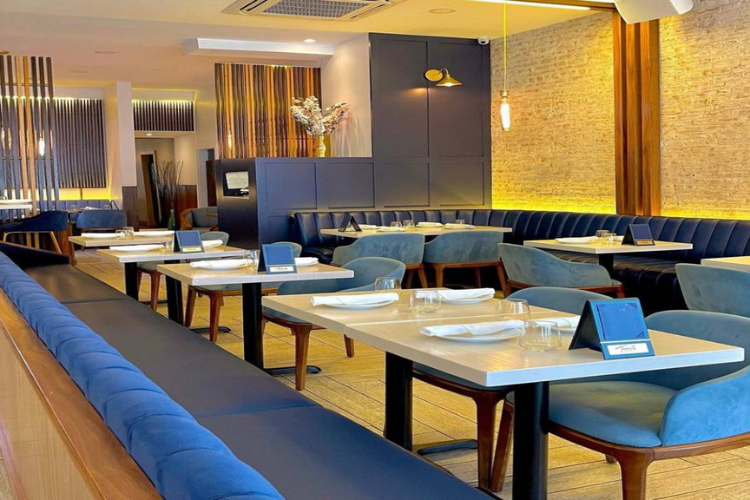 In New York City, brunch is more than a meal—it's a way of life. It's the quintessential weekend itinerary item where folks commune over staples like challah French toast and omelets, and conversations flow at the frequency of the bottomless mimosas being served.
In the Big Apple—which is indisputably one of the top foodie havens in the country—some of the most coveted eateries are nestled in Upper Manhattan. Although the local dining options Uptown are endless, we've rounded up a few restaurants to add to your spring bucket list. From Spanish-style tapas to Southern-inspired fare, explore these brunch spots in Upper Manhattan.
Terravita, Washington Heights
4193 Broadway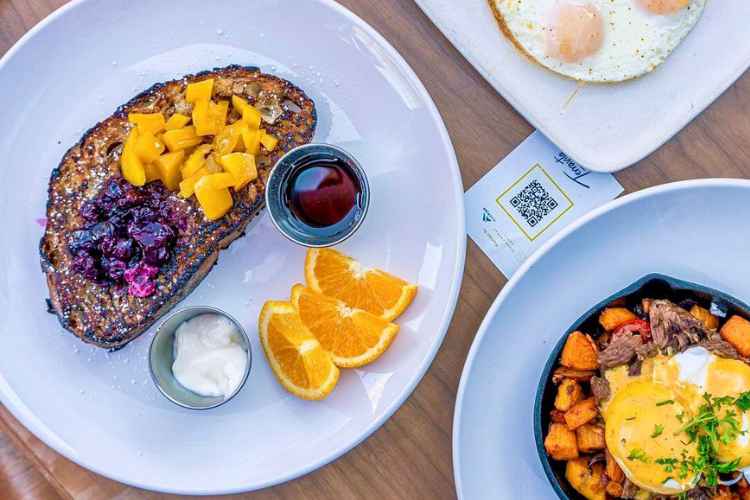 New York City is a melting pot and the menu at this Washington Heights-based neighborhood gem is reflective of the global diversity that exists within the metropolis. With brunch dishes like homemade Spanish-style Chorizo topped with jalapeño cilantro aioli to a seafood medley served on a bed of Indian-inspired Naan bread, Terravita takes your tastebuds on a global excursion with a menu that marries definitive culinary staples across different cultures. The eatery's collection of cocktails is just as vibrant and refreshing, boasting an array of spritzes and fruit-infused mimosas and bellinis.
Vinatería, Harlem
2211 Frederick Douglass Blvd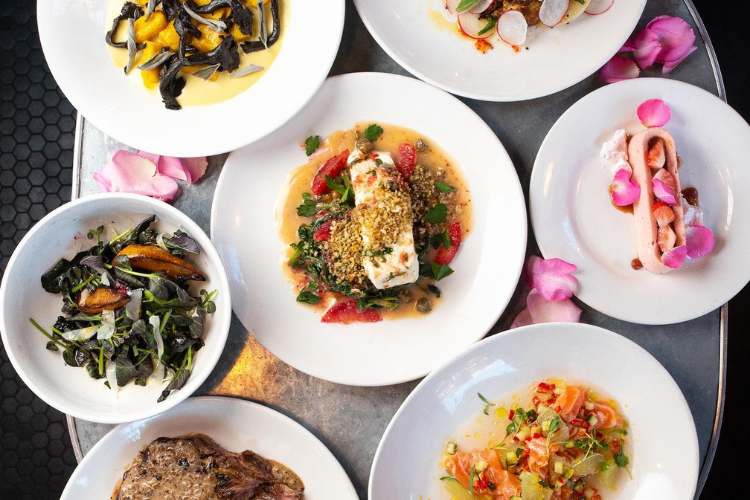 Founded by restauranter and Barnard College alum Yvette Leeper-Bueno in 2013, Vinatería has cemented itself as a staple along Harlem's Restaurant Row. The cozy eatery brings a taste of the Mediterranean to Upper Manhattan. Intertwining culinary traditions from Italy and Spain, the menu features dishes made of locally sourced ingredients that deliver global flair.
Among the must-try brunch items are the Venetian-inspired Shrimp Polenta and the Black Spaghetti. If you have a sweet tooth, try the Orange Saffron Pancakes or top off your meal with the Olive Oil Cake. The eatery features an extensive regional wine selection and a brunch cocktail list with imaginative libations. At the core of it all, it's about community. "It's a neighborhood place. It's a place to come, bring your family, let your hair down," said Leeper-Bueno.
The Expat, Morningside Heights
64 Tiemann Pl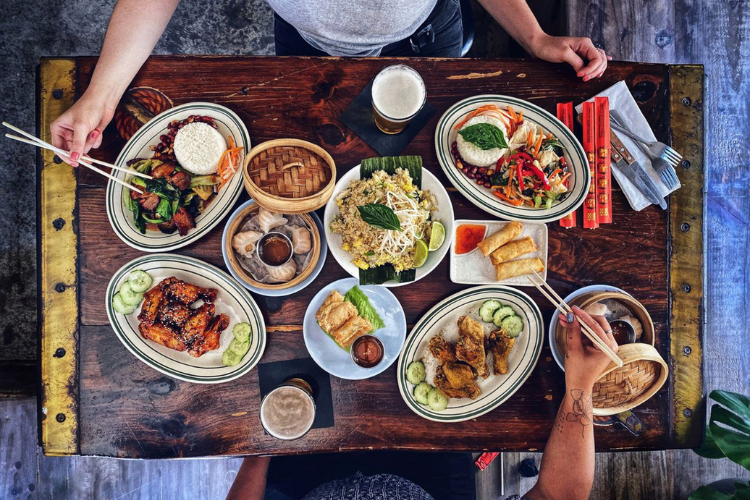 The Expat is an ode to the richness of Southeast Asian culture. From the menu items to decor—that includes walls covered in chinoiserie wallpaper and clippings from vintage 1970s Hong Kong movie magazines to the unique trinkets throughout the restaurant—this hidden gem is one of the most distinctive eateries uptown. The brunch menu is packed with delectable options destined to satisfy any palette. Among the selections are the Vietnamese Omelet—a turmeric rice crepe served with dressing—Breakfast Fried Rice and a light and crispy Mochi Waffle with berries.
The creatively crafted cocktail menu features wittily named drinks like the cold-brew concoction "Express Yourself." Depending on which day you decide to swing by, your brunch just might be served with a side of live music.
Bistro Casa Azul, East Harlem
343 Pleasant Ave at East 118th St.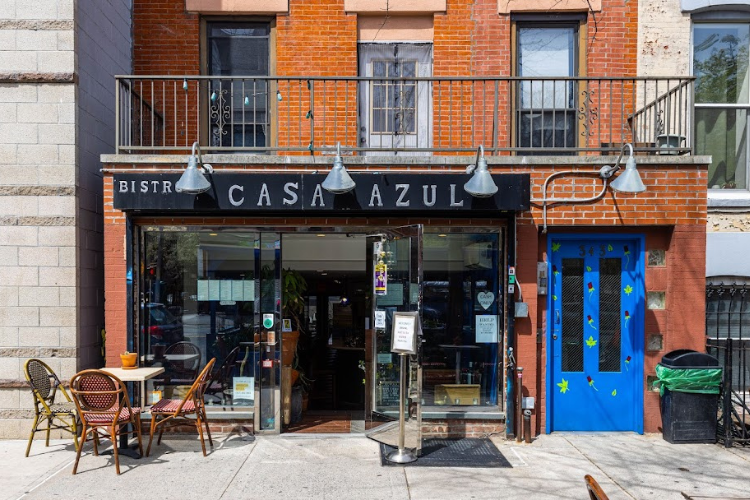 Tucked away in a corner of East Harlem, Bistro Casa Azul has emerged as a culinary pillar in the local community. Since it opened its doors in 2018, the family-owned eatery prides itself on delivering "elevated" authentic Mexican cuisine that reimagines traditional recipes. Inspired by its moniker, the restaurant's décor is outlined with calming blues—from the walls to the lighting fixtures; serving as the perfect backdrop for intimate conversations.
Bistro Casa Azul's brunch menu doesn't disappoint with dishes like Molletes, toasted bread topped with refried beans, melted Oaxacan cheese, pico de gallo and chile, the Huevos a la Mexicana, and Mezcalmosas. The inviting dining experience makes you feel like you're indulging in home-cooked meals in someone's kitchen.
Ponty Bistro, Central Harlem
2375 Adam Clayton Powell Jr. Blvd.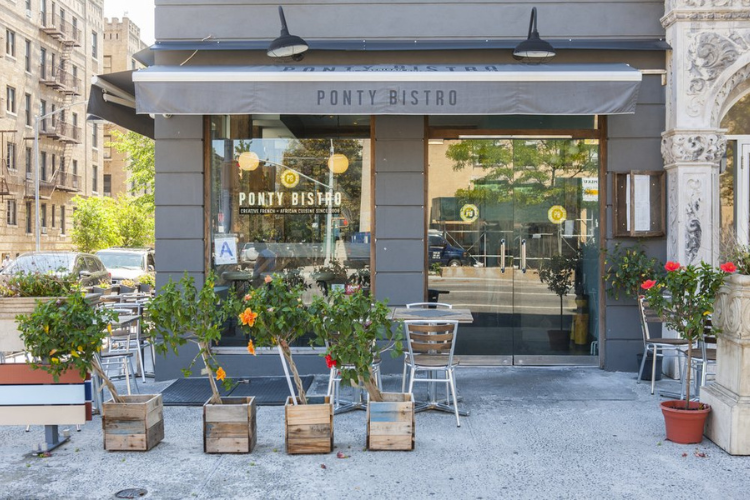 Ponty Bistro is the brainchild of culinary innovator Chef Cisse. Inspired by his Senegalese roots, he teamed up with his cousin Chef Cheikh to introduce an African and French bistro to Harlem. Indulge in flavorful dishes like the Poisson Yassa, a traditional Senegalese whole branzino fish seasoned in tasty spices, or opt for the French Crepes stuffed with Nutella, banana, strawberry, and vanilla ice cream.
The drink menu includes a selection of classic cocktails and mocktails like Lemonade De Dakar and Fresh Bissap Juice. The only thing sweeter than the eats and libations is the impeccable, chic décor, which is the perfect setting for a brunch selfie.
Melba's, Harlem
300 W 114th St.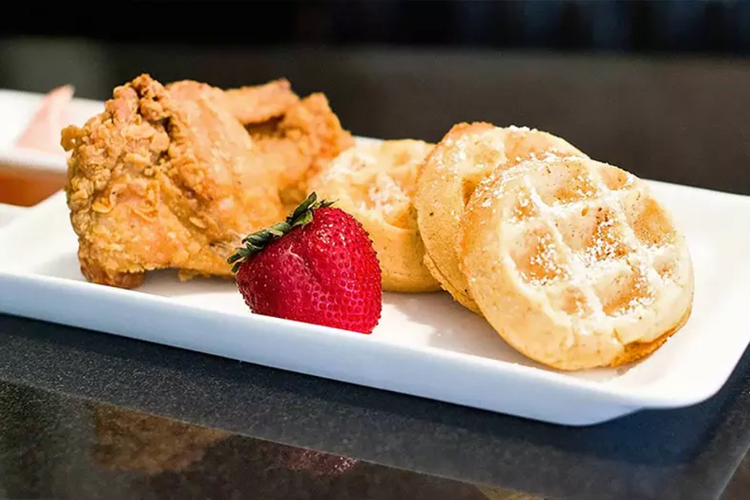 If there's one word to describe the vibe and aura at Melba's it would be community. Since its inception, the beloved restaurant has evolved into a definitive staple within, not only Harlem's, but New York City's culinary scene. It's grown to international acclaim, attracting patrons from across the globe, but has stayed true to its local roots. Every dish served at the Southern-style eatery, tells a story of the proprietor's South Carolina roots and is crafted with love and reverence for Harlem.
Kick off your meal with a "Comfortizer" like Melba's Spring Rolls—packed with peas & rice, cheddar cheese, and collard greens and served with chili sauce—or the Country Catfish Strips. Among the comfort food classics to try for brunch are Melba's Signature Chicken & Eggnog Waffles and the BBQ Braised Short Rib. If you haven't been to Melba's, you have yet to experience an instrumental element of the heart and soul of Harlem's food scene.
---