A Conversation with Uptown Night Market Visionary Marco Shalma
Shalma shared the mission behind Uptown Night Market and how he's using the event to support local entrepreneurs.
July 14, 2023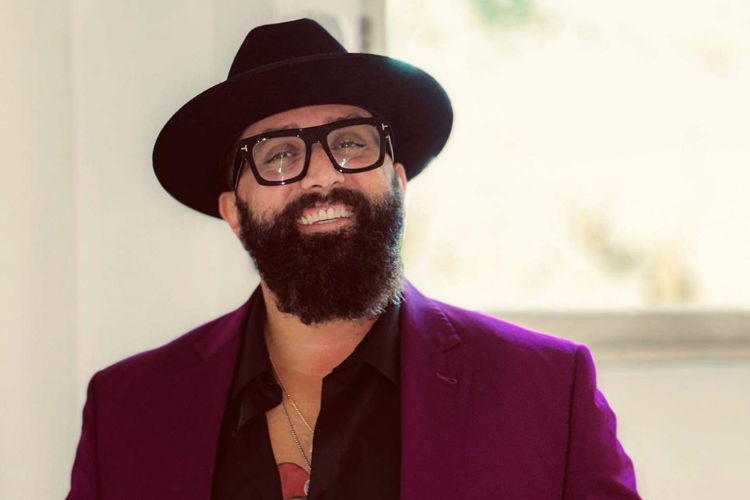 West Harlem's viaduct has become visually synonymous with Uptown. The elevated steel arches have served as the backdrop of iconic films and album covers and were once home to beloved Uptown eateries. The locale is currently in the midst of a culinary resurgence, and one of the engines behind that is the food and cultural festival, Uptown Night Market. Drawing in thousands of people for a massive monthly celebration of community, the fête has been touted as a must-attend event that authentically captures the diversity of New York City.
The market's recipe for success lies in the cultural influences of its creator, MASC Hospitality Group Founder Marco Shalma: the prevalence of hospitality in his Middle Eastern culture, the house parties his parents used to host that connected people through cuisine and conversation, the markets he explored during his travels, and even the late and legendary chef Anthony Bourdain's travels through global food culture. At the core of it all is his passion for empowering and uplifting communities like Harlem.
Columbia Neighbors spoke with Shalma about his journey in the hospitality space, the origins of the Uptown Night Market, and how he's using the event to support local entrepreneurs.
What led you to pursue a path in hospitality? 
My cultural background is Middle Eastern. My mom is Moroccan and my dad is Egyptian.There's a strong sense of hospitality that is embedded within Middle Eastern culture. One of the ways to practice hospitality would be to bring people into your home to connect over food and coffee. Coffee is a big part of our culture because it creates opportunities to engage. When growing up, my parents would host house parties all the time, and it was always centered around food and my mom trying different cuisines. I loved that. As soon as I was old enough to help in the kitchen, that's where I was; trying different foods and communicating with people. I think that setting positioned me beautifully for what I'm doing with the Uptown Night Market and the rest of our events.
As soon as I hit my 20s, I traveled around the world and I started seeing food markets pop up in different places. I love the idea of not having to commit to a restaurant with a specific dish and being able to walk around and taste different things and enjoy them. I have to give big props to Anthony Bourdain. From the moment of reading his book and exploring some of the stuff he did with No Reservations, the entire idea of cultural cuisine, and learning new cultures through the food at those markets, is something that resonated with me big time.
What inspired you to cultivate the Uptown Night Market?
I live in Harlem. The neighborhood has a very dear place in the heart of our company. Everywhere we go, we receive love, but Harlem gives us a special type of love that we cherish. Our mission from day one has been to support communities that otherwise were ignored before and support small businesses that are representative of who we are. MASC Hospitality Group is comprised of women, people of color, and LGBTQIA+ individuals, and we wanted to represent that not only in the way we work, but who we work with. Before launching the Bronx Night Market, we realized there was nothing sensible in the form of a festival above 14th Street.
We wanted to fill a void. We wanted to do something that served communities like Harlem, the Bronx, and Brooklyn in a way that feels organic. When creating something like this, it's imperative to work closely and build with community leaders, elected officials, and community boards to make sure the event feels organic and very welcoming. We want to understand the community's needs, wants, and the current issues they're facing.
"We really wanted to do something that served the communities like Harlem, the Bronx, and Brooklyn in a way that feels organic."
When you think of Harlem's aura, what's the first thing that comes to mind?
Trendsetting. It's the birthplace and center of cool in New York City. We know NYC is a machine that kind of moves the entire world when it comes to what's cool, what's in, and what's not. Harlem has a special place within that. I would also say the neighborhood embodies a strong sense of authenticity and culture. The three C's that our company focuses on are cuisine, culture, and community. We make sure those things are always dominant in everything we do and are embedded into all of our conversations. In Harlem, the cultural aspect is a big part of what we do.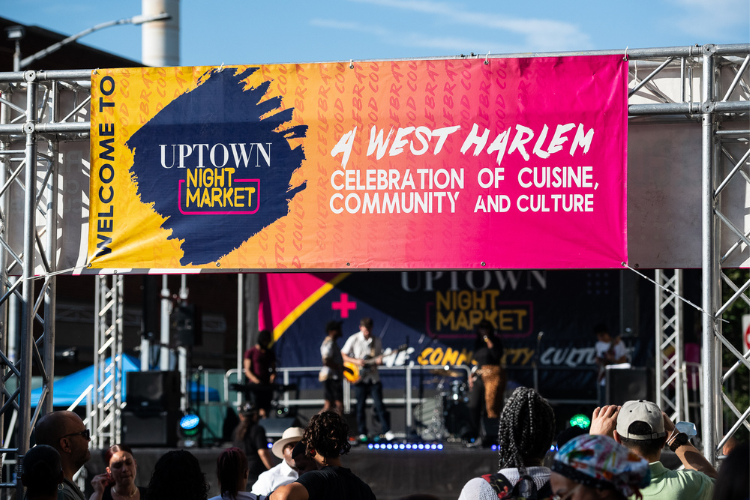 Why did you decide to host the event on 12th Ave. under the viaduct?
One of my favorite places to go back in the day was the Italian restaurant Covo Trattoria & Pizzeria on 135th Street and 12th Avenue  I would go there on Sundays and have the same dish: eggplant pasta. I patronized the business for nearly nine years. When there were more active restaurants over there, many of us thought the area would emerge into a place similar to the South Street Seaport. The scenery lends itself so beautifully. It's under the arches. It's right next to the park. It's right under a park. It's right by the water. It's just such a beautiful iconic setting. I've always wanted to do something in that area to showcase it to people. I focused on hosting an event like the Uptown Night Market at that location for nearly three years. It's a symbol of Harlem and Harlem is a symbol of New York. That's why I thought hosting it along 12th Avenue would be iconic.
Over 70 percent of your vendors are women/POC/immigrant/LGBTQIA+ owned and operated micro-businesses. Can you talk about the importance of using events like the Uptown Night Market to shine a light on underrepresented founders?
We wanted to support and prioritize businesses that reflect our company's diversity. New York City is a major travel destination for tourists, while we invite tourists to join in on the experience, we wanted to cater to real New Yorkers, people that live over here. One element of that is working with vendors and small business owners who are from the communities where we host the markets. It's always been embedded in our mission to do that, and it will always be.
Through being able to create something that has been successful and has become popular within the realm of food, having that diversity opens the door for larger conversations about the importance of tolerance and respect. Going beyond the market, we support small businesses in other ways by providing them with tips when it comes to social media, marketing, branding, presentation, aesthetics, and operations. I talk to almost every vendor to provide feedback from what I'm seeing. That's something that we'd like to do more of in the future.
"Having that diversity opens the door for a larger conversation about the importance of tolerance and respect."
You've fostered community partnerships to bring the event to fruition. What's your connection to the West Harlem Development Corporation?
It's a nice story that's connected to the origin of the Uptown Night Market. Before we launched, I was trying to move the project forward for almost three years. I had numerous conversations in trying to figure out if this was doable or not, and then there was a little bit of a stop due to the pandemic. I decided to give it another try and reached out to the West Harlem Development Corporation. Zead Ramadan, executive director of the WHDC, got back to me and expressed interest in helping me make this happen. He did his part in moving the pieces and helping me through the process of connecting with community boards and local organizations and stakeholders. Zead's role was monumental just by opening the door.
Beyond that, organizations like the Greater Harlem Chamber of Commerce, Harlem Arts Alliance, and many others have helped us push forward. We pride ourselves on being recognized as New York City's top food and culture festival, and it is really because of a strong community that has helped us.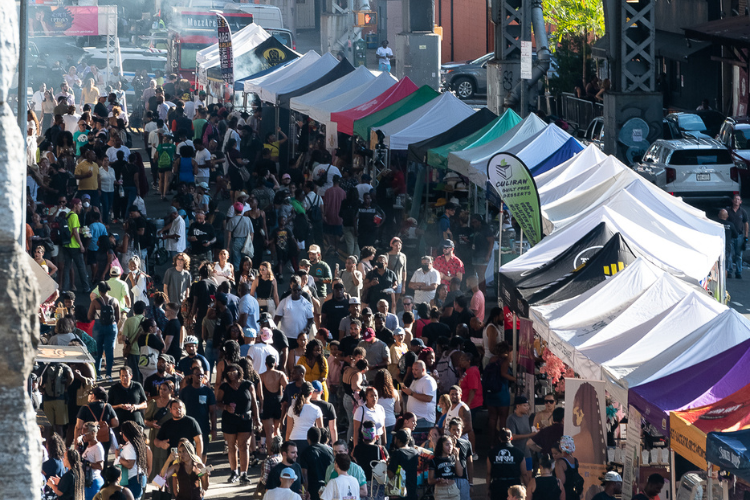 What is your most memorable Uptown Night Market moment?
I have two that really bring things full circle. July 8, 2020, was supposed to be the Uptown Night Market's official opening day and we host events rain or shine. That day there were torrential downpours in New York City and we got flooded out. There was knee-high water and tents were collapsing. A month later, we showed up again and received an outpouring of support from community leaders. The energy, the support, the love, the thousands and thousands of smiling faces... It was a significant moment not just in my career, but in my life.
"We pride ourselves on being recognized as New York City's top food and culture festival, and it is really because of a strong community that has helped us."
What are some of your favorite Harlem spots?
FUMO on Amsterdam is a go-to when I want to have solid food and service. Bixi Harlem is a great place for a cocktail. There's an Ethiopian Restaurant on Frederick Douglass Boulevard that I enjoy dining at as well. I also like going to Sottocasa, which is a Neapolitan-style pizza place on Lenox. There are so many good places in Harlem.
What's on the horizon for MASC Hospitality Group?
We want to continue to bring more of the style of experience that we're known for to as many people as possible in New York City and Greater New York. A month ago, we launched the Vegan Night Market in Central Park. In September, we're launching the Latin Night Market in Washington Heights on Dyckman that's going to be centered on celebrating food from across the Latin American diaspora. That's something that we're excited about. Long Island Night Market is coming and even Catskills Night Market is coming soon. We want to continue creating experiences for the foodie community, creating more opportunities for small businesses, and just bringing a lot of joy to a lot of people.
---
Learn more about MASC Hospitality Group's Uptown Night Market and follow the Uptown Night Market on Instagram and Facebook.