A Conversation with Harlem's Own Chef Quie Slobert, COO of Charles Pan-Fried Chicken
Chef Quie spoke about his affinity for Harlem and the importance of representation in the culinary industry.
August 23, 2023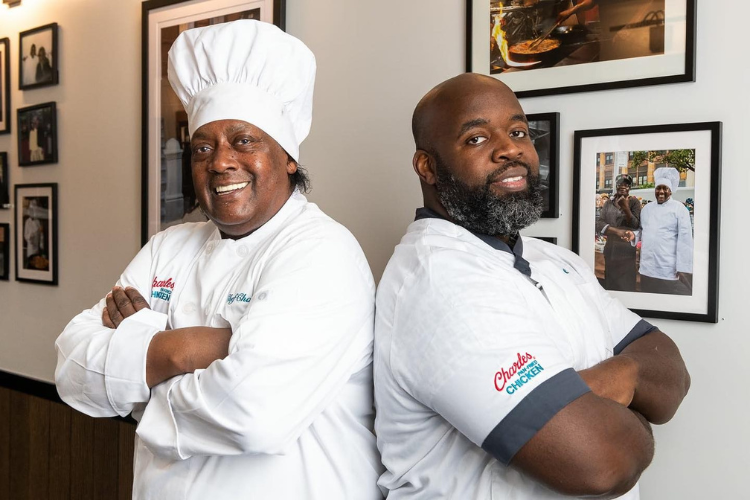 If you ask Harlem native Chef Quie Slobert what led him to serve as Chief Operating Officer of Charles Pan-Fried Chicken, he'd say it's a kismet tale that begins at a dining table in Uptown's beloved Copeland's restaurant. As a child, his mother would take him and his siblings there and he always left fascinated with the chef who crafted his delicious oxtails—James Beard-nominated, culinary icon Charles Gabriel.
Decades later, the two would cross paths again in service of their community, cooking hearty meals for those facing food insecurity amid the COVID-19 pandemic. Their shared passion for the culinary arts would lead to them teaming up for the rebrand of Charles' Country Pan-Fried Chicken and Charles' Southern Style Kitchen. What resulted was the reimagined community staple Charles Pan-Fried Chicken. The Southern cuisine-inspired eatery has four locations across Manhattan, with plans for national expansion.
Columbia Neighbors spoke with Chef Slobert about his love for all things Harlem, the vision behind the brand, and the importance of representation in the culinary industry.
When did you discover your passion for the culinary arts?
My father had a friend who worked at a restaurant in Harlem called Shrimp Box on 135th Street, and I was able to land a job there. One day, a radio personality from Hot 97 came in and ordered a Philly cheese steak. The grill guy wasn't there at the time and I ended up making the cheese steak for him. I prepared it how I would make it for myself at home. He ate it and left. I thought nothing of it. Later that day on the radio, I heard him say "I just had the best cheese steak sandwich and it wasn't even from Philly, it was from Harlem." At that moment, I knew he was talking about the sandwich I crafted. It gave me the biggest high ever. At that point, I discovered I enjoyed making food that brought people joy. I found excitement in it. It brought me joy to see someone else happy.
Those experiences taught me real chefs are selfless. It's never about us. It's about bringing a sense of joy to whoever we're serving. The job at Shrimp Box led me to my passion. I ended up going to culinary arts school. I graduated from the New York School of Restaurants. After that, I went to get my bachelor's degree in business at Berkeley College, and then I launched a career in the industry. I started working for Raoul's, Justin's with Puff Daddy around the time he was doing Making the Band, and other restaurants like Applebee's, Olive Garden, and Dave & Buster's. 
How did you get involved with Charles Pan-Fried Chicken?
I grew up in Harlem in a single-parent household. Once a month on a Sunday, after my mother saved enough money, she would take us to Copeland's on 145th Street. The oxtails were delicious. I was always intrigued by what was happening in the back kitchen. The door would swing open and you'd see a guy back there donning a chef's uniform. I was always curious about the creator. That man was Charles Gabriel himself.
Fast forward decades later, when COVID hit, I was looking for opportunities to serve the community. I started feeding the homeless alongside Chef Charles Gabriel—the man who used to cook my oxtails. He had a couple of restaurants in Harlem and I knew he was working at a local church feeding the homeless. While serving with him, we had conversations about my passion and plan to open restaurants. He was so with it. We teamed up, got some investors, and voila! We've opened four restaurants in the past 14 months. It was a full-circle moment for me.
What are some of the life lessons you've learned working with Chef Charles?
Chef Charles Gabriel is a hardworking man. He carries an energy that is reminiscent of the Harlem Renaissance. He's displayed the power of hustle, ambition, and perseverance. In his lifetime, growing up in the rural south, he's witnessed lynchings. He and his family members were sharecroppers and picked cotton on a plantation and got five dollars a week for doing that job. He overcame. He hustled. He found his craft. He found his product, which was food. He started with a table selling food out of his house in Harlem; from a table to a truck; from a truck to a brick and mortar. Now he has four restaurants in New York City that are thriving and he's doing wonders.
My energy and mental fortitude comes from Chef Charles' story. He is a living legend and a great book to read. Imagine him saying "Quie, I trust you to keep my legacy alive." It's a weight I don't carry lightly and it's an honor. My motivation is to make sure he sees his name in lights because his story is amazing.  He did what he loved to do and nothing has stopped him.
"My energy and mental fortitude comes from Chef Charles' story. He is a living legend and a great book to read."
Can you talk about the importance of food in preserving traditions and cultural identity? How is Charles Pan-Fried Chicken doing that?
Oftentimes, we as a generation lose the essence of who we are as time goes on. We often forget the stories and end up losing ourselves. Understanding the foundation of who you are will shape and form the person you will be in the future. Charles' recipes are inspired by his mother's, and even as we expand, we plan on keeping them exactly the way they are. We never want to minimize the family legacy. You can come to any of our restaurants and see his story there so that you can understand the history. His journey is plastered on the walls. It's important to keep the history alive so we can remember who we are and remain strong, because if it was up to the world, we'd lose our purpose and who we are by focusing on things that don't matter. We're not going to forget the roots. 
What does the day-to-day of a Chief Operating Officer look like?
It's hitting the gym before 3:00 am if you want to get a workout in. I have a morning crew and a night crew so it's an around-the-clock situation. There are four restaurants, so I'm driving here and there and I'm training. It's constant coaching. Imagine being a basketball coach and talking to every person in the huddle at all times. From the dishwasher to the General Manager, it doesn't matter what level you're at, communication is key. I coach my team to make sure they're good and everything is consistent.
Can you talk about the importance of hiring locally?
It's all about representation and showing people different paths. I grew up during the crack era when many people idolized drug dealers and wanted to emulate what they thought was prosperous. Now that I have a business, we chose to open on 145th Street and hire young adults so they can explore the opportunities the culinary industry has to offer. They can see a Black chef, similar to me seeing Chef Charles at Copeland's. It was a memory that inspired me and subconsciously stayed with me through the years.
Charles is a big proponent of hiring locally because he wants to uplift our community economically. This is our passion. This is what we enjoy. We want to show that you can do what you enjoy too. It's also about passing on knowledge. Anyone who works for me knows the ins and outs of how to run a business in six months. We're also big on aligning those who were incarcerated with job opportunities. We believe in second chances. It's about making them better than they were before they came to us. Also, there are mostly women behind the scenes of Charles Pan-Fried Chicken. From our Director of Operations to our social media person to the managers and HR, its literally #BlackGirlMagic. They're seeing the growth of Charles' legacy hands-on. They understand where Charles came from.
What differentiates the menu at Charles Pan-Fried Chicken from other restaurants? What is your go-to order?
Chef Charles uses a cast iron pan that no one else has. We pan-fry our chicken and that is a part of putting love and care into the food. We don't throw it in the deep fryer and forget about it. We don't use canned yams. We boil our yams; we peel our yams. You can taste the difference, they're fresh. Everything is inspired by the essence of the dishes Chef Charles' mother made back in Charlotte, North Carolina.
My first go-to order is the combo. I get two thighs and ribs. It's hands down my favorite. Then I get the holy trilogy which is the mac and cheese, yams, and collard greens and I add on mashed potatoes with that. The shrimp and grits is another one of my go-to dishes. A lot of folks mistakenly associate soul food with being unhealthy, but if you go through the list, you're going to see collard greens, cabbage, black-eyed peas, lima beans, and a lot of vegetables. We are James Beard-nominated for our pan-fried chicken, but we offer other healthy options as well.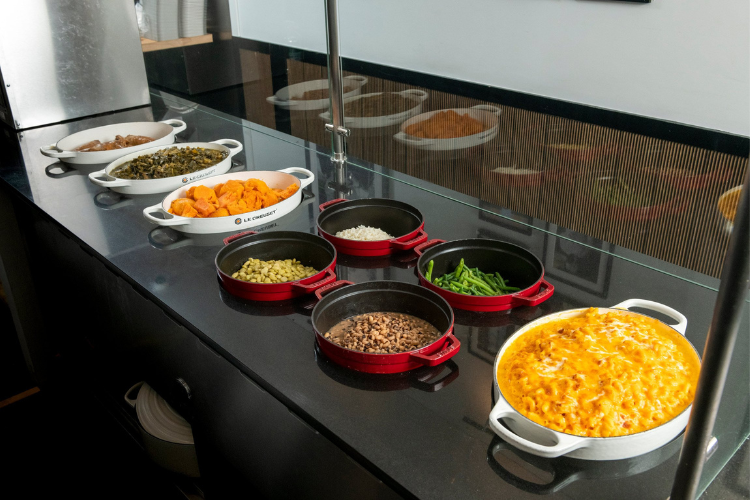 How would you say the local community has influenced and supported the business?
Denzel Washington once said in a film "I took care of Harlem, so Harlem's gonna take care of me." Chef Charles is big on community and making things affordable for everybody. It's tradition for Charles to give food away when he opens a new restaurant. If you have a conversation with Charles, he will hear you out and come back to the restaurant and try to implement changes that will help out the community. Harlem has been taking care of Chef Charles since he had a table. In his heart, these are his people. He treats everybody like family.
Beyond the restaurant, we team up with local programs to drive impact in the community. Through our initiative Cooking with Shirley's Son, we've worked with Men Cook for Change, Avenues for Justice, Black Boys Wear Suits Too, and Black Girls Have Tea Parties Too founded by Kelly Snider.
"Harlem has been taking care of Chef Charles since he had a table. In his heart, these are his people. He treats everybody like family."
From your perspective what makes Uptown unique?
When I walk through Harlem, I get inspired. My Harlem people don't let anything stop them. You see the hustle. You see the ambition. I see innovation. You can give us lemons and we will make a lemon pie and lemonade. We will make it happen. Then we will sell that lemon pie to feed our kids. There's no stopping us. That's Charles' story. There's no stopping him. That's Harlem's story. There's no stopping Harlem. We work with what we've got and we make things better. It's a part of our lineage. You really can't stop us. When I think of Harlem, I think of survival, perseverance, and innovation.
"You can give us lemons and we will make a lemon pie and lemonade."
What are your favorite Uptown spots?
One of my favorite places in Harlem is the pond on 110th Street. Whenever I was going through something when I was younger, I'd go there to feed the ducks. It represented peace. It was my yoga and meditation at the time before I knew what meditation was. Another spot would be my father's old church at 914 St. Nicholas Ave. I also like going for drives across 125th Street because it puts things in perspective. Some areas are still ravaged by poverty and drug use, but as you continue to drive forward you see more businesses and the entrepreneurial side of the community. It represents our story. There are pitfalls, but if you keep moving forward, you'll see a brighter future.
What advice would you give to aspiring restaurateurs?
Be aware it's not a 9 to 5. This is a passion job, and no one is going to care as much as you do. The focal point has to always be your people. Your employees are the ones who have to extend care and love to your customers. Always be real. Always be honest. Everybody is human. Mistakes will happen. Challenges will come. You may fall, but you have to get back up. It won't get easier; you'll get stronger. You can't make everybody happy, but you can do your best to make yourself happy with the amount of work you put in. Follow what you love and figure out ways to monetize it.
What's on the horizon for you and Charles Pan-Fried Chicken?
Charles and I are releasing a cookbook. It's a breakdown of his story and culinary influences as well as mine. It illustrates the generational connection we have. We also are looking to expand to Atlanta and Washington, D.C. We're building upon the catering aspect of our business which involves crafting custom menus for our customers. We have our DOE vendor license and we're able to feed the public schools all around. At the core of it all, we're going to continue to serve the people. Our passion for the people will always be there.
---