A Conversation with Double Discovery Center Executive Director Sasha Wells
Wells is on a mission to eradicate college access barriers for youth in Harlem and Washington Heights.
October 04, 2022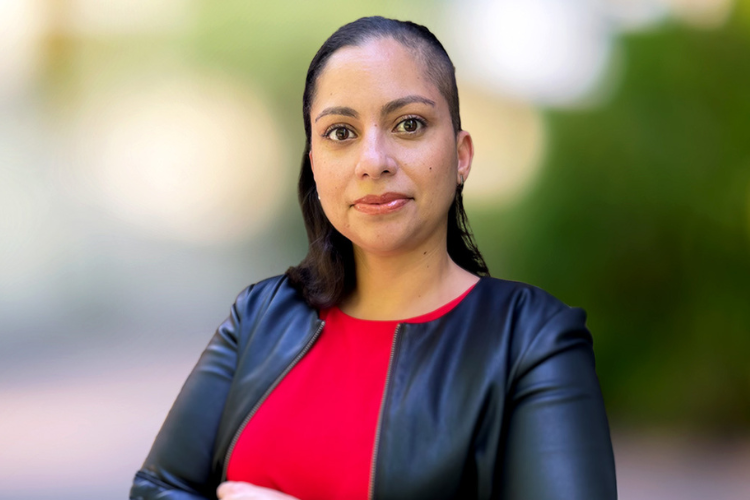 For Sasha Wells—the newly minted Executive Director of Columbia's Double Discovery Center—eradicating the barriers around access to higher education is personal. While coming of age in the South Bronx, the first-gen Latina witnessed how socioeconomic inequities can shape the trajectory of a child's educational path. Guided by her passion to evoke change, she's dedicated her career to empowering youth who are from the same communities and are faced with similar circumstances.
Columbia Neighbors recently spoke with Wells about her path in youth development, the current state of education in New York City, and DDC's holistic approach to serving young adults in Upper Manhattan.
What was it like coming of age in the South Bronx?
I was lucky to have a close-knit and protective family that kept us sheltered. My grandparents lived in public housing. I've seen crime. I've seen drugs. I've seen death, unfortunately. But because of our family's overprotective nature, we were kept relatively distanced from the unsafe streets.
My mother was on public assistance. She pinched every penny to send my brother and me to Catholic school to ensure we received a better education. In her perception, the public school system couldn't provide that at that point, especially in the area we were living in. I received a full scholarship to attend an all-girls Catholic high school in the Bronx. It was there that I realized the true power of education and having a strong support system that was invested in your future.
What inspired you to get involved with the Double Discovery Center?
I can relate to every young person that comes in here on some level. I first came to the Double Discovery Center in my prior position as Director of Strategic Initiatives and Board Relations to plan and execute their 50th Anniversary gala. I got to meet several alumni that benefited from the program, the supporters that were passionate about the program, and the young people that were experiencing the program in real life. I was inspired by the stories and students.
I can relate to every young person that comes in here on some level. 
How does the lack of investment in NYC public schools impact the trajectory of a student's academic path?
A lack of funding in schools leads to a lack of necessary support and resources that a young person needs to begin to see a path beyond high school. The lack of counseling services, particularly in high schools, for college applications and college prep is drastic. You cannot possibly have one person support 500 students of all grades in the individualized way that Double Discovery can. This is really where we shine. We're able to provide very individualized support for each student that walks through our door.
What are the barriers youth in communities like Harlem and Washington Heights face around accessibility to academic enrichment and mentoring programs?
The youth in our surrounding communities, particularly our Black and Brown young people, are faced with numerous barriers. We're talking about not only underperforming schools but disproportionately higher rates of poverty, higher prevalence of violent crime, housing instability, and unemployment.
During the pandemic, many of our students experienced the loss of a loved one and or the loss of major streams of income for their families. All of these factors combined make it impossible for families to be able to support their students and their educational attainment. During the pandemic, DDC transitioned quickly to remote programming. We established a generous emergency fund where we helped our students financially.
How is DDC filling the gap when it comes to providing resources and opportunities for low-income and first-generation college-bound youth?
DDC provides intense college prep and exposure to college culture. We help students to envision themselves on a college campus. We have an in-residence program, which this past summer we were able to host for the first time since before COVID. Students stayed in residential dorms, they were on meal plans, they got to eat in the dining halls, and they took classes in Hamilton Hall—receiving a true Columbia University experience.
Another one of our core features is social and emotional support. Our students have complex lives. We know that with the pandemic many students are facing high levels of anxiety and depression. Our Healthy Minds and Bodies program, with our licensed social worker, tackles that head-on. We believe the only way that a person, especially a young person, can expand their educational capacity is to nurture them beyond academics.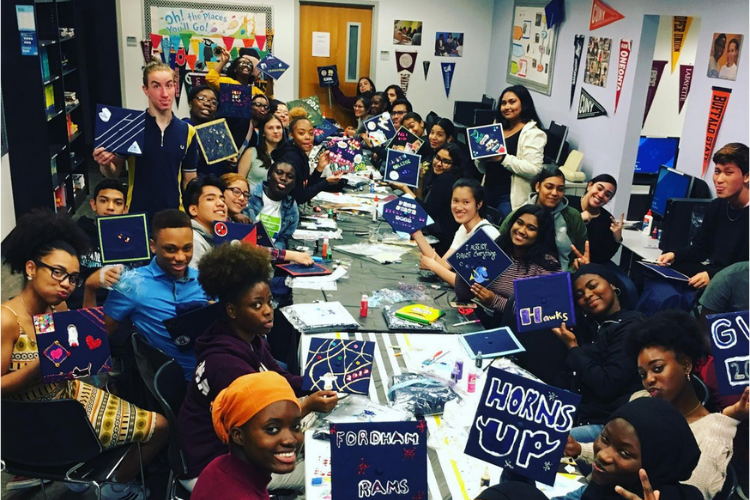 What is your vision for the program as it continues to evolve?
DDC helps to break the cycle of intergenerational poverty by ensuring that our low-income and first-generation students succeed in the classroom and in life. It's not enough for us to provide the students with tools, we need to make them believe that they're worthy of them. I think that's where my personal story comes in.
I didn't feel like I was worthy of the assistance and resources that were provided to me. That's why we have our amazing counselors and amazing volunteers, to let them know that they're not only entitled to these, but they're worthy of it and they should expect it. My vision for the future is that programs like DDC don't need to exist and that we have reached and influenced the educational system so that students, regardless of status, can have the same access to higher education and lead more fulfilling lives.
My vision for the future is that programs like DDC don't need to exist and that we have reached and influenced the educational system so that students, regardless of status, can have the same access to higher education and lead more fulfilling lives.
What's on the horizon for DDC? How can individuals support DDC's mission?
DDC has a very comprehensive strategic plan for the next three to five years. We want to balance the gender gap that we have. We have about 75-80 percent female students in our programs compared to about 20 percent males. We want to make sure that our males are engaged and are pursuing higher education.
We want to diversify our funding sources. We want to strengthen our alumni programming and support. We also want to renew our focus on the original Double Discovery model, which involved the engagement of Columbia University students in the work of DDC. People in the local neighborhood can support DDC by being our advocates and getting the word out. Telling one student is impactful. The program can change not just their life, but the lives of their family and their community as well.
---
Learn more about Columbia's Double Discovery Center by visiting its website.