Constructing Pathways to Community Empowerment Uptown with Columbia's Tanya Pope
Pope spoke about the importance of representation in the construction industry and Uptown community-driven initiatives being led by Columbia.
October 30, 2023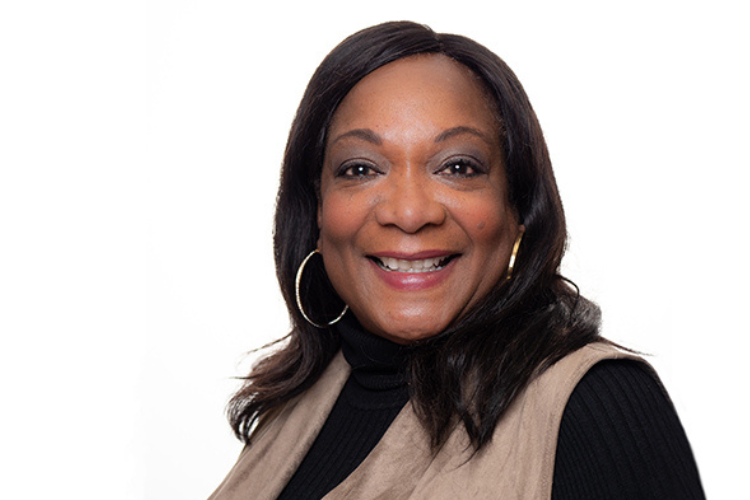 For Tanya Pope—who is Assistant Vice President of University Supplier Diversity at Columbia—mastering the art of advocacy has been a lifelong journey with roots in Washington, DC.
Coming of age in the bustling metropolis that has long since been the backdrop of political and social change, she's always been surrounded by an aura of empowerment and equity; whether it was the influence of her father, who was a man of the people, or witnessing the evolution of power on Capitol Hill. It was her unwavering passion for ensuring diverse entrepreneurs have a seat at the procurement table that led her to Columbia.
In her role, Pope leads impactful initiatives around sourcing and helping minority and women-owned firms secure contracts with the University for construction, design, and trade projects; overseeing the University's construction portfolio which has paid more than $1.2 billion to MWLBEs in the past decade. She also spearheads community-driven programs designed to ensure local residents can be part of the institution's growth.
"I get up every day, go to my office, and I know I'm going to get to help somebody," Pope said. "I don't know who it is, I don't know what I'm going to be asked to do. But, whatever it is, I feel like I'm contributing to the fabric of America. I am helping to make sure all these promises that people think about as the American dream are realized. It's important to know that I'm part of the solution and not part of the problem. That's what I look forward to every day. I love looking at problems and trying to figure out how to solve them in a way that people will benefit all around."
To mark Careers in Construction Month, Columbia Neighbors spoke with Pope about her journey in the supplier diversity space, the importance of representation and showing Uptown youth various career paths in the construction industry, and her favorite places in Upper Manhattan.
What is your earliest memory of witnessing the power of advocacy?
I grew up in Washington, DC. I come from a long line of federal government workers. In 1972, during George McGovern's presidential run, my sixth-grade Latin teacher took our class on a field trip to his presidential campaign headquarters. That day, I saw people who were inspired, motivated, and so excited about what they were doing—trying to get this man elected president.
Something caught on to me that day, and I said I'm never going to be a government worker. I'm going to find something that feeds my soul and is meaningful to me. I've gone through my whole career path with that intention. I remember that trip as being such a compelling experience. To this day, I get goosebumps when I think about how I felt when I walked into that office and saw all of those people working toward something they believed in.
What inspired you to chart a path in the DEI space? How did you get your start?
I have worked for many years in business development areas across many industries, including airline, travel, and entertainment. I was the vice president of a boutique travel agency. I was the vice president of travel for MTV Viacom for ten years.
I noticed there was a dearth of diverse businesses that were in those spaces. I knew there were great minority-owned and women-owned businesses out there. I would often question why they weren't in these spaces. It was always a puzzle for me. 
I took a buyout from MTV in 2006. I decided I wanted to go into a space where I could help and advocate for people. I started my own consulting firm, helping minority and women-owned businesses, which I ran for two years in New York before the housing crisis. I've always found great satisfaction in leading that work.
What led you to Columbia specifically?
In the midst of the housing crisis, I went to work for the City of New York in their Office of Small Business Services. It's the division that manages the minority and women-owned business development program. The SBS had a partnership with Columbia University, which was a capacity-building program to help Minority-, Women- and Locally-owned Business Enterprises (MWLBEs).
I served as the project manager from the City of New York side and La-Verna Fountain—who was Vice President of Strategic Communications—was the managing person for Columbia. La-Verna liked a lot of the ideas I brought to the table to elevate the program. A job was created for me at Columbia and I came.
I feel very fortunate with what Columbia has brought to my life. I was able to get a degree in 2021 at Columbia's School of International and Public Affairs in Public Administration.
My most important role is that of a compassionate manager and somebody who invests in my team's professional development. At the end of the day, your people are what represents you. I have an amazing team, and I make sure they're investing in themselves.
Can you talk about the importance of investing in MWLBEs?
It's vitally important. I get to witness what happens in the journeys of these business owners and workers and its truly life-altering; whether through securing contracts with Columbia or working on one of the University's projects. My effort has always been the capacity-building of these firms; to promote good business practices and responsible, sustainable growth so they don't take on more than they can handle, but stay in that realm of continuing to grow and expand their businesses.
My efforts right now are centered on engaging with other private anchors like Columbia, like museums, universities, hospitals, and other place-based institutions who want to work with diverse businesses because they know its the right thing to do.
I'm chairing a group of 14 private anchors and we've all come together to share policies, best practices, and all kinds of strategies to create more diverse suppliers in each of our institution's supply chains. We have been working together at this for the last year as part of  ASCENDNewYork. This has created a wonderful new paradigm where we are getting opportunities to diverse firms in places where they lack knowledge around what the entry requirements are. It's what we've committed ourselves to. 
Women and people of color are still underrepresented in construction. What are the keys to increasing diversity?
I would say this is changing, especially in New York because the city is becoming more ethnically diverse. It's not just getting in the door, it's making sure people have the resources and tools needed to succeed; especially when it comes to competitive bidding, winning, and performing contracts.
Columbia just made a $200,000 investment through our work with Empire State Development (ESD) in a program called Youth Construct that's located in Upper Manhattan. This is a program that trains high school students in architecture, engineering, construction management, and development. We don't want folks to just be in the construction trade, we want them to be in the professional services of the construction industry. 
"It's not just getting in the door, it's making sure people have the resources and tools needed to succeed. We don't want folks to just be in the construction trade, we want them to be in the professional services of the construction industry."
How does Uptown's ever-changing landscape inform your decisions on new initiatives?
We're always trying to be receptive to what's happening in the local community and to respond with initiatives and efforts that support its strength and growth. This could be as small as us participating in the back-to-school event that's done at the 26th Precinct in Manhattanville every year, which I love. We typically have a barber who provides the boys with free haircuts at the back-to-school drive. I took it upon myself to enlist a friend of mine, Barbara LaGazzelle, who owns the Harlem-based hair salon Lagazzele Hair Studio to bring in six braiders to the event every year, so now all of the little girls get their hair braided with colorful ribbons and have something to look forward to as well. It's been five years.
My department monitors the adherence to the Manhattanville agreement, and there are over 350 commitments that Columbia has made in that agreement. For every single one, we're in touch with the folks who deliver it. We work with them throughout the year to ensure programs are on track and in compliance with what we promise our community.
Can you talk about the importance of having a workforce that mirrors the diversity of a community, especially in areas like Harlem?
The commitment to have local residents working on our projects and at the University is very strong. You want to have kids see examples of representation. The symbolism and the visual is as important as the employment itself.
We work very closely with at least one apprenticeship program called Pathways to Apprenticeship. I have literally seen lives changed. We've had participants who have been able to put their kids in private school and bought their first house which is hard to do in the New York metropolitan market.
My greatest and most compelling memory of our apprenticeship program was a person who graduated from the cohort who had been systems-involved almost his whole life. He was 52 years old and worked diligently throughout the program. He was one of the first apprentices who got selected for the Local 79 Labor Union. His almost 80-year-old mother was sitting in the graduation audience clapping and saying "That's my baby."
It was just so powerful for me because it's never too late. I'm happy that the construction industry is one that's forgiving of past mistakes because there is so much opportunity. It's really the opportunity for folks to have a career, not just a job.
What projects that you and your team have worked on at Columbia make you the most proud?
One of my proudest projects was The Forum. We worked very closely with Skanska and the Velez Organization—a MWBE firm—to construct the building. It was a wonderful experience. The project exceeded its goal by far. We created a lovely building that is used every day in the way it was envisioned. Whenever I walk by The Forum, I see its urban layer full of people on their computers, using our WiFi. That's what we saw it to be and that's exactly what it's being used for.
I'm also very proud of our capacity-building programs. We have CU Grow, which is a program where we admit 20 vendors each year from the built environment. We give them business development training for their firms and we teach them to do business with Columbia University so when they come to be approved into our vendor pool, they have extra knowledge on how to be successful. We've spent over $125 million with businesses in that program in the last seven years. It's a formula that works.
Who or what are you inspired by?
I am inspired by my father. My father was incredibly intelligent. He graduated high school at sixteen and went into the Navy. He worked at one company his entire life. He started as a bus driver at DC Transit, which years later became Washington DC Metro, and he retired as a trainer of train conductors.
Outside of that, he was someone with just a love of reading. He cared about politics. He cared about his community. He voted in every election. When he passed away, he was running a campaign to become a council member in the small South Carolina town where he lived. To me, our heroes don't have to be tall and on mountains, they're sometimes just the everyday people who teach you the important things in life, and he definitely did that.
"To me, our heroes don't have to be tall and on mountains, they're sometimes just the everyday people who teach you the important things in life."
What are some of your favorite Uptown spots?
There's a little place on Adam Clayton Powell Jr. Blvd called Shrine. It's a lot of upstarts, a lot of people starting out. Every now and then, you'll see a poet; just people who are on their way. I love to watch their journeys in this lively environment of music and poetry. They have such a great international crowd which a lot of people don't know. I've run into people from places like Austria, Switzerland, Africa, from everywhere. It's a lovely space and I enjoy spending time there.
I love the Zen feeling of the Wallach Art Gallery. The curators that we've had there are amazing as well as the installations they've brought to the gallery. It's a great space for discovery. I'm so proud it's ours. I like to walk through there, especially on days that have been hectic. It really helps me lower my energy level and kind of just put everything in place.
---
Learn more about Columbia University Facilities and Operations' community initiatives by visiting the department's website.