Columbia Students and Faculty Tutor Essential Workers' Families
Editor's note:
This article originally appeared on Columbia News on May 9, 2020.
By
Sabina Lee (Columbia News)
May 14, 2020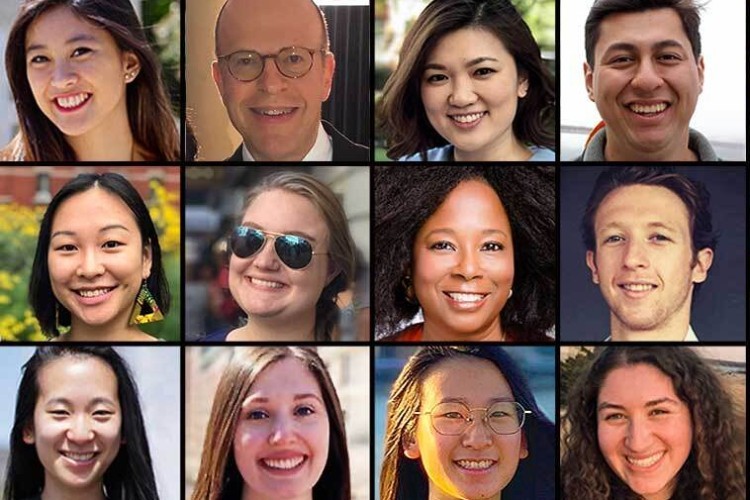 Many parents are finding it difficult to manage the demands of online education for their children. For health care workers that difficulty is complicated by the many stressful hours they spend on the front lines fighting COVID-19. To help them to meet this challenge head-on, Columbia students and faculty have created a volunteer-driven tutoring program that offers remote online instruction in traditional K-12 subjects by matching students with experts in their requested topic areas.
At launch the Columbia University Tutor Corps program's initial focus was the families of health care workers at Columbia University Irving Medical Center (CUIMC). Now the program is expanding to reach essential workers' families and underserved communities everywhere.
The program is currently seeking more children in need of tutoring. To sign up your children, send a one-line email to [email protected].
"Working with the corps gave me the opportunity to see ideas through fresh (and young!) perspectives, to support a work in progress, and to spread the love of learning," said Helen Ji (BC'22) of her tutoring experience. 
A Wide Range of Topics
The University-wide program has been tremendously successful so far: 1,440 volunteers have signed up and many have been matched with 119 children, helping them in subject areas as varied as brain science and astronomy to classics and history.
Tutors include a researcher in theoretical neuroscience and an astrophysics postdoc. Emergent bilinguals were matched with multilingual tutors experienced with language teaching. Children with learning challenges or special needs were connected to experts in alternative learning strategies. One parent who requested a Latin tutor was matched with a classics professor; another child's history lessons are taught by an American history lecturer. Parents and tutors first meet via a personalized email.
"I am unable to express all the gratitude and appreciation I have for everyone who has been involved in tutoring my girls," wrote Mari Su, MD at CUIMC whose daughters have been participating in this initiative. "The tutors have been amazing and kind, with so much patience and dedication."
The tutoring program will soon expand to include college preparatory advice, ACT/SAT preparation, writing, mentoring, mindfulness and meditation sessions.
Transformational Leadership
In working to anticipate the needs of those called into service to fight the pandemic, Jeanine D'Armiento, chair of the University Senate and professor of medicine in anesthesiology, and Jonathan Susman, clinical director and residency program director of interventional radiology, worked with the Senate to address some of the rising challenges. They developed a list of key needs, including tutoring, which was prompted by an email from a couple, both CUIMC physicians, who were concerned about their children's homeschooling.
Mignon Moore, professor and chair of sociology at Barnard College, moved the idea forward. She reached out to department chairs on the Morningside campus, including Shamus Khan, professor and chair of sociology, who spread the word to department chairs and students in the Graduate School of Arts and Sciences. In early March, Khan helped launch a free website to help students during these uncertain times.
When Susman reached out to faculty, the response was immediate. He quickly amassed more than 40 requests for tutoring. Will Plews-Ogan, a JD-PhD candidate, helped organize the volunteer corps and developed a recruitment survey to distribute the information across Columbia. Eliana Elikan (BC'23), who had conceived of a similar program earlier in the year, has been instrumental in expanding the vision. With her help, more than 900 volunteers signed up in the first week that tutor recruitment began on March 31.
"We have been overwhelmed by the kindness, competence and enthusiasm of our volunteers. We hope to stay true to our word and provide them with as many worthy children as possible who can benefit from their generosity," said Susman.
Dedicated Student Volunteers
Encouraged by the program's success at CUIMC, Karen Du, a Teachers College Student Senator, reached out to Plews-Ogan to discuss how to leverage the wealth of institutional knowledge at Teachers College (TC). She invited fellow TC students, Cesar J. Plascencia, Katie TerBush, Kyra Lai and Mel Yeung to help her enlist volunteers to manage logistics, recruitment and instructional support. The Student Coordination Team, led by TC students, has been the engine of this operation. The team has grown and now includes Barnard students Francesca Loiodice, Talia Boyers, and Margaret Tilley, among others. They are working to match families to tutors based on time availability, subject and other individual factors.
"Essentially, the tutoring program promotes a sense of celebration of community and human connection, when we need it the most. The Columbia community has been so quick to be supportive. The corps has brought together people from all programs and walks of life to support New York City," said Du. "Community is further strengthened by these tutoring matches, demonstrating a great deal of potential by giving us human warmth and touch in each other's lives. We are big believers in community outreach and organizing."
The Tutor Corps' priority now goes beyond the children of CUIMC faculty, and is reaching out to families of non-medical essential workers. Their goal is to enhance and innovate traditional structures of education and continue that mission past the current pandemic. The initiative is also expanding to other universities across the country.
"The program demonstrates the beauty and power of the University to serve society," said Susman. "To see a need, confront a challenge, and harness the myriad resources and talents of its community to serve the greater good."