Want to Become an A'Lelia Bundles Community Scholar at Columbia? Here's Your Guide to the Application Process
Applications for the next group of A'Lelia Bundles Community Scholars are open, and we have answers to your questions about the process.
March 03, 2023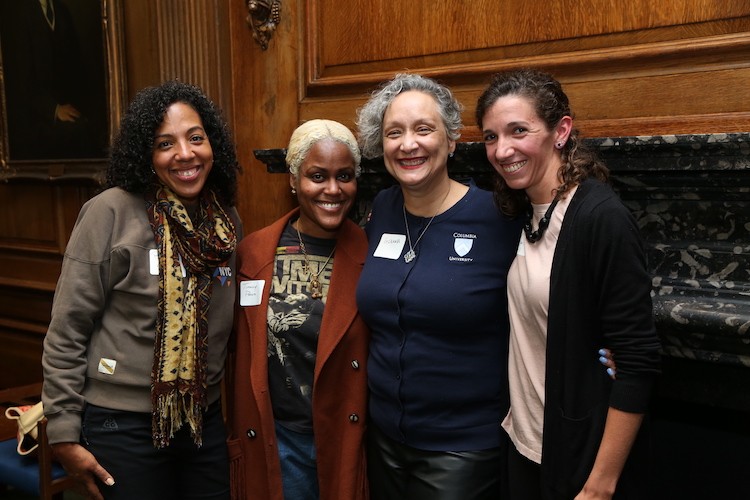 Every year since 2013, members of the Uptown community have applied and been chosen to become A'Lelia Bundles Community Scholars at Columbia University. Known as the Bundles Scholars program, it provides individuals with access to Columbia's academic resources for three years, in order to help them as they work on a project or develop a specific skill. 
Originally the Columbia Community Scholars program, it was renamed for journalist, historian, and Columbia University trustee emeritus A'Lelia Bundles in 2020.
Applications for the 11th cohort are now open until May 5, 2023. A virtual information session will be held on the program on March 16, 2023. 
What kind of projects do people work on as Bundles Scholars?
Many Bundles Scholars work on developing nonprofit organizations, expanding existing organizations, and writing books. Other scholars use the library's audiovisual resources, do research in the libraries, and audit classes to expand their knowledge about a specific topic, usually with a connection to the community.
Who is eligible to be a Bundles Scholar?
To be a Bundles Scholar you need to live in Manhattan north of 96th Street. Here's the list of eligible zip codes: 10025, 10026, 10027, 10029, 10030, 10031, 10032, 10033, 10034, 10035 (including Randall's Island), 10037, 10039, 10040. You also need a high school diploma, GED/TASC high school equivalency, or work experience equivalent to a high school degree.
What kind of things will I have access to as a Bundles Scholar?
As a Bundles Scholar, you'll be able to audit classes around the university. Auditing typically involves sitting in the classroom without participating in the discussions, but also doesn't involve taking exams or completing assignments. You'll also have access to Columbia's numerous libraries, including check-out privileges and access to online resources. Bundles Scholars are given Columbia email addresses and ID cards as well.
How do I apply?
You can get all the details about applying from the application information page, but here are the highlights:
Your application will include an online form, a resume or CV, a high school or college transcript, a personal narrative, a project description, and two letters of recommendation.
An unofficial transcript is fine for your application. If you didn't finish high school, a written explanation of work experience equivalent to a high school degree is also acceptable.
Use your resume or CV to highlight your professional accomplishments.
Your personal narrative (1-2 pages) provides space for you to explain any experience, connections, interest, and accomplishments that you think are relevant to your application and aren't covered by your resume.
With your project proposal (1-2 pages), you can lay out your goals for your time as a Bundles Scholar, identify resources that you think will be particularly helpful, and explain any community connections or benefits your project might have. The most important thing for your project proposal is to research and identify that Columbia has the specific kind of resources that will help you along the way.
Your two letters of recommendation should come from people who know you and can speak to your commitment, expertise, or enthusiasm for your project. 
Feel free to submit additional materials that you think will strengthen your application.
Use the web form to submit your application before 11:59 pm on May 5, 2023.
What happens if I get accepted?
If you're accepted into the Bundles Scholars program, you'll need to provide documentation of your residency in Upper Manhattan in the form of a current residential lease, utility bill, or another official document with your name on it. You'll also need to submit a sealed, official transcript from your high school or college if you submitted an unofficial transcript with your application.
Then it'll be time for onboarding! You'll meet with program staff to walk you through what you'll need to do to audit classes and use the library, and we'll help you get set up to succeed. Part of that is making sure you're able to comply with Columbia's immunization requirements, as well as completing online trainings required of all members of the university community. But then you'll be all set to audit classes, check books out from the library, go to university events, and more.
Where can I learn more?
Head to the Bundles Scholars information page. You can also sign up for the information session on March 16 to hear from program staff and have an opportunity to ask questions directly. If you can't make it to the information session, reach out to [email protected] with questions.
What if this doesn't feel like the right fit? Are there other programs I can check out?
Absolutely! If you're interested in auditing classes but not working on a project, check out the Community Auditing Program. There are also tons of events on and around campus that are open to the public. Head to the Neighbors event listings to see just some of them.
---
Know someone who would be a great fit for the Bundles Scholars, or interested in applying yourself? Now's your chance: applications for the 11th cohort are open until May 5, 2023.