An Uptown NYC Guide to Local Farmers Markets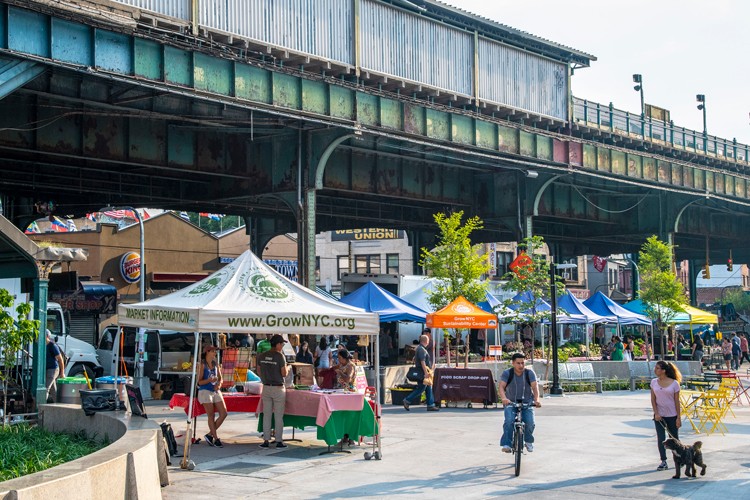 Farmers markets are more than just another place to check off items on a grocery list. They can be a source of inspiration for food-lovers looking for fresh produce and artisanal goods. Some can even act as a community hub, sparking new connections between local organizations and residents. In certain areas, farmers markets can also bring hard-to-find produce to communities looking for culturally relevant ingredients not often sold at supermarkets. 
If you live Uptown and are looking to visit a farmers market near you, we've got you covered. We've rounded up a list of local farmers markets Uptown—in order of the southernmost markets to those at the northern tip of Manhattan. 
To see more farmers market locations in the city, consult NYC Health's handy NYC Farmers Markets map, which lists markets all over New York. You can also text "SoGood" to 55676 to find a farmers market near you. 
Know of another farmers market that we should include? Send us an email. 
West 110th St. & Manhattan Ave.
All year round
Saturday, 9:00 am - 2:00 pm 
The Down to Earth Morningside Park Farmers Market has been thriving at the corner of 110th Street and Manhattan Avenue since 2005. Since then, the market has brought countless vendors to the area selling everything from produce to biscuits to skincare, and continues to operate all year round. Stay up to date on their weekly vendors by subscribing to their newsletter or following them on social media.
330 St. Nicholas Ave.
June 22 - October 26
Thursday, 4:00 pm - 7:00 pm
West 137th St. & St. Nicholas Ave. 
June 24 - Nov 11
Saturday, 9:00 am - 3:00 pm 
The Uptown Good Food Farm Stand provides farm-fresh food for the Harlem community. Sourcing their produce from local farms in the tristate area, the Uptown Good Food Farm Stands operate two days a week in both St. Nicholas Park and St. Nicholas Miracle Garden. During this past summer season, the Farm Stand also hosted community activities for kids, encouraging youth to learn about agriculture and local produce. 
The Farm Stands also offer Community Supported Agriculture (CSA) shares, which enables communities to receive weekly deliveries of fresh produce throughout the season. Learn more about CSAs at Uptown Good Food's website. 
West 143rd St. & Amsterdam Ave. 
July 8 to November 25 
Wednesday, 10:30 am - 6:30 pm 
The Bro/Sis Green Youth Market is not just a farmers market, but also serves as a learning opportunity for local youth who manage the farm as part of a program run by the nonprofit, The Brotherhood Sister Sol. The nonprofit has been uplifting Black and Latinx communities in New York City for over 25 years, and also runs an urban farm nurtured by local community members. Some of the produce sold at the Youth Market is sourced directly from the urban farm, making this market an especially unique resource for both youth and adults in the local community. 
West 145th St. & Edgecombe Ave. 
July to November
Saturday, 9:00 am - 4:00 pm
Located in Jackie Robinson Park, the Grassroots Farmers Market supplies fresh fruits and vegetables and organic products to community members in West Harlem, Hamilton Heights, and Sugar Hill. In addition to beautifully displayed farm stands, this market boasts activities such as food demonstrations and a unique flower lounge. 
The GrowNYC green tents and bountiful displays are a familiar sight to so many New Yorkers—especially those who live Uptown. Operating a total of ten greenmarkets Uptown, GrowNYC's markets can be found in almost every neighborhood, including the iconic Columbia Greenmarket on Broadway that serves Columbians and neighbors every Sunday and Thursday all year round.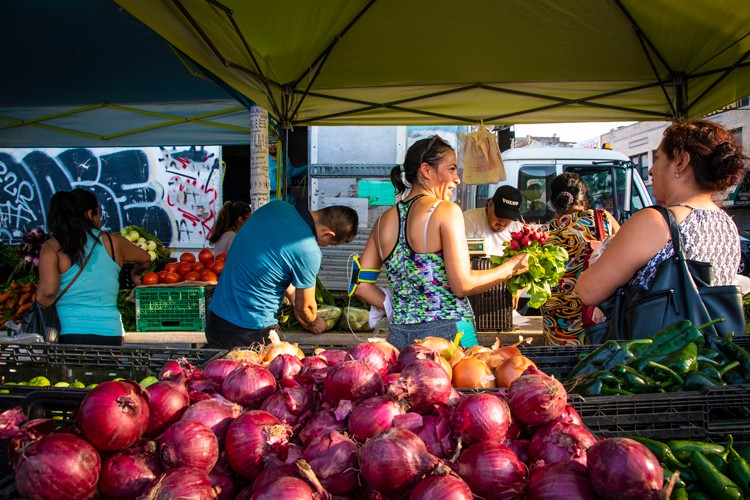 Each GrowNYC greenmarket operates on their own schedule, so we listed all the Uptown GrowNYC markets below so you can find the market nearest to you. 
Harvest Home Farmers Markets (HHFM) is a nonprofit organization that has also been bringing markets to New Yorkers all over the city. Founded in 1993, HHFM focuses on bringing their markets to some of the city's most underserved communities, frequently collaborating with community organizations, churches, and elected officials in chosen areas. 
There are four HHFMs that run Uptown, from Harlem Hospital to East Harlem. Click below to find their hours of operation: