Uptown Community Groups for Our Elder Neighbors to Join This Winter Season
Check out this roundup of Uptown community groups for our beloved elders to join this winter.
November 29, 2022
The holiday season illuminates the power of human connection. Uptown is home to a collective of neighborhood groups dedicated to uniting, uplifting, and spreading joy amongst our elders during this season and all year round. Whether you're a local looking for ways to connect with your neighbors or you're in search of fun-filled activities for your loved one, there is an array of offerings for our senior citizens in Harlem and Washington Heights.
From fitness programs to community spaces for socialization, here are three local nonprofits and community groups in Upper Manhattan for our elders to connect with during the holidays.
Break a Sweat at a 'Seniors AIM High' Fitness Session
Launched in 2022, the Seniors AIM High program was designed to foster community through fitness. The initiative—which is collaboratively led by The Armory Foundation and Columbia University Irving Medical Center's Office of Community Service Programs—offers free weekly exercise sessions for adults who are 60+ in Washington Heights-Inwood, Harlem, and the South Bronx.
On Tuesdays, over 100 local seniors gather Uptown at the historic Armory track to break a sweat and engage in candid health and wellness-centered conversations with faculty, staff, and students from CUIMC that delve into topics like managing hypertension and maintaining an active lifestyle as you age. As participants advance in the program, they're provided with the tools needed to sustain their wellness efforts including fitness tracker watches and athletic gear to don to the exercise sessions.
"What I love about this program is that it is all inclusive, for all shapes, sizes, and ages," Armory fitness coach Phyllis Spencer shared. "We have this world-class facility, but you don't have to be a world-class runner. It's about small, simple movements that can benefit everyone." Looking to aim high with your fitness goals as we near the New Year? Learn more about how you can get involved in Seniors AIM High.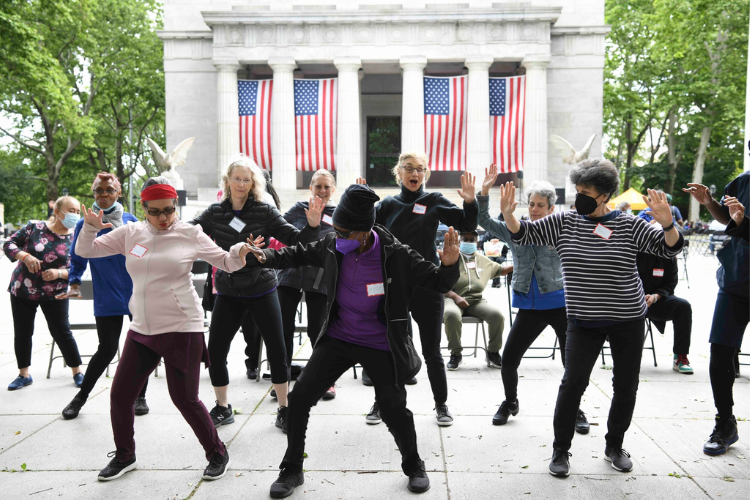 Explore The Power of Movement with Dances for a Variable Population
Tap into the power of dance this holiday season. The Morningside Heights-based nonprofit Dances for a Variable Population has a mission rooted in cultivating community through movement. The organization—which is a Columbia Community Service grantee—provides an array of free, low-cost dance programming and theatrical performances throughout New York City for those of all ages and abilities, with a specific focus on older adults.
Among the class offerings—which are often led by professional dancers and artists—are modern dance, cardio dance fitness, and dance improvisation. For those of you who'd like to take your talents center stage, the nonprofit has a 36-week program dubbed MOVEMENT SPEAKS in which participants put their original choreography on display through a public performance. Whether you'd like to engage in a digital dance class from the comfort of your own home, connect with other locals by participating in a DVP-led program at a local senior center, or round up your friends to get out and try an outdoor, in-person scenic movement session there are so many ways to experience what Dances for a Variable Population has to offer.
"I love that we are all in this together," shared a Dances for a Variable Population participant at the Central Harlem Senior Center. "It's a shared experience of dancing amongst all of us."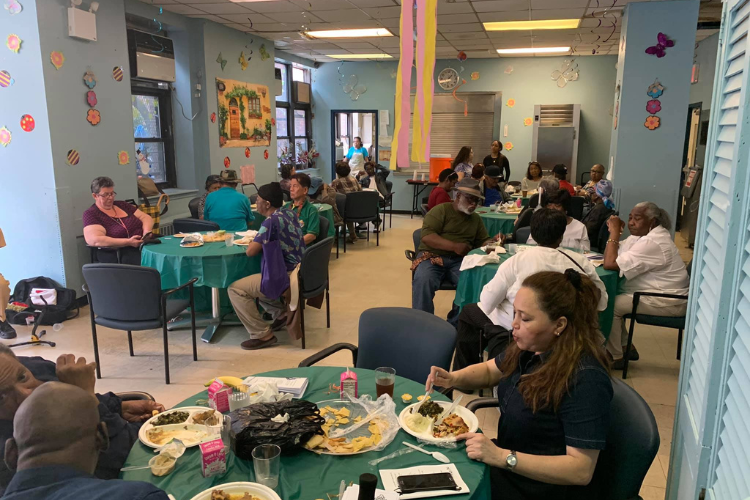 Connect with Locals at ARC Senior Centers in Upper Manhattan
The ARC Senior Centers in Upper Manhattan have evolved into pillars within the local community; providing safe spaces for elders to commune and connect. The centers—which are located in Central Harlem, West Harlem, and Washington Heights—are hubs where elder community activists, artists, community leaders, and veterans come to converse and participate in recreational activities.
This holiday season ARC has rolled out a festive, fun-filled lineup for older adults in the community, including jewelry-making courses to spark creativity and bring out the inner artisan in you, dance classes, and holiday celebrations—including a Columbia University-sponsored Kwanzaa party—for those who want to partake in joyous fêtes.
---
For more information about local programs for senior citizens, visit Neighbors' programs and resources directory.