Social Justice, Tutoring, and Cooking Classes: DDC Helped Students Succeed Despite the Pandemic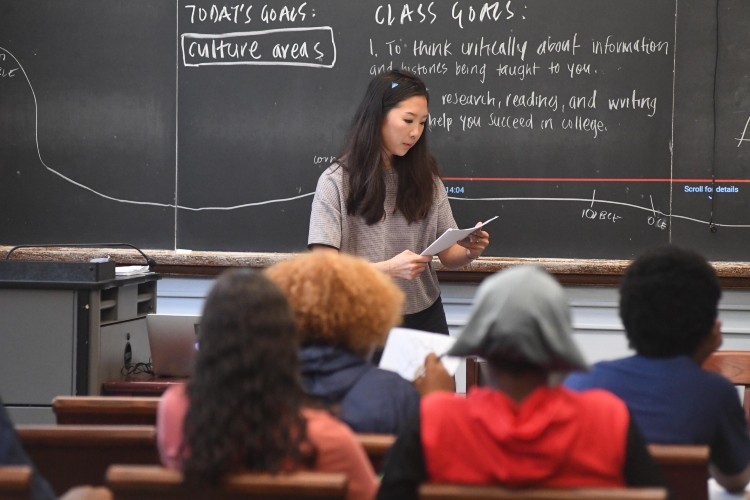 At the intersection of Columbia's embrace of diversity, commitment to community engagement, and dedication to the advancement of knowledge, lies the Roger Lehecka Double Discovery Center (DDC), which leverages the university's intellectual and human capital to provide comprehensive support to community youth in their higher education journey.
The center's approach to college access and success for first-generation and low-income youth is unique in many ways because it addresses the "whole child" through three core areas of focus: academic enrichment, college and career success, and healthy minds and bodies. This year, the senior class from DDC's high school program collectively received more than 219 letters of acceptance and nearly $3 million in scholarships from some of the best colleges and universities in the country.
"[DDC] has not only guided thousands of youth to, through, and beyond college, but also provided Columbia College undergraduates the opportunity to become more socially conscious and active citizens in their communities and in the world," said James Valentini, dean of Columbia College.  "It is this connection of the Columbia student and young members of the neighboring community that creates the "double discovery" that enriches both minds well beyond their time at DDC. We are extremely proud of Double Discovery's relationship with Columbia College."
Like so many other institutions, DDC has had to readjust and reconfigure on the fly over the past year due to the pandemic, social unrest, and widespread economic hardship. 
"The DDC staff, including our student workers, rallied and redoubled their efforts to support our students through the challenges," said Kecia Hayes, director of the Double Discovery Center. With help from partners Macquarie Group and the United Way, as well as Columbia's Community Impact and Dining Services, the center was able to provide students and their families with emergency assistance to help with rent, close technology gaps that prevented students from participating in virtual learning, and provide meals during the holidays. Hayes added "DDC students showed themselves to be resilient and continued to thrive in their persistence to achieve their college dreams."
The three core components of the program — academic enrichment, college and career success, and healthy minds and bodies — were adapted to the "new normal" in order to continue serving students.
Academic Enrichment
DDC provided additional professional development sessions, so instructors could quickly adapt to a remote learning environment. Tutors and mentors also provided more and more flexible hours to facilitate student access to academic support. Classes were used to exploit teachable moments, allowing students to debate social justice issues, track COVID-19 variants, and discuss different methods of civic engagement.
A Writing Center was established to provide workshops and tutoring that focuses on college-level writing, since 75% of the country's 12th graders lack writing proficiency. Additionally, the Book Club, created by Jydin H. (DDC '23) became a place for students to strengthen their writing, improve critical thinking skills, and develop empathy for others.
College and Career Success
In addition to the weekly classes for 7th to 12th graders and College Success Mentors provided to every 12th grader in the program, DDC also launched a financial literacy course that addressed student challenges as well as the overall racial gap in education and wealth.
DDC expanded classes to explore the teachable moments as the nation grappled with the public health crisis and challenges to our democracy. Students discovered the art of debate, discussed the social issues impacting their lives, and competed in New York City Urban Debate tournaments; they learned about the biology of COVID-19, tracked virus mutations, and studied vaccine targets; and they discussed civic engagement: protest, voting, lobbying, and everything in-between with former DDC tutor, Brian Sarfo (CC'17).
Healthy Minds and Bodies
HMB strengthened its services and developed new procedures for assistance due to last year's dramatic and emotionally stressful events. The program expanded its counseling services: one-to-one, in group, and through a hotline. Mentors also performed systematic wellness checks on students to address any family conflicts, housing difficulties, relationship issues, and more.
The program also established an emergency fund with an initial grant from the Macquarie Group to help students meet their most basic needs: rent, food, tuition, and internet access. In order to foster a sense of community in such isolating times, HMB also launched the hugely popular Cookology class where students learned to prepare healthy and balanced meals while discussing public health issues and the social injustice related to food access and quality. The program also created community-building activities, such as Feel Good Friday (creative wellness), Stress Less (support group), and a Parent Town Hall to help parents support their college-bound children.