'Seen and Celebrated': Harlem-Based Photographer Ruben Natal-San Miguel's Work Explores Cultural Identity
Natal-San Miguel, a 9/11 survivor, is using his artistry to amplify the power of human connection.
September 08, 2023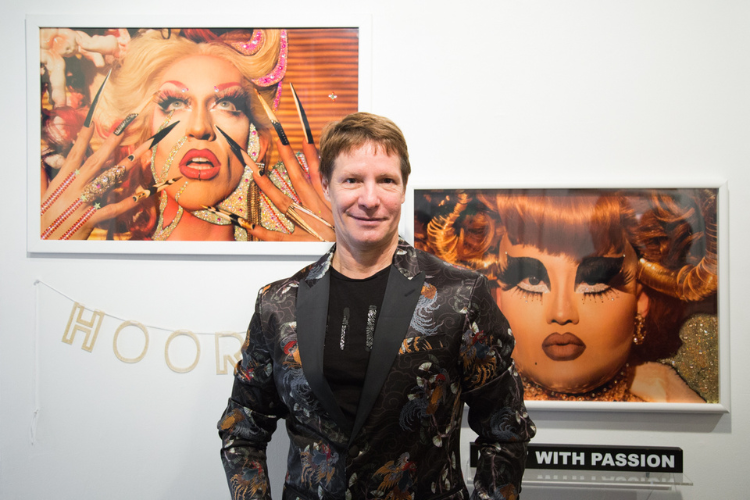 For Puerto Rican-born, Harlem-based photographer Ruben Natal-San Miguel, life is a string of definitive moments that have influenced how he shows up in the world as an artist and as a human being. It was a harrowing moment 22 years ago that would forever change his trajectory. Natal-San Miguel, who then worked in the finance industry, was inside of the World Trade Center's North Tower when it was attacked on September 11, 2001. He miraculously survived, but the heaviness of that horrific experience would stay with him.
His sobering reality was that many of the people who shared his daily subway trek down to the Financial District had perished that day. After relocating to Harlem from the Upper West Side for a new start, he turned to photography as a conduit for therapy. Connecting with everyday New Yorkers and visually capturing them in their element would become part of his healing process.
"My art is a celebration of people, but it's also a form of therapy because I'm a 9/11 survivor," he told Columbia Neighbors. "After that day I developed a sense of detachment. Living by myself in New York City, going out to take photographs and connect with people was the best therapy there was. Having those moments with strangers and listening to their stories was valuable to me. The connection for me is just as important as taking the photo." 
Now Natal-San Miguel—whose work is currently on view as part of the Wallach Art Gallery's Uptown Triennial 2023 exhibition—is using his platform to capture treasured spaces and humanistic stories, in Harlem and across the five boroughs, that are reflective of subcultures that define New York City.
Natal-San Miguel's drive to celebrate diversity through photography is derived from his upbringing on the shores of Arecibo in Puerto Rico. As a child he was often mocked for his physical features; making him feel like an outsider within his own community.
"I love the island dearly, but I experienced a great deal of colorism," he shared. "When you're that young, you don't understand. I moved out when I was a teenager, came to the U.S., and didn't look back."
Instead of letting those experiences diminish his light, he's using his artistry as a form of what he calls "silent activism;" making a conscious decision to take photographs that visually amplify the narratives of marginalized groups; with a central focus on communities of color and the LGBTQIA+ community. He's worked on projects with several prominent institutions including El Museo del Barrio, the Museum of the City of New York, the North Carolina Museum of Art, the Studio Museum in Harlem, the Leslie-Lohman Museum of Art, The Museum of Fine Arts Boston, and a host of other art spaces.
Natal-San Miguel says the true stories lie in the details. Whether it's the gray rollers in a Bronx woman's hair that match the hue of the sidewalk, a statement necklace that denounces racism donned by a woman from Brooklyn, or a tattooed tribute to a person's beloved borough, these elements are what tell the tales of New York. For the past two decades, he's gone on concrete pilgrimages across the Big Apple, walking from block to block to find these stories.
"When you go into New York City neighborhoods, people always have a way to send you a message," Natal-San Miguel said. "Sometimes it's in a very poetic and understated way, but it's there. Whatever detail captures my attention will be the focus of the photograph. I try to make sure that these people who I photograph and who I highly respect are represented on the walls of museums and galleries."
"When you go into New York City neighborhoods, people always have a way to send you a message. Sometimes it's in a very poetic and understated way, but it's there."
Another part of Natal-San Miguel's artistic style is what he calls "environmental portraiture" where he captures the transformation of communities that have felt the onslaught of gentrification by documenting the lifespan of local storefronts. This concept served as the inspiration behind the two poignant photographs that are currently on view at Uptown Triennial 2023. The exhibition celebrates the intersection of the sonic world and the spirit of Harlem. His inclusion in the project stemmed from creative connections he fostered over time with co-curators Souleo and Lewis Long.
"After I moved to Harlem, I started seeing how parts of the community were vanishing through the process of gentrification," said Natal-San Miguel. "I started to document it through photography and I realized that doing that comes with a lot of responsibility. I realized what I was doing was going to be valuable in terms of the future."
One of the images captures the iconic façade of Harlem's storied Lenox Lounge, a historic jazz club that opened its doors in 1939 and was frequented by legends like Billie Holiday, Miles Davis, Dizzie Gillespie, and John Coltrane. It was even the backdrop for Madonna's 1994 "Secret" video, which inspired Natal-San Miguel's work. The photo is just as vibrant as the jazz melodies that filled the nightclub. The music came to an abrupt stop when it shuttered in 2012 as a result of rising rents. It was demolished in 2017.
"One of the reasons I wanted to live in Harlem is because it's pretty well-preserved, more so than most parts of the city and most other cities," Natal-San Miguel said."Being a trained architect and interested in history, I loved the fact that it was a little jewel. New York is always about evolving and change, but it was so nice to have that little piece of history. When you walk by at night it was this really beautiful neon and art deco-inspired façade. I took the photo in 2010 and I'm glad I did. I documented the building over the years. I was there in front of the building when it was demolished. It could have been saved."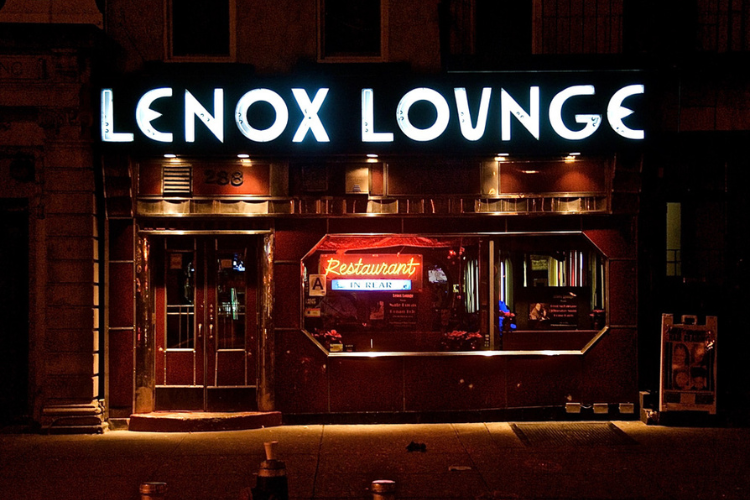 "I loved the fact that it was a little jewel. New York is always about evolving and change but it was so nice to have that little piece of history."
The second photo captures the Apollo Theater's marquee tribute to the Queen of Soul, Aretha Franklin. The globally celebrated institution is an epicenter of Black entertainment and performing arts. Both photos capture the essence of how the community's landscape has changed. They tell the tale of a cultural pillar that has stood the test of time and celebrates legends to inspire future generations, and another story of a beloved neighborhood gem that no longer exists and can now only be experienced through images.
Natal-San Miguel hopes his contributions to the exhibition will lead to deeper conversations around the concepts of memory and loss and using art as a form of documentation and preservation.
While photography was an integral part of his own path toward healing, he now hopes to use his artistry to heal other people; whether it's through giving them the platform to celebrate their identity and share their stories or supporting communities in the midst of change.
"Being an independent artist, you can generate your own projects, have your own vision, and stay very true to who you are," Natal-San Miguel said. "Right now, there is a lot of decorative art out there and I think everything you do should have a background story and meaning. That's basically the way that I see art. We need a lot of healing right now. We are in a world and nation that is so divided that we just need to have more kindness, more giving, and elevate people who need to be seen and celebrated."
---