Behind the Lens with Harlem-Born Photojournalist and Curator Lisa DuBois
DuBois' work is featured in the Uptown Triennial 2023 exhibition which is currently on view at the Wallach Art Gallery.
July 05, 2023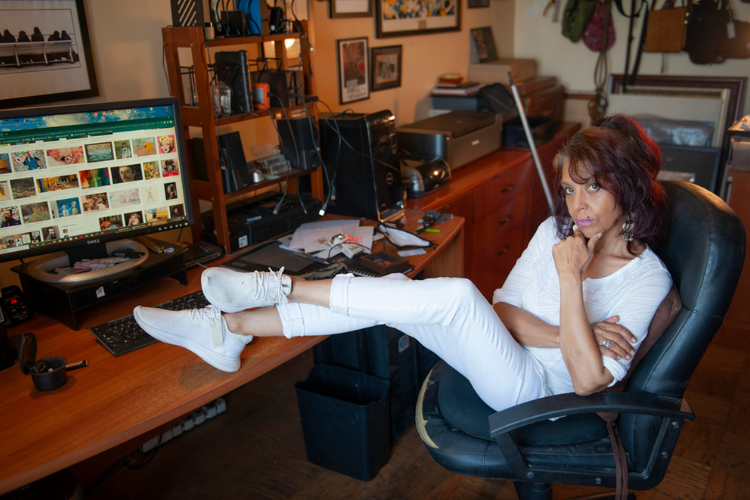 Photographs do more than capture moments in time, they're introspective pieces of art that evoke emotion and serve as a gateway into the distinct mind of the creator behind the camera. For Harlem-born, Bronx-based ethnographic photojournalist and curator Lisa DuBois—whose work is currently on view as part of the Wallach Art Gallery's Uptown Triennial 2023 exhibition—the art form is an integral part of preserving and documenting the historical and cultural elements that define communities like Harlem—especially in the midst of rapid change.
"I always think of things in a historical sense," DuBois told Columbia Neighbors. "I've often thought about what Harlem will be like in 100 years. Gentrification is still in flux right now. This is not the Harlem of 20 or 30 years ago. It's a different Harlem. As the neighborhood's identity is changing, people are going to want to look back and see who the artists of this time were, and what kind of art was being created that reflected the community itself and the thoughts and minds of the people."
Captivating images captured by visionaries like Gordon Parks and James Van Der Zee that authentically depicted Black resilience and joy in America, as well as the works of large-format filmmaker Ron Fricke and Brazilian photojournalist Sebastião Salgado, served as inspiration for DuBois' artistic style. However, her passion for art isn't something that she discovered—she says it's innate. She has vivid childhood memories of creating her earliest works with a paintbrush set that had three primary colors. "I literally had an easel when I was barely big enough to stand up on my own," she shared.
Her journey in the arts is a tale of two Lenoxes. It was at her Lenox, Massachusetts-based boarding school that she developed an affinity for the creative, yet technical, process behind photography and honed her craft. Those experiences came full circle later, in her career as a curator, when she opened the X Gallery on Lenox Avenue in 2017 through a partnership with the Harlem Arts Festival and Harlem Properties. The space was designed to amplify the work and center the voices of local underrepresented artists and photographers. For DuBois the gallery, which has since transitioned to digital, exemplifies how the arts are vital to building community.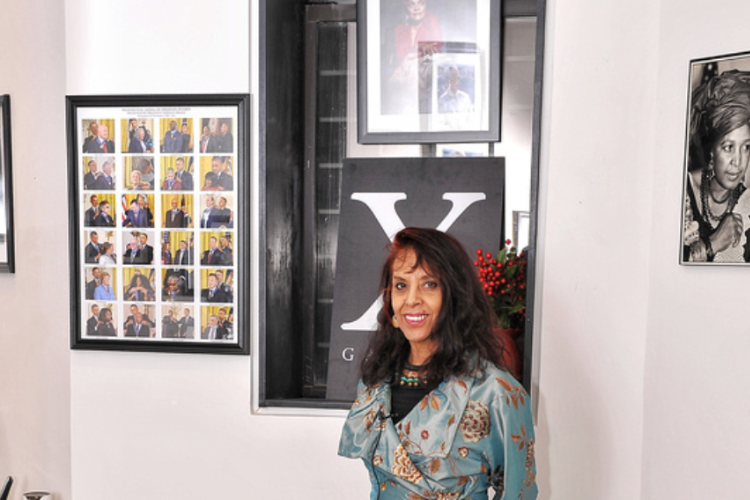 "As soon as we opened the door, people began to come," she shared. "The gallery was a space where people could find community. I had regular shows for three years and I truly experienced the power of art by being able to work with all of the different artists who were right in the neighborhood."
Though she's explored different forms, photography has always remained at the core of DuBois' work. It's a common thread that connects her arts-focused projects. Among those included in her curatorial portfolio are Old Harlem, New Harlem, a selection of vintage photos captured by greats like the late Kwame Brathwaite and Anthony Barboza that examined the beauty of Harlem across different eras. Among the images included in the collection were historic streetscapes of a horse and buggy crossing 125th Street and an image of social justice pioneer Malcolm X walking down a Harlem block. "I felt it was extremely important at that moment to put in perspective how much Harlem has changed over time," said DuBois. "A lot of the photos were vintage. I wanted to celebrate the photographers because their work was historical."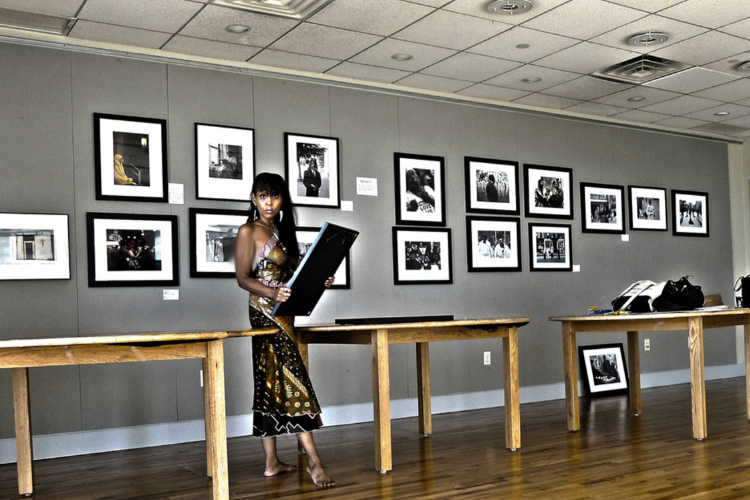 Building upon the theme of centering diverse perspectives through photography, during the pandemic she curated Awareness Through Conceptual Art & Photography, which visually centered global views of the COVID-19 pandemic, from Italy to Qatar.
One of her latest collections, Baptized by Firehose, is currently on view at Uptown Triennial 2023. The overarching purpose of the exhibition is to celebrate the work of Uptown creatives. This year's theme is a "tribute to the sonic world—in the realms of music, soundscapes, and spoken word—that resonates with the spirit of Harlem." DuBois attended the first triennial event as a viewer, and three years later she's one of the featured creators.
DuBois' pieces in the show are an extension of her artistic mission to capture narratives and celebrate traditions that are interwoven into the fabric of African American subcultures. She contributed six photographs of the street baptisms at the Harlem United House of Prayer for All People. The house of worship has led the spiritual ceremony since the 1930s.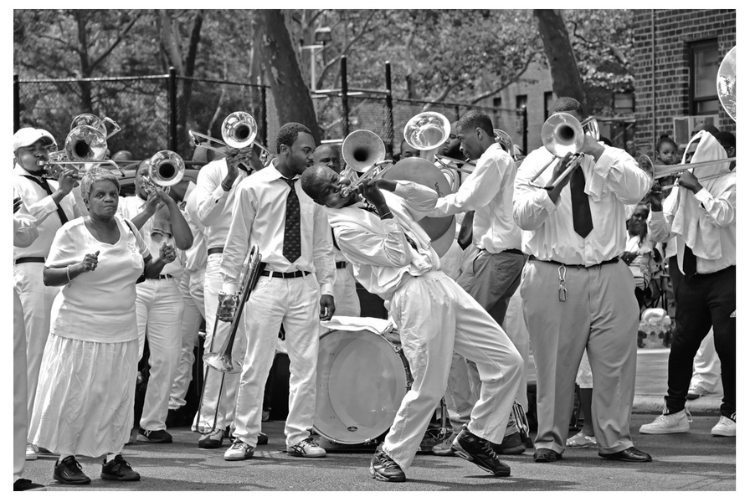 Though the photos are black and white, they have an unspoken vibrancy. You can imagine the brassy notes of the trumpets and voices of praise during the joyous celebration of spirituality that is inimitable to the streets of Harlem. "I chose it to show because it is a very unique Harlem tradition," said DuBois. "You won't see something like this happening down in SoHo. I feel drawn to photographing events that deal with spirituality and how people are trying to connect with the divine or the ancestors. When I observe the energy and emotion that comes over people in those moments I can feel it intensely and my entire being vibrates with the joy and pain of the human experience. A moment like that will never be replicated in any way whatsoever. I want the viewers to look at photographs and wonder what it would be like to be there; to be an actual participant standing in the water."
I feel drawn to photographing events that deal with spirituality and how people are trying to connect with the divine or the ancestors. When I observe the energy and emotion that comes over people in those moments, I can feel it intensely and my entire being vibrates with the joy and pain of the human experience.
Bearing titles like Holy Water, Falls Like Rain, and Baptizing the Community, the timeless images—which were captured in 2021—masterfully symbolize the art of surrender with undertones of revelation, rebirth, and rejoicing.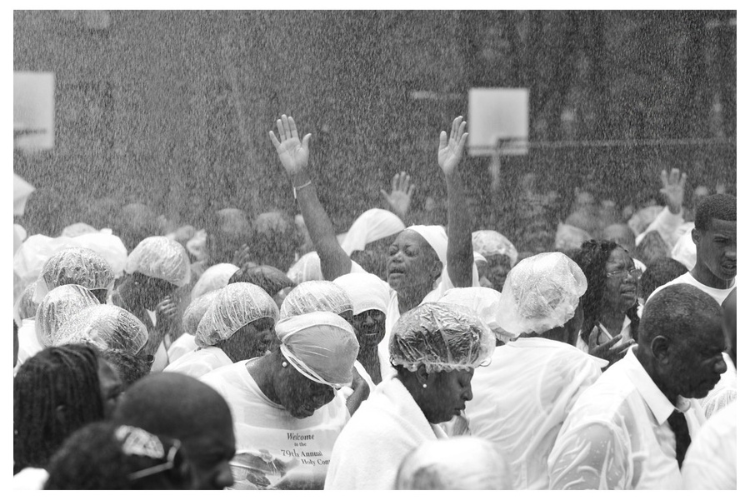 DuBois—who says she's inspired daily by the people she encounters and the places she's visited—hopes her path motivates others to explore and embrace their creativity. She's dedicated to carving pathways for artists of color and currently works as a photo editor and diversity advisor for the Social Documentary Network.
"As human beings, we all possess the ability to be creative," she shared. "I think you're happiest if you're creating what comes from within." 
---