Remembering Harlem Community Leader and Scholar April Tyler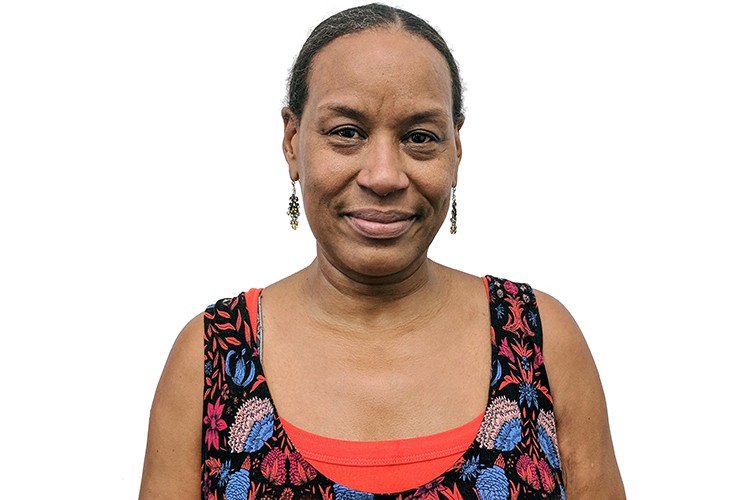 Harlem activist, leader, and scholar April Tyler passed away this week and people across our local community are expressing their condolences and honoring her legacy. Tyler, who was co-chair of the Housing, Land Use, and Zoning Committee of Community Board 9, had an extensive background in tenant and community organizing, and worked in real estate in Brooklyn and Upper Manhattan.
As an A'Lelia Bundles Community Scholar at Columbia University, Tyler was conducting a comprehensive survey of shareholders in the nearly 200 Housing Development Fund Corporations (HDFCs) in Community Board 9. The project included the development of a database of buildings, developing a means to share best practices of strongly running HDFCs, and creating recommendations for struggling HDFCs.
Her experience in nonprofit housing was a product of working with the Urban Homesteading Assistance Board, Housing Develop Fund Corporation cooperatives, and conducting graduate research at CUNY. She also studied to be a Foreclosure Prevention Counselor, and served as a volunteer district Leader for West Harlem for 18 years. Tyler attended City College and Syracuse University.
The HDFC Coalition shared a beautiful message with their constituents, which is excerpted here:
"April Tyler was a devoted mother, daughter, community member and activist, local political leader, advocate for affordable housing and the empowerment of people through home-ownership, and a proud African American woman who fought tirelessly for what she believed in while inspiring others to do so as well... April's knowledge of the issues and her long-standing relationships with elected officials and the public and private sector made her an undisputed leader and irreplaceable member of the HDFC Coalition. She was one of the few people with the strength and abilities to help relaunch the citywide HDFC Coalition following the passing of the late Jordi Reyes-Montblanc, who founded the HDFC Coalition with a group of fellow HDFC activists including April's mother Sylvia Tyler, who survives her daughter."
Messages honoring Tyler's legacy have been shared by numerous community organizations and leaders, a few can be found below.
Manhattan's Community Board 9 shared their memories of April Tyler at the start of their February General Board Meeting. (Starts at 10:10)
The unexpected passing of our beloved April Tyler is a kick to the gut. April was a dear friend of mine, and the impact of her passing has left me devastated. My memorial to her below... pic.twitter.com/ABYZElAvr0

— Robert Jackson (@SenatorRJackson) February 18, 2021
West Harlem has lost another cherished leader.

I am devastated by the sudden passing of April Tyler, one of the smartest, most committed activists I have known. She was a force for affordable housing, economic justice and more. My deepest condolences to her family & loved ones. https://t.co/6mHgHswlLe

— Mark D. Levine (@MarkLevineNYC) February 17, 2021
Im so incredibly sad to learn of April Tyler passing away. She was incredible friend who helped me learn the ropes of the community board when I joined. Back in March she made Blake & I a vegetarian lasagna to help us through a hard time. She was a true leader & friend ? pic.twitter.com/BaPYgXio8n

— Marti 2021 (@MartiGCummings) February 16, 2021
I am deeply saddened to learn of the death of April Tyler, a friend for over 20 years who believed that activism can improve the lives of the residents of Harlem. I am praying for her family and friends, and am thankful for her friendship. https://t.co/UD2Y5SUqPl

— Stacy R. Lynch (@lynchfornyc7) February 16, 2021
I'm deeply saddened to learn of the passing of April Tyler – a highly respected community leader who gave so much to our community.

My thoughts are with all who knew her and are impacted by this profound loss. Rest in power and may your memory be a blessing. https://t.co/1Sy8mCFrxe

— Shaun Abreu for NYC Council (@ShaunAbreu) February 16, 2021
The University expresses its condolences to Tyler's friends, family, and loved ones. No public services have been announced, but this article will be updated as soon as more information becomes available.