A Mural Celebrating History in the West Harlem Community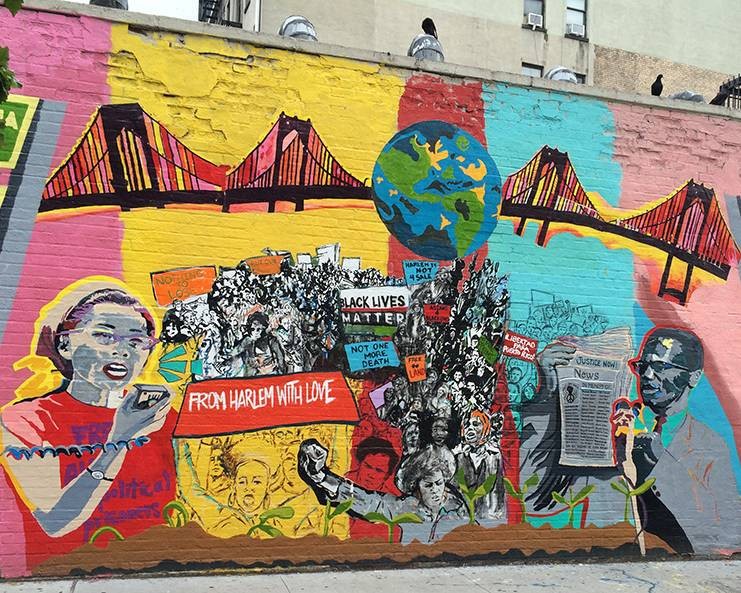 On the corner of 125th Street and Old Broadway, community members of all ages have banded together to paint a mural remembering two prominent local activists: Malcolm X and Yuri Kochiyama. The project site, once home to the Black-owned soul food restaurant and nightclub "Concerto West" and now a Columbia-owned building, has become the canvas for From Harlem with Love: A Mural Project for Yuri & Malcolm by way of hundreds of community volunteers in their effort to preserve the culture of West Harlem activism.
Community members who took part in the project officially unveiled and dedicated the completed mural at a ceremony on October 23. Julien Terrell, one of the core members of the volunteer group responsible for the mural, said the mural project is "truly of the community." Designed collaboratively through community workshops and painted entirely by volunteers, the mural showcases cross-generational, cross-cultural unity and the desire to create positive change.
"We've had over 100 young people and adults come out to participate," Terrell said. "We placed a strong emphasis on having youth participate so they will know the history of Yuri and Malcolm, and that this historic work happened in their community. A large part of the thinking is to cross generations to show what is possible when you have a community-led project. There are not a lot of public art programs that are community-driven; this can serve as an example."
Fellow team member Christine Peng said the idea for the project came shortly after Yuri's death on June 1, 2014, from a group of like-minded friends in the community — educators, activists, and artists. Since then, the project leaders have kept the community abreast of developments through street outreach, social media and, starting in May 2015, workshops meant to educate people about the work of Malcolm and Yuri.
"When Yuri passed away, we felt we needed to find a way to both honor and remember her," Peng said.
Peng met Yuri's granddaughter, Akemi Kochiyama, through the Maysles Documentary Center. "From there it just organically began to grow and develop," Peng said of their collaboration. The mural is painted on the west wall of an unoccupied building now owned by Columbia University. While the site is anticipated for future development, there was an opportunity to feature the mural there until that time comes.
"The mural project really is a win-win for the community and the University," said La-Verna Fountain, a vice president for Columbia University Facilities and Operations. "The University was approached by the mural's leaders about the project, and we are proud to have been able to offer and provide space for a project that is by and of the community until future development on that site takes shape."
The significance of the building's location is twofold: standing in front of the mural, one can look directly at 545 Old Broadway, a building of the Manhattanville public housing development where Yuri lived from 1960 to 1999; and the building itself was once home to the "Concerto West," a Black-owned restaurant and nightclub where Yuri worked for many years.
"Even beyond 1999 she still maintained connections to the Manhattanville Houses community," Terrell said. "She did a great deal of work out of her apartment; Malcolm met with a group of hibakushas (Japanese A-bomb survivors) there, and for years she would invite people from the community to her apartment to talk about issues. So this location connects so many parts of her life."
When asked how she feels about the mural project coming to fruition, Akemi Kochiyama said she couldn't be more excited.
"From Columbia University donating this wall that can be seen from Yuri's old apartment, to the outstanding volunteer leadership we've had…it is so amazing and so authentic," Akemi said. "Yuri would have approved of this."
Ilyasah Shabazz, daughter of Malcolm X, echoed this sentiment. She and her family have also supported the creation of the mural to honor their father and Yuri.
Yuri Kochiyama is remembered for her advocacy of the anti-war movement, reparations for Japanese-American internees, and the rights of people imprisoned by the U.S. government, as well as for her friendship with Malcolm X. She joined Malcolm's Organization of Afro-American Unity (OAAU), which fought for human rights for African Americans. After hundreds of minority construction workers were arrested in Brooklyn in October 1963, Yuri and Malcolm joined together to protest for their freedom. Yuri also taught English to immigrant students, and volunteered at soup kitchens and homeless shelters across New York City. Passionate about mentoring youth, she spoke at more than 100 high schools and colleges across the United States and Canada in the last 30 years of her life.
"The project is representative of the historical significance of this community and its determination, and we have to be accountable to both families and the local community to assure it is authentic," Terrell said. "There is also a great appreciation to Columbia University for donating the wall space in this significant location."
"The other day I was speaking about the relationship that Yuri and Malcolm had, and a young lady from the community came to me. She said she wasn't aware such significant things had occurred in her community," Akemi said. "For so many years, she felt a negative stigma because she lived in Manhattanville public housing. Now, she feels different because of the work that Yuri and Malcolm did here, the important discussion they had here, and all the people they impacted."
This article originally appeared on the Columbia Manhattanville website.