Medical Students Provide Free Care to LGBTQI+ Community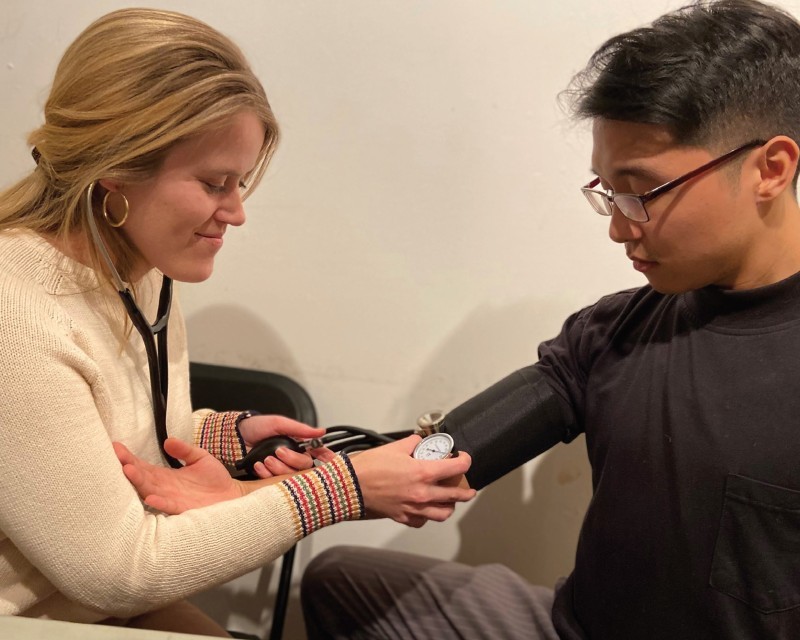 An individual's sexual orientation or gender should not be an inhibitor to quality health care. This is the ethos perpetuated at Columbia University Irving Medical Center's (CUIMC) Q Clinic in midtown Manhattan. The Q Clinic, a student-run organization established in October 2015 by students and faculty at CUIMC, provides free primary care services for members of the lesbian, gay, bisexual, transgender, queer or questioning, intersex and other gender nonconforming communities in New York City. The clinic particularly prioritizes those who are underserved, under- or uninsured, or resource- and housing-insecure. While the clinic was created to address a gap in LGBTQI+ health care, student workers welcome patients of all gender identities, sexual orientations and backgrounds who walk through their doors.
Columbia medical students and faculty formed the Q Clinic to address the lack of comprehensive primary care services that are sensitive to the unique and diverse needs of those who identify as LGBTQI+. The clinic offers a welcoming space for patients to receive quality care in a safe, respectful and more casual setting. Individuals have access to resources on health management and receive free STI/HIV lab screenings, subsidized medications and PrEP and flu shots. In the event that the Q Clinic does not provide a specific service needed, staff members work to connect patients to alternative clinics throughout New York City.
Various aspects of the Q Clinic's methodology are also unique. The trained team of medical students and doctors prioritize learning from their patients to improve and tailor health plans. Patients are encouraged to share their experiences as members of the LGBTQI+ community, and their stories are taken into consideration when forming care strategies.
A special emphasis is placed on introducing student doctors to the nuances and specific concerns of working with the LGBTQI+ community. Sarah Householder, a Columbia medical student and outreach coordinator for the Q Clinic, said, "By working with a population as diverse as ours, I get exposure to a lot of different stories and new perspectives on just how difficult it can be to receive affordable, respectful medical care in New York if you are uninsured, underinsured, or even fully insured but have an insensitive provider. Every patient encounter I have is on the basis of our core principles of empathy, respect and sensitivity, and we take the time to understand our patients' full stories and how more complex factors might be contributing to their health. The principles of the care that we provide have become a fundamental aspect of how I view medicine and will practice in the future."
Householder added that the clinic also allows students a unique opportunity for collaboration and leadership. "We are working together on how to run the clinic day to day and also how to meet our long-term goals. It gives us, as medical students, a chance to see how health care works from the bottom up, while working to create a medical clinic that we are proud of." Because the clinic covers the costs of all medications, lab fees and special projects, it is always looking for new partners to help promote its services and for sponsors who can help keep the doors open.
The Q Clinic is located at 446 West 36th Street, 3rd Floor, inside the Metropolitan Community Church of New York. Walk-in hours are available on Wednesdays, 6-7:30p.m., and appointments can be made for other times by calling 347-565-5042. No ID or insurance is required to receive care at Q Clinic, and all care is confidential.
For more information, visit qclinic.org and follow @qclinicnyc on Facebook and @qcliniccolumbia on Instagram.