Inwood Film Festival Shines a Spotlight on Local Talent in Its Sixth Year
Inwood Art Works Founder Aaron Simms shares the success behind the Inwood Film Festival and what he's excited for attendees to see.
May 24, 2023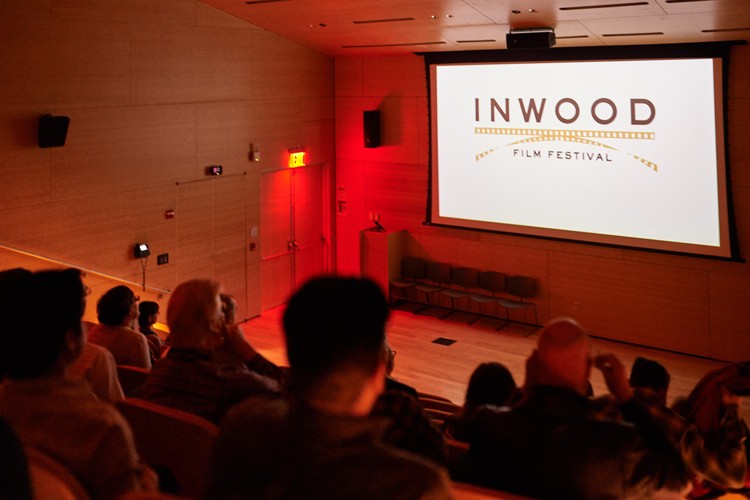 The idea to create a local film festival came to Aaron Simms while hosting vaudeville and variety shows in the backyard of his Inwood apartment.
"Some nights you would see Japanese Kabuki, a stand-up comic, a magician, a short play, and even live music," Simms said.
As his backyard shows grew in popularity, a revelation struck him: this vibrant artistic community was in need of a platform and there was an art-loving audience in Inwood eager to support them.
A resident of the neighborhood for 20 years and a Columbia University School of the Arts graduate, Simms founded Inwood Art Works to create a community hub for artists and an organizing force behind the annual Inwood Film Festival.
As he prepares to screen 25 locally-made films at Columbia University's Campbell Sports Center, we caught up with Simms to discuss the organization's busy line-up of yearly programming, his love for the local artistic community, and what we can look forward to in this year's exciting slate of films.
Inwood Art Works was founded because you saw there was a community need in the local arts. Tell us more about that. 
Inwood is a beautiful, close-knit neighborhood full of artists, but we have no venues and no more movie theaters to host them. The artists and the audiences are the two essential ingredients to our organization and are the reason why we exist. 
Our first film festival was held at a catering hall above a dispatch over on 214th Street and 10th Avenue and we sold out every screening. There was a line wrapped around the block and people were seeing movies that no one knew and by people they didn't know.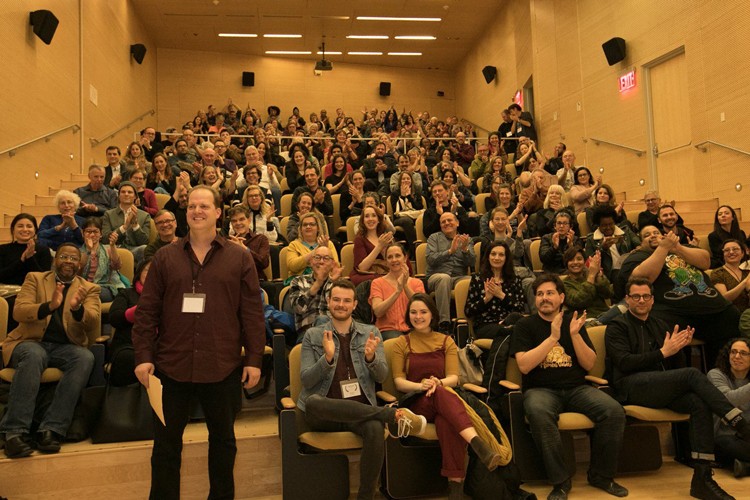 People were absolutely thrilled and shocked that this was happening in their own neighborhood. They were saying: "We deserve this—this is something that this neighborhood deserves." 
The festival is annual, but I know there's plenty of programming happening all year long at Inwood Art Works. What are some of the highlights from your other programming? 
We have our Film Works Alfresco program which screens free outdoor films every Monday throughout the summer in both English and Spanish. We like to choose culturally relevant films that are not just locally based, but are also curated according to community interest. For instance, it's a baseball- and dog-loving community, so we always screen a baseball film and a dog film. We also show Spanish cultural films and art house films that are New York-centric. People have noticed how successful it has been, so they've asked us to expand. This summer we'll be doing two shows at the Morris-Jumel Mansion and on Haven Plaza near 168th and Haven.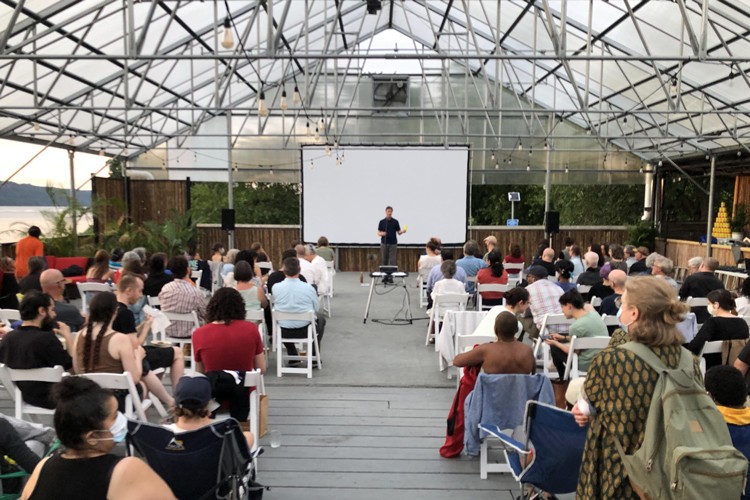 We also hold free pop-up galleries when the opportunity arises. We held a gallery in a defunct Dominican nightclub where we turned the VIP sections into art installation spaces for local artists. We held an art show with around 30 different pieces that people could bid on and all the proceeds were split amongst the artists. We've also put on live performances, including a circus troupe with aerialists. In 2018, we also put on the first-ever Inwood Music Festival with 12 bands.
We have online programming as well. We do a weekly podcast, Inwood Art Works On Air, where I speak with local artists, from filmmakers to theater makers to writers to visual artists. We even have an online version of the film festival called IFF+ that we did start last year.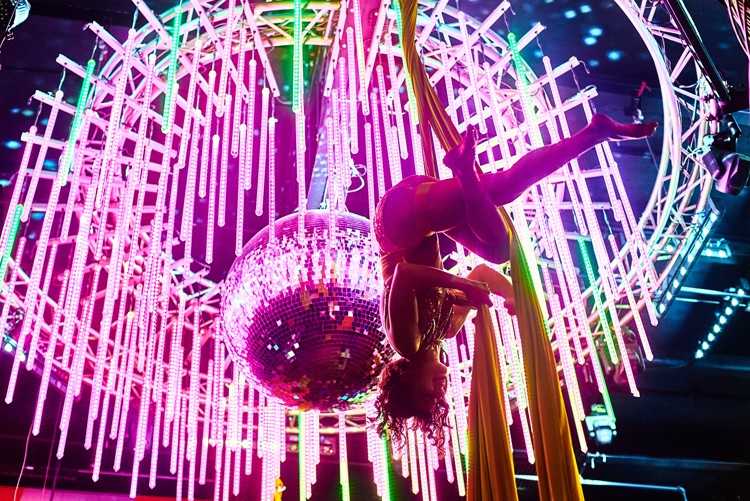 So tell us, what's playing at the Inwood Film Festival this year and what are you most excited for?
There are 25 films and they really run the gamut. We have student films, documentaries, dramatic films, cloak-and-dagger-type films, and beautiful art house films as well. 
Four of the films that we're showing on Friday night are all by local filmmakers that were funded by the Inwood Film Festival Filmmaker Fund, so we greenlit these films that'll be premiering.
Dylan Tuccillo directed this fantastic film called "Giant," which has some incredible CGI of a literal giant. 
Carlos Deschamps filmed this wonderful meditation on relationships and the night of a breakup. 
Elyssa Aquino is a Dominican filmmaker who is showing a film about Afro-Latina lesbians called "Secadora." 
Another Dominican filmmaker, Maite Bonilla, has a really touching film called "I Am Poem" about a young person's journey for acceptance and their gender identity. 
These are all very close to my heart because we've been with the filmmakers throughout the process [since they are Filmmaker Fund grantees]. The next application period for the Inwood Film Festival Filmmaker Fund will be opening June 1st, for those who are interested. Grants go up to five thousand dollars for each film.
The rest of the festival is going to be just as incredible too. "1.5 million" by Gregory Hernandez is a full feature-length documentary about literacy in the Bronx that will be having its world premiere at our festival. 
Our shorts are always a huge hit (I call them short shorts), and people have such a great time watching those. 
And there'll be a screening of two special Hollywood films! Tell us more about that.
Every festival is incredible, but I think this particular one is unique. 
We're kicking off the festival with our benefit on May 25, where we'll have a special screening of the Academy Award-winning film, "The Whale," written by a local Inwood resident, Samuel Hunter, who's a huge supporter of the festival. We'll watch the film and then I'll sit with Sam afterward for a Q&A. The film actually started out as a play, and then Darren Aronofsky directed it and Brendan Fraser won the Oscar, so I feel like it's quite timely. And I asked Sam to join us way before any of the awards came in—I just thought it was a great film!
I'm really excited about this: we're also going to be doing a special screening of "The Greatest Beer Run Ever," which stars Zac Efron, Russell Crowe and Bill Murray, with a special post-film conversation with John "Chickie" Donohue [the central character of the film]. 
Chickie, who co-authored the book that inspired the film, went on a journey to deliver American beer to his friends from Inwood to Vietnam in 1967. We got special permission from Apple to do a special screening, which won't be done anywhere else in the country!
It's a free event: single tickets only for people who want them. [Editor's note: Tickets for this screening are currently sold out]. 
I am thrilled to be able to show an Inwood-based film blockbuster. And it's a perfect pairing with "The Whale," which is another Hollywood film, at another end of the spectrum. And it's an Inwood writer and an Inwood story—can you believe this is happening here?!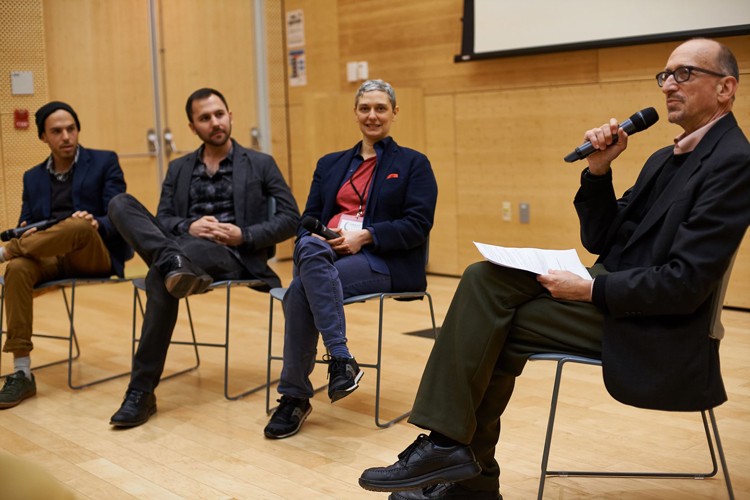 We'll also have two free seminars. I'm going to teach one on budgeting, and there'll be another one with SAG-AFTRA, New York chapter, about contracts which I think is very important to learn.
What's in the future for Inwood Art Works?
Eventually I'd like to have a home for the organization. A place to do theater, opera, film, music, off-Broadway performances—that'd be the next step. But it's not about quantity, it's about quality, so we're going to keep doing what we do well and we'll add or subtract as needed for the community here.
I'm thrilled to share with you that we just received a National Endowment of the Arts grant! It's so validating to receive it, along with the New York State Council on the Arts grant, Department of Cultural Affairs, and Upper Manhattan Empowerment Zone funding too. It shows that, from the micro- to macro-level, people care about what we're doing here. 
Why is it called Inwood Art Works?
Those three words are actually an affirmation. It's saying "art can happen here" and it's happening in Inwood. Artists are entrepreneurs and merchants, and they deserve to be paid to do what they do. It's about the work, the art, and providing that platform to showcase these artists—whether it's film, stage, music, or visual arts—and doing that to the best of our ability.