Harlem Restaurant Week Is Back! Check Out the Neighbors Team's Go-To Spots
Over 60 restaurants are participating in Harlem Restaurant Week where this year's theme is "Friendsgiving."
November 10, 2021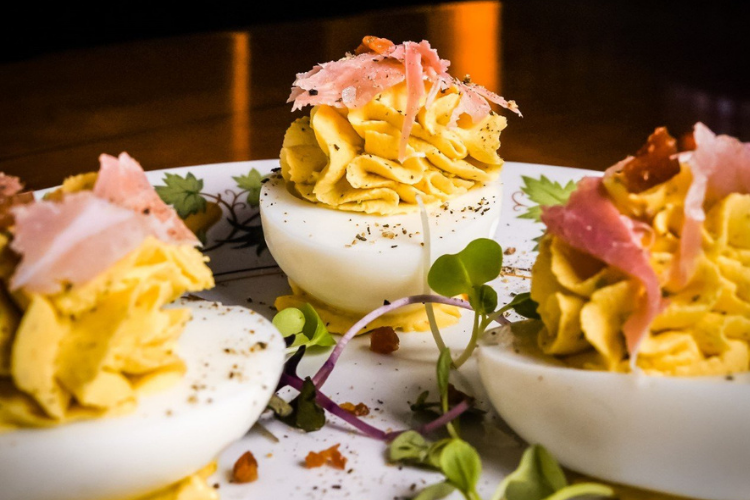 Harlem streets are bustling with foot traffic and it's about to get even busier as Harlem Restaurant Week gets underway. 
The yearly gastronomic belt-loosener started this week and continues through Nov. 21 with more than 60 restaurants offering special deals for every restaurant-goer.
We here on the Columbia Neighbors team are big fans of deals, dining, and finding the best food spots. With this in mind, we decided to share our favorite restaurants participating in this year's Harlem Restaurant week, but be sure to check out the whole list to find more information on all the specials.
Some say it is a burger and some say it is mac 'n' cheese, but to me, the standard dish by which to measure a restaurant should come down to the French dip. And anyone who really knows their way around a sandwich piled high with roast beef knows that the Au Jus dipping sauce is the make-or-break component. At Au Jus, you'd better believe their dipping sauce is up to par to be so bold as to have it in their name. With their roast beef sandwich, the bread is fresh, the meat is juicy, and the dipping sauce is saltily delicious. If you're headed here for Harlem Restaurant Week and ordering from the prix-fixe menu, you also can't go wrong with the pork ribs...cut St. Louis style for extra juicy deliciousness (says this St. Louis native). — Kelly, Engagement Editor
This Harlem version of a local pub delivers on all the things you'd expect from a neighborhood hangout: chill and chatty vibes, a good selection of cocktails and beers on tap, and reliable comfort food. In this case, the food leans toward Americana with burgers (beef, turkey, and beyond) any way you want. Carnivores should definitely try the house special burger made with peanut butter and bacon. There are also wings, fish tacos, mac 'n' cheese, tater tots, and a throwback wedge salad, something that should be on every menu. Here you can add grilled chicken, which is not classic, but still so good. — Wilson, Executive Director of Communications & Victoria, Associate Vice President, Communications and Community Affairs
Love a smashburger? Harlem Shake has the classics—cheese, special sauce, onion, and pickle—but also delicious variations. Think bacon relish, pickled cherry peppers, and jerk mayo. There's a great house-made veggie burger, and don't sleep on the fries. For me, I can't be separated from the truffle ones, but they're all the perfect accompaniment to your burger (or sandwich, or hot dog) and milkshake. It's right there in the name, so you can't skip the shake. Red velvet is their signature, but for me there's nothing like an old school vanilla malt. Unless they have the seasonal eggnog shake. — Maggie, Assistant Director of Communications
If you don't yet think deviled eggs are the epitome of class and cool, prepare to have your mind changed by the basement hideaway, The Honey Well. The second-most difficult choice to make at the Honey Well is which of its incredible concoctions to try first (my vote is forever with the actively smoking Monk Fashioned). The first-most difficult choice is whether to sit outside in their charming and magical back patio, or to luxuriate in the groovy, velvety funkadelic vibes inside. Wherever you're seated don't miss the whipped feta. — Acacia, Director of Social Media
As a Nuyorican, I am always looking for authentic Puerto Rican food mixed with the sounds of salsa music in the air. Now add a waterfront view with the George Washington Bridge in the background and you're speaking my vibe! Sofrito, moving from Midtown East to Harlem, has made its mark offering a scenic atmosphere along with their addictive mixed sangria and appetizers to match. Start with their shrimp empanada and end the night with their infamous pernil dinner that will leave you taking leftovers home. — Jessica, Communications Officer
---
Don't forget to check out the whole list of participating restaurants.