Harlem-Opoly Creator Highlights 5 Uptown Spaces Connected to Black History You Should Know
From cultural institutions to historic homes, entrepreneur Carolyn D. Johnson takes us on a journey through Harlem.
February 01, 2023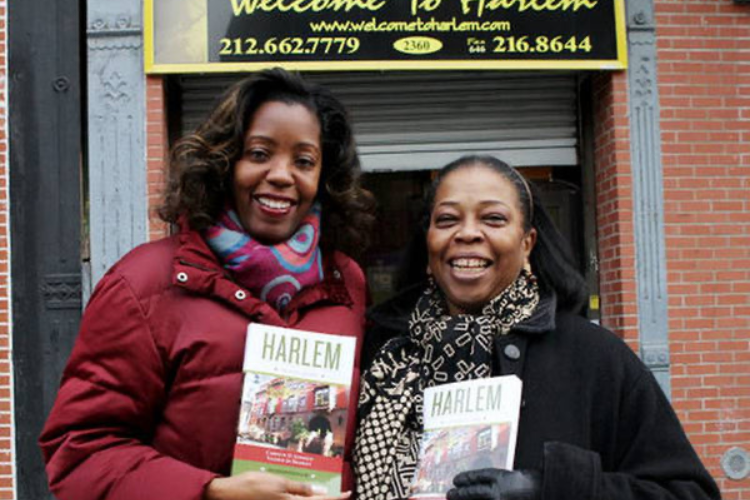 Emerging from Harlem's everchanging landscape are community pillars that are reflective of the social, cultural, and political contributions made by revered African Americans who forever changed the course of history — locally and globally.
For Harlem native Carolyn D. Johnson, it's Uptown's historical flair that makes the community one of the most unique places on the globe.
"I like to tell people no place in the world has contributed more to American history and world history than Harlem," said Johnson. "We need to honor the individuals that have paved the way to make Harlem what it is."
Her passion for exploring Harlem's past is what led her to the creation of her local boutique tour company Welcome to Harlem. After taking a tour guide course led by community leader Valerie Jo Bradley at City College, she leaped into entrepreneurship.
Launched in 2004 as a portal that encompassed historic information about notable people, spaces, and events connected to the community, she discovered a void in the tour company space and decided she wanted to offer in-person experiences. Her eye-opening tours center Harlem's rich past and cultural diversity.
Johnson's reverence for her hometown has also sparked the cultivation of her other businesses, including the education-driven platform Harlem Roots and her latest creation, the Harlem Renaissance-inspired board game Harlem-Opoly, which all sit at the intersection of education, and empowerment.
"Harlem is a special place, it's heaven," Johnson said. "It has a vibe and feel that just makes it the 'it' place. I feel like one of the luckiest people in the world to be living here. We're probably one of the few neighborhoods in New York City that is totally self-contained."
In celebration of jazz's rich legacy Uptown, she also co-leads the live performance series Harlem Jazz Boxx alongside musician Craig Harris and the Arts & Education Continuum.
Neighbors recently chatted with Johnson about some of the most significant spaces in Harlem that are connected to Black history. Check out her curated list of spots below.
Historic Black Churches: Mother African Methodist Episcopal Zion Church and Abyssinian Baptist Church
"Mother African Methodist Episcopal (AME) Zion Church and Abyssinian Baptist Church are pillars in the neighborhood," Johnson said. "Both of them have strong roots in the African American community.
"Mother AME Zion is the oldest African American Baptist church in New York City and was founded in 1796. It's known as the 'Freedom Church' because it's connected to the Underground Railroad. Sojourner Truth was baptized in that church. Some of the people that were members were influential individuals like Madam C. J. Walker, who requested the money to build the church they're currently in on Lenox. Throughout history, the congregation included the likes of Frederick Douglass, Harriet Tubman, Paul Robeson, W.E.B. Du Bois, and Langston Hughes. There's a wealth of historical information that is rooted inside Mother AME Zion Church.
"Then you have Abyssinian Baptist Church, which was founded in 1808. In the 1920s it moved up to Harlem from lower Manhattan. That's the house that the Powells built: Adam Clayton Powell Sr. and Adam Clayton Powell Jr. built that church to be a force to be reckoned with. Adam Clayton Powell Jr. took over after his father. He was a congressman who passed over 50 major pieces of legislation which were critical to the civil rights movement."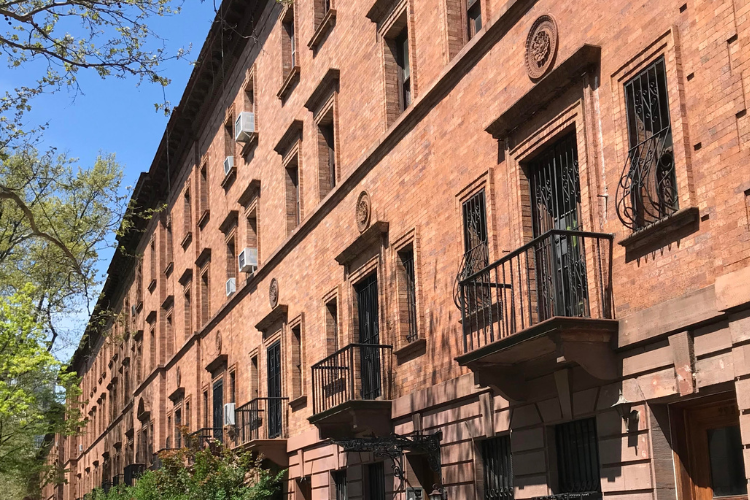 "During the Great Migration, African Americans from all areas across the country started purchasing homes along Strivers' Row in 1919 and 1920 for $8,000," Johnson said. "Over 100 of the houses nestled in the St. Nicholas Historic District were foreclosed and boarded up, but those settling in Harlem transformed the community into a safe space. It was representative of upward mobility.
"Black leaders in business, politics, the arts, and medicine called it home. The prominent African Americans that lived at Strivers' Row included musician Will Marion Cook, actor Flournoy Miller, surgeon Dr. Louis T. Wright, and Congressman Adam Clayton Powell, Jr. Still today, it's a coveted space in Harlem to live."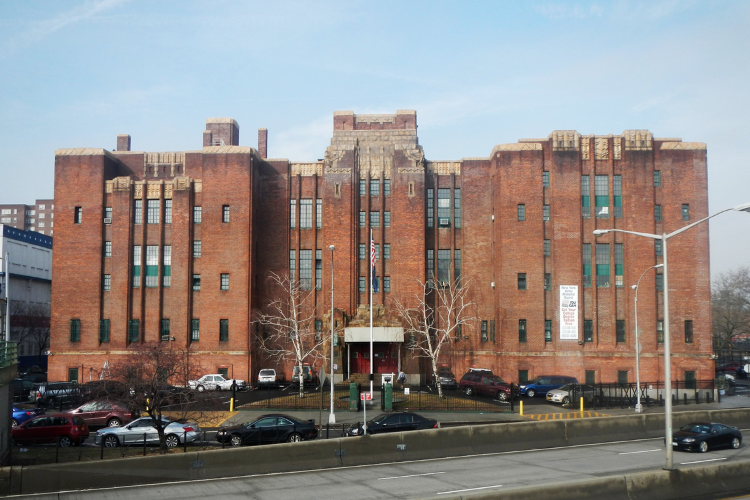 "The 369th Regiment was one of the first African American units in the army," Johnson said. "Their armory sits between West 142nd and 143rd Streets along Fifth Ave.
"They fought in WWI. Due to racism within the U.S., they were barred from fighting alongside white American soldiers and joined the French in the battle. They fought for 191 days on the front line. They never lost a battle. They never lost any territory. They were the first regiment to cross into Germany. The German military forces were the ones who named them the Harlem Hellfighters. The unit was decorated with the Croix de Guerre; the French government's highest award for bravery.
"Beyond the battlefield, if it wasn't for these guys going over to Europe and bringing elements of Black culture with them — like jazz music because a lot of them were jazz musicians — I don't think the Harlem Renaissance would have been as powerful as it was. They made the world fall in love with our creativity."
Schomburg Center for Research in Black Culture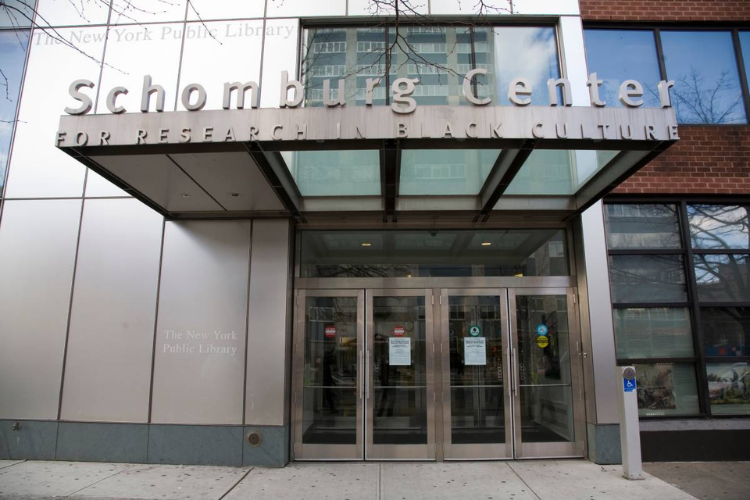 "Afro-Latino scholar Arturo Alfonso Schomburg immigrated to the U.S. from Puerto Rico in 1891," Johnson said. "Growing up, he noticed elements of Black history were omitted from history books and he made it a mission on his part to highlight the contributions of changemakers, thought-leaders, and academics from around the world. He started collecting artifacts during his travels.
"Eventually, the New York City Public Library bought his collection of 10,000 pieces for $10,000. He took that money and started traveling more into Europe and other places and buying relics. Today, the Schomburg Center for Research in Black Culture has over 11 million items that reflect the history of the African diaspora.
"People come to Harlem from all around the world to do research at the Schomburg. It's also the place where Langston Hughes is buried. A lot of people don't even know he's buried there when they step across that mosaic cosmogram."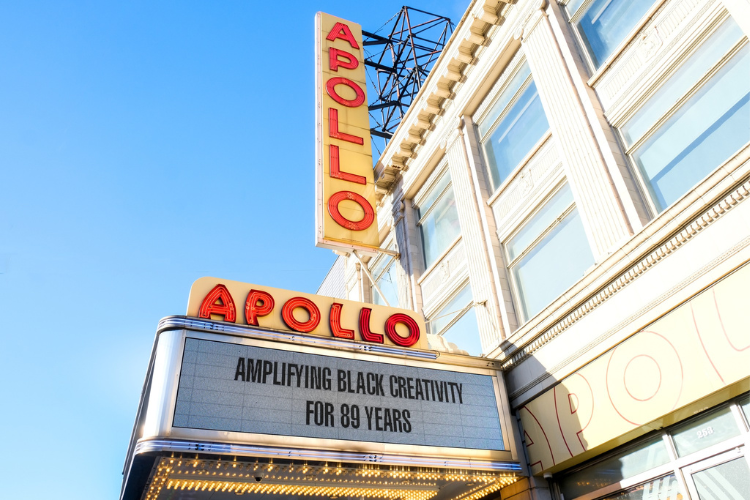 "The Apollo Theater is the home of Black entertainment," Johnson said. "It opened up the doors to show the world what we could contribute artistically. When it opened in 1934, it became one of the first venues in the city, and in the country, to be integrated. It elevated the careers of entertainers who were lucky enough to grace the stage.
"It's the Black Carnegie Hall. It's the mecca for Black culture even still today, with the legacy that it has and the people that still come through its doors."
---