Harlem Native and Columbia University Graduate Dominique Renee Hill Aims to Advance Birthing Justice
Hill reflected on how her journey to motherhood inspired her to chart a path in social work and what Commencement represents for her.
May 10, 2023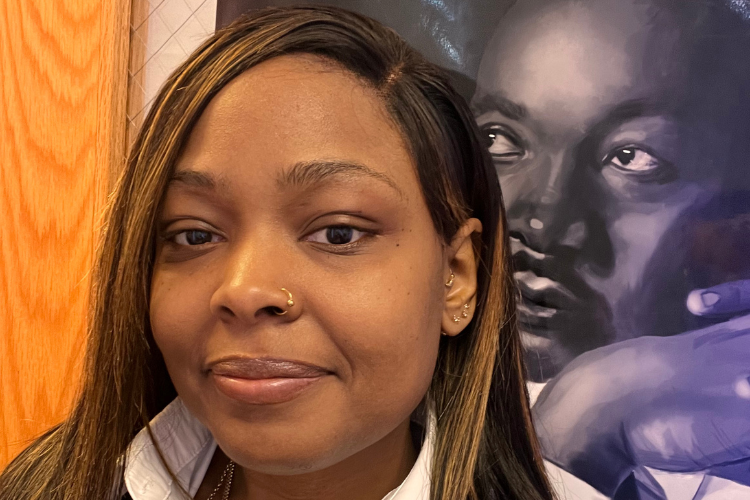 If there's one thing that Harlem native Dominique Renee Hill has learned from the neighborhood that nurtured her, it's the power of perseverance. It's something that she's had to lean into amid some of the most challenging chapters of her journey—especially along the road toward motherhood.
With African American women experiencing rising rates of complications during pregnancy, the Black maternal health crisis has been pushed to the forefront of a national conversation. Behind the harrowing statistics are stories, including Hill's, that are rooted in reproductive oppression and bias that has historically plagued the healthcare system.
Motivated by her own experiences, the School of Social Work graduate is turning a painful chapter into purpose, and has set out on a mission to ensure birthing people of color in communities like Harlem have access to culturally competent care and support systems. For Hill—who credits her 5-year-old daughter as her inspiration—crossing the Commencement stage in May will symbolize another step toward advocacy.
Columbia Neighbors spoke with the soon-to-be graduate about how motherhood has inspired her journey, the imperative need to address the Black maternal health crisis, her passion for social work, and what Commencement represents for her.
How has growing up in Harlem influenced your path?
Harlem has always been a part of me. This is my home and it's hard for me to think about ever moving away from this community. From childhood to adulthood, it's been such an important part of my journey. I grew up in Drew Hamilton projects and was raised by my mother who was a single parent. For elementary, I went to a Catholic school in Harlem that emphasized celebrating Black culture to help us develop a sense of self-awareness and pride. Summers in Harlem were special. I remember going from avenue to avenue catching up with friends. All of my experiences showed me the importance of community.
It also taught me a lot about being authentic. During my first day at Columbia, I wanted to represent Harlem. I made sure I walked into the classroom with my bamboo earrings to represent that sense of Harlem flair and style. It's a part of me, a part of my culture. It's the place to be. The community is filled with so much live action, so much love, and so much family interaction. Harlem is the home of the hustle. This community has sparked a hustle and desire within me to use my degree and skills as a social worker to empower people within healthcare.
How has your motherhood journey inspired you to lead a career in the realm of social work?
The birth of my daughter in 2017 sparked my decision to go back to school and study social work. My birthing experience, my entire birthing journey, and my journey to Black motherhood inspired me to go into social work. The entire experience for me was traumatizing. I miscarried five times and I had a traumatic birthing experience filled with microaggressions from the medical staff. Postpartum was even more devastating for me.
As a Black woman, our lives are not very much cared for in the healthcare system. We often experience the pains of motherhood, pregnancy, and birthing and rarely experience the joys along the journey. After my experiences, I decided to go into social work to be an outlet for those in my community—especially the Harlem community. I want to be that voice in the healthcare system because it's time for change. What better place to start than in your own community? It's something that I cherish in my heart and pray that I'll be able to deliver for my community.
Can you share your thoughts on the immediate need to address the Black maternal health crisis and how we can work towards creating better outcomes?
Along my own journey, I felt like I lacked support. I didn't have references, and I didn't have anybody there for me going through this troubling time. After giving birth, I suffered from postpartum depression for about two years. I had to really lean on my faith to deal with the depression.
In this chapter of my life, I want to start using my voice to let women and birthing people know—especially women and birthing people of color—that our lives matter, our babies' lives matter, and there are resources. We have options. Let's use our voice. Let's create a birthing plan and stick to it. Our pain is usually underestimated when we're navigating these situations, and we need to bring attention to that also. I hope I can use my voice, resources, and platform to empower change.
I hope I can use my voice, resources, and platform to empower change.
How can social work be used as an avenue to uplift and empower communities?
Social workers can help community members build autonomy. We can help community members establish a sense of self-determination. From substance abuse to mental health concerns, there's so much going on in communities and social work can help bridge the gap by holistically helping each individual. Social workers have the intervention tools that will help communities thrive.
Social workers should be called community workers because that's the base of our profession; to help the community, to help individuals, to help families, to establish change, and to hear them out. Community engagement is very, very important to me and it should be important to every social worker out there.
What led you to Columbia specifically?
Initially, I didn't have my sights set on going to graduate school. I went to City College and my mentor in the sociology department shared information about a scholarship opportunity that Columbia offered for CUNY students. I decided to give it a try and got accepted with a partial scholarship. That for me was a sign from the universe to move forward. Fast-forward two years later, I'm about to graduate!
From your perspective, what makes Harlem unique?
Harlem is nostalgic. I recently took a nice walk through the community and everywhere I went brought back so many good memories; from the park where we played Double Dutch during recess to the buildings in Drew Hamilton. I can also feel the sophistication of the Harlem Renaissance. I can feel the wealth of Black culture. I feel the swag from the people of Harlem. Everyone tries to emulate Harlem culture, but it can't be done. There's something so unique and special about Harlemites.
What are your favorite community gems in Harlem?
Any place in Harlem where I'm experiencing Black joy is my favorite place. The coffee shop where I write my papers that's right up the block from where I live. Spending time in Morningside Park with my daughter. I love Melba's. The sip and paint studio on 116th. Anywhere I go where I'm experiencing joy and I get to be myself in Harlem, is my favorite place.
What does graduation symbolize for you?
It symbolizes manifestation. It symbolizes a new beginning for me and my family. It symbolizes growth. Coming from a place where people doubted me and told me that I couldn't do certain things and knowing that I was able to rise above it, feels good. I know my daughter is proud of me because she tells me all the time. It's good representation for my daughter. I want her to know that you can do whatever you want at any age. I want her to live that soft life. I want her to explore the world. I want her to live the life that people think we're not entitled to.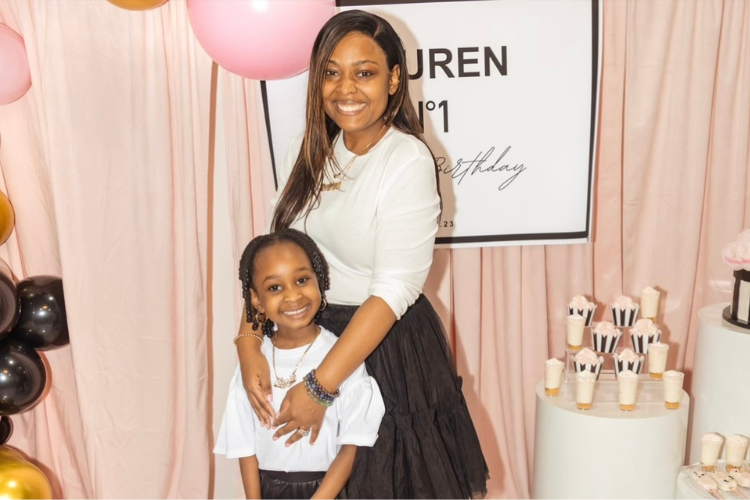 Reflecting on your time at Columbia, what are you most proud of?
I'm most proud of staying true to my authenticity. Just being Dominique. Going to Columbia opened my eyes to different cultures and new experiences. Studying here empowered me to be myself. In social work, you learn a lot about self-care, compassion, and empathy and I learned to have that for myself first and then others.
In social work, you learn a lot about self-care, compassion, and empathy and I learned to have that for myself first and then others.
What is the best piece of advice you've received?
Even if it makes others uncomfortable—however you live your life, the way you dress, the way you look, whatever the case may be—love who you are. I stuck to that throughout my entire graduate experience. Self-love is the most important thing needed to navigate through life.
What's on the horizon for you?
Professionally, I want to continue to lay the foundation for becoming a social worker. In the future, I'd love to open a self-care center for Black and Brown people in Harlem. It's something that's needed because so many people don't know the value of self-care or don't have access to outlets for it—especially in our community. Personally, I want to focus on continuing to be a better mom and wife and spending more time with my daughter and husband. I want to prioritize achieving all of the goals I set out for myself after graduation.