The Harlem Maker Fair: Programs, Projects & Partners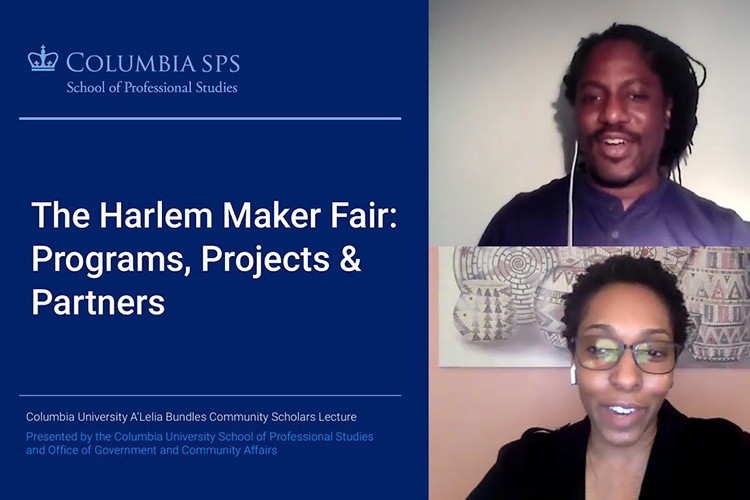 On April 14, 2021, Bundles Scholars Karioki Crosby and Regan Sommer McCoy participated in the School of Professional Studies' Spring 2021 Bundles Scholars Speaker Series. 
This year, Crosby and McCoy jointly received a professional development grant for The Mixtape Museum and Latimer Heights from the Institute of Museum and Library Services' Game Plan program, a national initiative to integrate game design into museum education programming. At the Speaker Series, Crosby discussed his programs at Latimer Heights, his STEAM education organization, and the Harlem Maker Fair, and how he uses that work to help underserved youth learn about technology and art. From there, McCoy explained her own work with the Mixtape Museum and Hip Hop Hacks, and how she came to collaborate with Crosby through a shared interested in technology and gaming.
Crosby and McCoy also discussed how they work to promote and increase student engagement during and after the COVID pandemic, computer programming and literacy, and teamwork.
Karioki Crosby is the Founder of Latimer Heights and has developed the Harlem Maker Fair as a Bundles Scholar. Latimer Heights produces the Harlem Maker Fair and offers digital literacy workshops for children, youth, and adults at Columbia University, the Brooklyn Academy of Music (BAM), the Metropolitan Museum of Art, Microsoft, and HIP HOP HACKS. In addition to leading Latimer Heights, Crosby is a digital literacy educator at Queens Public Library's Queensbridge Tech Lab, the system-wide manager for the Queens Public Library robotics program, and a co-chair of the Queens Public Library's President's Council on Racial Equity. He was a founding teacher in and creator of the visual arts program at KIPPNYC Public Schools, a network of fifteen public charter schools in the Bronx, Brooklyn, Harlem and Washington Heights. Crosby has been a teacher-educator at the Guggenheim Museum, The New York Hall of Science, The New York Historical Society, the Lewis Latimer House Museum, and The Morgan Library and Museum.
Regan Sommer McCoy has 15+ years of experience in the music industry working with hip-hop artists. She is the founder of The Mixtape Museum, which encourages the research, archiving, and data analysis of mixtapes and seeks to achieve systematic preservation in the DJ and hip-hop communities. In 2016, she launched Hip-Hop Hacks, a hackathon that offers students the opportunity to explore how hip-hop inspires technological innovation. Sommer is a grantee of the Association for Recorded Sound Collections, a charter member of the William & Mary Hip-Hop Collection, and serves as an education committee member with the Hip-Hop Education Center and Universal Hip-Hop Museum. By day she manages databases at the Brooklyn Academy of Music.
---
The A'Lelia Bundles Community Scholars Program, administered by the Office of Government and Community Affairs, the School of Professional Studies, and the Office of the Provost, enables members of the Upper Manhattan community to pursue their lifelong learning aspirations through a three-year affiliation with the university.