Harlem-Based Nonprofit Thrive Collective Uses Arts Education as a Means for Community Empowerment
Thrive Collective empowers New York City youth through arts education programs and beautification projects.
September 07, 2022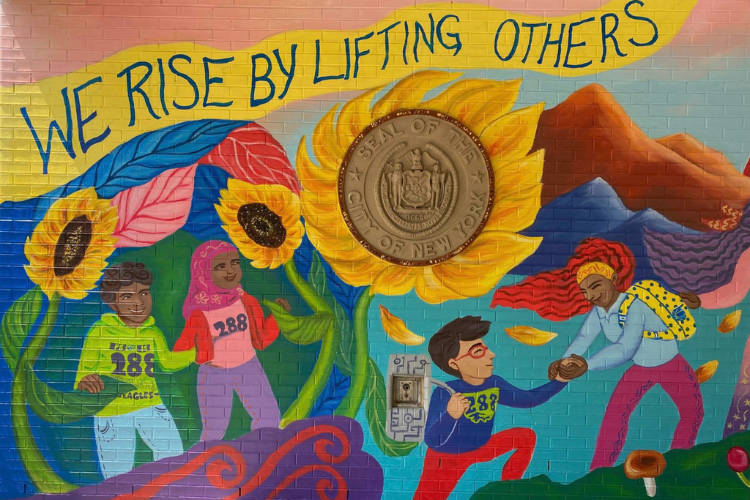 Visual art is a form of creativity that can be used as a conduit for healing, a tool for cultivating community, and a medium to visually amplify the voices and perspectives of those who don't often feel seen or heard. But what happens when this transformative form of expression isn't accessible in the communities that could benefit from it the most? The East Harlem-based, arts education-focused nonprofit Thrive Collective is on a mission to change the narrative and empower young minds to use vibrant palettes and paint brushes to dream beyond their circumstances and illustrate what they envision for their futures.
New York native Jeremy Del Rio, Esq., the co-founder and executive director of Thrive Collective, will be the first one to admit that you wouldn't want to enlist him to paint your home let alone a 500-square-foot larger-than-life mural; but one thing he has mastered is the art of community-building.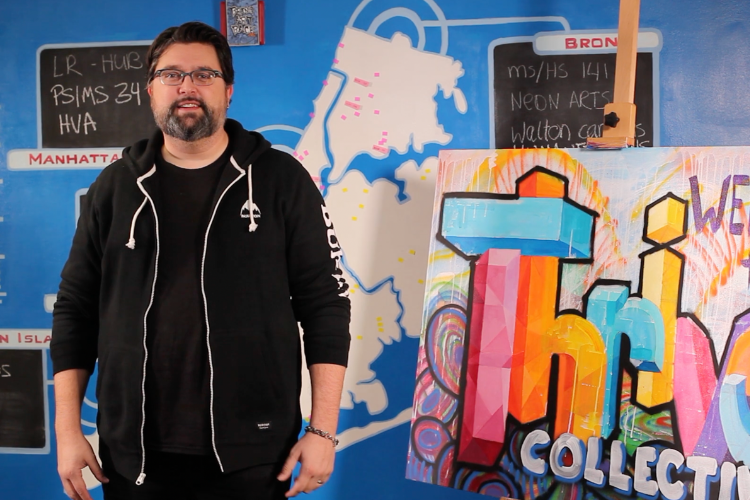 Thrive Collective is a by-product of his life experiences; a culmination of realizations along his life's journey. He vividly remembers flipping through the pages of books filled with pieces of art that were representative of every genre. He recalls meeting his uncle—an art aficionado—at the Astor Place train station to travel uptown for a memorable Metropolitan Museum of Art visit where they traversed different artistic eras. The graffiti art that decorated city blocks and subway cars is etched in his mind; a quintessential element of coming of age in the Big Apple. These nostalgic moments made him understand the power of art.
In adulthood, it was the harrowing September 11th attacks that prompted him to pivot from law into community service. After supporting Ground Zero relief efforts in Lower Manhattan for 15 months, he decided to dedicate his career to youth development, with a specific focus on improving the city's public schools. In this space, he witnessed first-hand how socioeconomic disparities directly impacted the quality of education. Amongst the inequities was the decline of arts education programs.
"We were working broadly on issues related to educational justice, equity, and access, but by 2014 became very acutely aware of the arts education crisis in our city and how disproportionately that was affecting low-income communities of color," Del Rio told Neighbors. "In 2014, the city issued a report called State of the Arts, which documented 419 schools without an art teacher of any kind. NYC is arguably the art capital of the world and somehow, we were tolerating an artless education for a quarter of a million kids who needed the skills that are activated by arts education. I'm not talking about the art itself. I'm talking about creative imagination. The ability to see beyond their circumstances. The ability to imagine worlds that don't yet exist and bring them to life. We saw an opportunity to build a bridge between the art community that resides in those neighborhoods and their local school." Determined to fill the gap, he launched Thrive Collective.
The organization brings initiatives that intertwine arts, athletics, and mentorship to underserved communities and underfunded schools. The programs are often led by artists, art directors, youth workers, and volunteers; many of whom are from the communities they're serving. Thrive Collective offers an array of project-based learning experiences including after-school clubs, in-school electives, and both seasonal and weekend projects. They've also advocated for investing in arts programs through campaigns like #BringArtBack. Since its inception in 2011, the nonprofit has served thousands of youths and led over 200 mural projects in the five boroughs and beyond.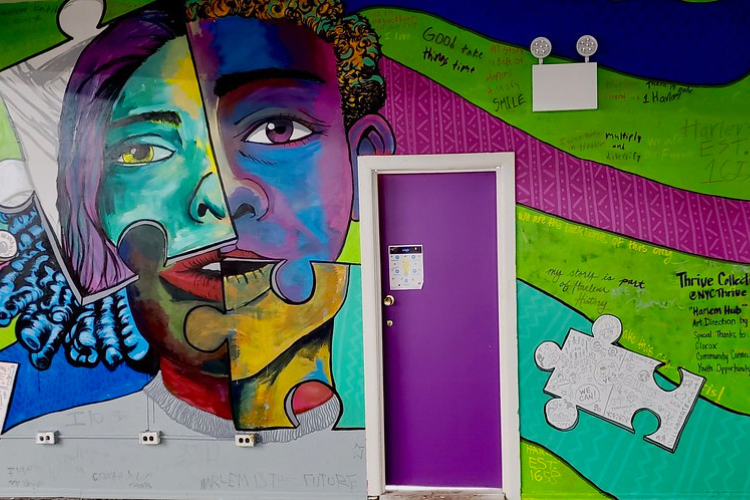 From historical figures to imagery that offers a lens into the imaginations of local youth, many of the murals—which students work together to conceptualize alongside art directors—depict scenes that embody the past, present, and future of the communities they live in. Del Rio says creating an ecosystem of empowerment isn't only crucial for students to thrive in the arts, but in other areas of life as well. Historically, exposure to arts in schools has been a driving force of innovation in urban communities. "We draw a lot of inspiration from New York's greatest contribution in the last 50 years to arts and culture globally, which is hip-hop," he said. "Kids from inner city communities remixed and re-engineered and built on all of these creative stimuluses to overcome poverty."
He believes although there have been improvements in arts education funding throughout the city, there is still a long road ahead towards parity and hopes future investments bring long-term sustainability. "Our commitment has been to continue to prove the argument for why this stuff matters so much, not just in the art room, but in other rooms," he shared. "There is a ripple effect that happens when kids are given real agency to determine what it is they want to say individually and collectively. All of those experiences that happen in the art room translate in geometry class, earth sciences, and all of the other spaces."
Staying true to its mission of eradicating artless education, Thrive Collective has taken its impactful programs beyond New York City and has launched pilot initiatives in San Diego, Oakland, and Dallas. With every mural created by the nonprofit, Del Rio wants observers to go beyond the physical captivation of the art piece and appreciate the power of community that went into its creation.
"There is beauty that comes on the back end of it and that beauty has staying power," said Del Rio. "It elevates expectations about what's possible when we do the hard work."
Learn more about Thrive Collective by visiting the nonprofit's website.