Fun and Educational Programs at Columbia for Local Students to Join This Fall
A list of upcoming programming for youth, plus a few highly selective, year-long programs for local students to apply to. 
August 01, 2023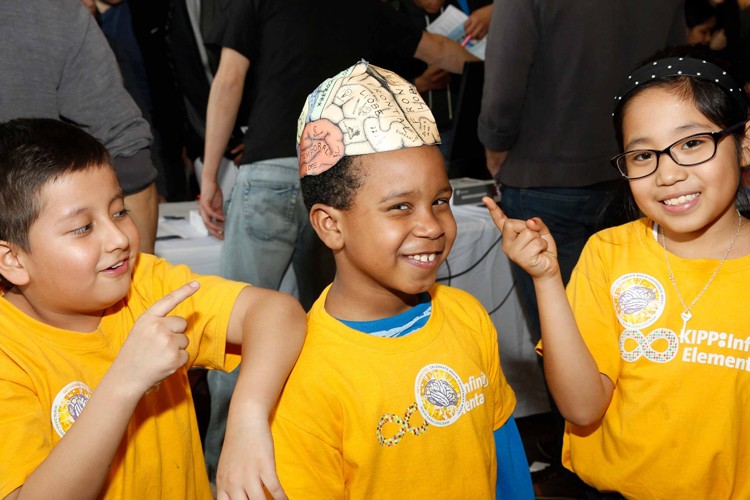 Summer is flying by and it's almost time for elementary through high school students to head back to class. Though you and your family may be savoring your last bit of rest and recreation for the summer, get excited for fun learning opportunities for youth, both on campus and Uptown, that will keep your students engaged throughout the upcoming academic year. 
Columbia Neighbors compiled a list of youth programs available at Columbia, so you can find the right program on campus for your student to take part in this fall.
Know of another fall youth program that we should include here? Send us an email.  
Free and Public Youth Programs at Columbia
Location: Varies
Date: Varies
Price: Free
Columbia Astronomy holds fun and engaging public lecture and stargazing events during the academic year that are available to the local community. Every other Friday, the department offers free public lectures on Columbia's campus accompanied by guided stargazing, slideshows, and Q&As with real astronomers. 
For those based in Harlem, Columbia Astronomy also holds a program at the plaza of the Adam Clayton Powell State Office Building called Sidewalk Astronomy. Local residents can take a look through the department's telescopes and see a view of the moon, planets, and–occasionally–objects floating in the deep sky! Sidewalk Astronomy occurs on a mostly monthly basis, but you can stay in the loop for upcoming programs by subscribing to their newsletter.
Location: Education Lab at Jerome L. Greene Science Center: 609 W 129th St.
Date: Monthly during the academic year
Price: Free
Saturday Science is the perfect opportunity for kindergarten to fifth-grade students to do hands-on work in a neuroscience lab—but learners of all ages are welcome!
Hosted in the Education Lab, Saturday Science invites students and their families onto the Manhattanville campus to enjoy a full day of science learning around a monthly theme. Participants rotate between learning stations, take part in brand-new activities every month, and engage with scientists on exciting research topics.
The Zuckerman Institute also partners with the nonprofit BioBus, a mobile science platform that visits schools across Harlem, Washington Heights, the South Bronx, and Manhattanville. 
Location: Columbia University: 630 W 168th St.
Date: Throughout the academic year 
Price: Free
Girls Who Code—an international nonprofit organization that aims to support and increase the number of women in computer science—has a student-run Columbia chapter that operates throughout the academic year.
The Columbia chapter meets right on the Morningside campus and prioritizes welcoming students from local high-need partner schools. Though all female-identifying youth are welcome to join, there are two levels to the classes: introductory and experienced. New applicants are accepted at the beginning of each semester.
For more information about applications, contact Columbia's chapter of Girls Who Code at [email protected]. 
Location: Lamont-Doherty Earth Observatory: 61 Rte. 9W, Palisades, NY
Date: Fall semester
Price: Free
One day a year, the Columbia Climate School's Lamont-Doherty Earth Observatory welcomes the public at their picturesque 189-acre campus for an Open House full of fun educational programming. This annual celebration, dating back to 1949, features talks by Lamont's world-renowned climate experts, opportunities to connect with scientists one-on-one about their latest discoveries, and dozens of hands-on activities for kids and families to learn about how our planet works.
This year's Open House at Lamont-Doherty will be held on October 14, 2023. Learn more about this year's event and join their email list for updates on their website.
Location: Lenfest Center for the Arts: 615 W 129th St. 
Date: Throughout the academic year
Price: Free
Lenfest Kids, held at Columbia's Lenfest Center for the Arts on the Manhattanville campus, is a monthly series where family-friendly films are screened for free, ranging from recently released animation and live action films to critically acclaimed classic films. 
Previous seasons of Lenfest Kids have shown films related to a theme. The most recent season showed movies like My Neighbor Totoro and Ghostbusters under the theme "To Transform?," which broadly questioned how our society—and we ourselves—cope with change. Stay updated on upcoming Lenfest Kids screenings by subscribing to their newsletter.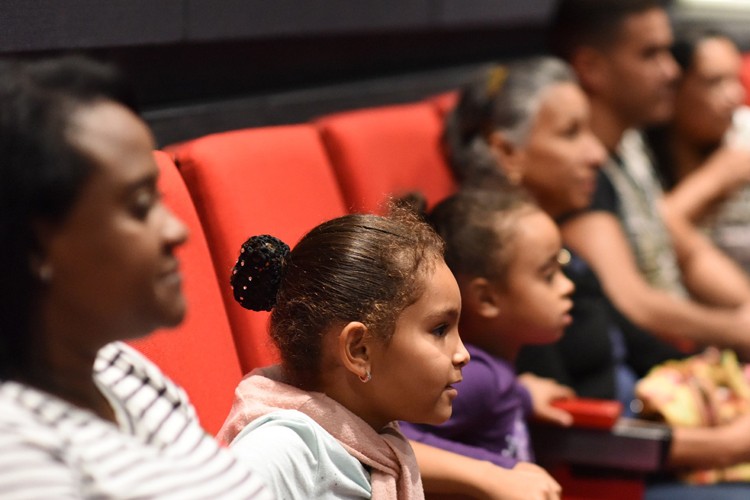 Location: Varies
Date: Monthly during the academic year
Price: Free
Interested in learning more about research at Columbia University Irving Medical Center or want to tour a research lab? Bring your family to Late Night Science!
Hosted by Columbia University Neuroscience Outreach (CUNO), Late Night Science is a seminar series for students of all ages and their families to have one-on-one discussions with graduate students and learn about their research. The series is an opportunity to create a dialogue between researchers and the community and focuses on a different topic each month. This gives community members a chance to get to know a full range of neuroscience research and to ask any questions they may have in a casual, supportive environment on Columbia's campus. 
Keep updated on Late Night Science's upcoming fall programs at CUNO's Eventbrite page.
Location: Education Lab at Jerome L. Greene Science Center: 609 W 129th St.
Date: Monthly during the academic year
Price: Free
STEM Starters is an outreach program run by Columbia graduate students who are passionate about teaching children in the community about STEM. Hosted at the Education Lab, the program invites middle and high school students to join in an afternoon of experiments in different scientific fields.The goal is simple: to help every child embrace their inner scientist. The activities show how interconnected science is with the world around us, touching everything from how electronic circuits work to animal behavior. 
STEM Starters is geared towards a middle school-level science background, but all ages are welcome. Learn more about STEM Starters and look out for their next event on their website. 
Location: Varies
Date: Varies
Price: Free
Is anyone in your family an aspiring astronaut? The Columbia Space Initiative, a volunteer space technology and outreach club for Columbia students, holds programs as part of their community outreach that are perfect for youth interested in learning more about outer space. Their public programming ranges from live calls with astronauts at the International Space Station to a yearly collaboration with the Intrepid Museum during the institution's Kids Week program series. 
Stay tuned for upcoming programs during the fall semester by subscribing to their newsletter on their website or by following them on social media. 
---
Highly Selective Youth Programs at Columbia 
Looking for a more intensive educational experience for your student? Below are a few youth programs at Columbia that are highly selective and run throughout the school year. Application deadlines to participate this fall may have already passed for a few of the programs, but keep them in mind so you can help your student prepare their application requirements ahead of the spring.
Location: Double Discovery Center: 2920 Broadway
Date: Throughout the academic year 
Price: Free
The Double Discovery Center is a holistic college prep program that equips first-generation students from low-income communities in Harlem and Washington Heights with academic enrichment, socio-emotional learning, and a long-term network of support, all while expanding the perspectives of our students and ourselves. 
The Double Discovery Center is currently accepting applications on a rolling basis from high school students from Morningside Heights, Manhattanville, Harlem, and Washington Heights and from New York City partners schools (see their website for the full list.)
Learn more about the Double Discovery Center, read testimonials from previous students, and apply for the program on their website. 
Location: Columbia University: 630 W 168th St.
Date: Throughout the academic year 
Price: Free; and offers a $1,000 stipend 
Beginning in July and running through May of the next year, Freedom and Citizenship requires its students to commit to a four-week intensive summer seminar on political philosophy, followed by a year-long civic leadership program. 
The program prepares juniors in high school for college and life beyond, supplying them with college application guidance and supervision from professors and undergraduate teaching assistants. First-generation college-bound students from low-income backgrounds are especially encouraged to apply. 
Check out the FAQs or contact Executive Director, Dr. Jessica Lee with any additional questions at [email protected].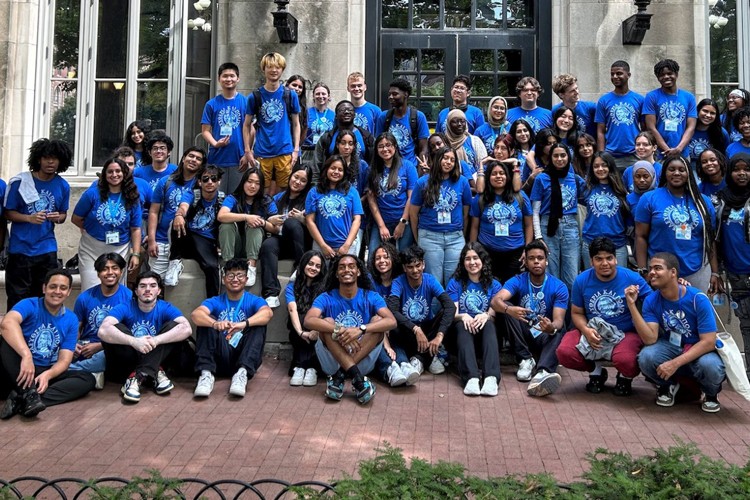 Location: Columbia University: 630 W 168th St.
Date: Throughout the academic year
Price: $600 per year; tuition waivers may be available to students with documented financial hardships 
The Science Honors Program is a long-standing initiative for high school students who have a strong interest in science and mathematics. This highly selective program runs for 12 weeks during the academic year with Saturday classes in the spring and fall semesters. Courses are offered in the physical, chemical, biological, behavioral, and computing sciences, as well as materials science, and are taught by Columbia University professors.
The Science Honors Program is available only to students who attend high schools in New York, New Jersey, or Connecticut and who live within a 75-mile radius of the Columbia campus. The application deadline for the upcoming 2023-2024 school year has passed, but applications for the 2024-2025 school year will open in May 2024. For any questions about applications, please contact [email protected].