CU Grow Matches Minority, Women and Locally Owned Businesses With Industry Experts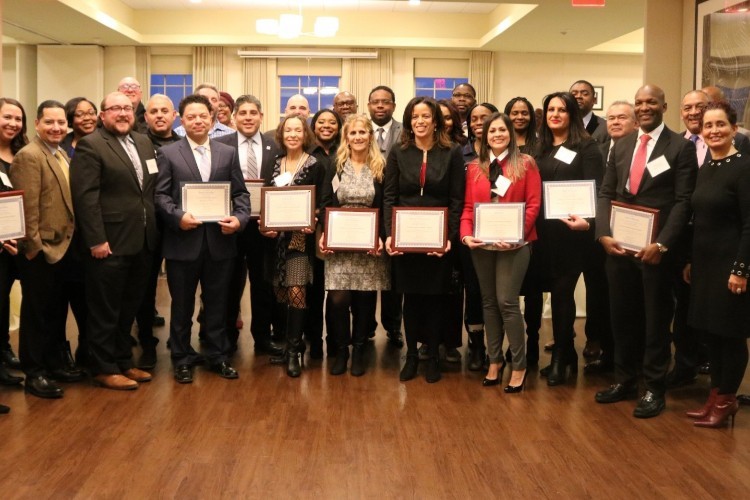 On February 11, the CU Grow: Vendor Development Program welcomed its newest cohort  with a vendor/coach matching ceremony that was also the launch of the program's fifth year of helping minority-, women- and locally owned (MWL) enterprises grow their businesses. During the ceremony, executives of 21 firms were introduced to expert coaches that they will work with over the eleven months of the program. For the second year, due to the pandemic, the program will be offered online.
The Columbia Facilities and Operations-led initiative helps MWL firms build capacity and expand their business through opportunities with the University and other large clients. During a private breakout session, each participant met with their coach to identify their firm's challenges, beginning the pair's collaboration in creating a personalized three-year strategic growth plan that will inform the firm's executive-level decision-making.
Following a structured curriculum designed by Columbia's School of Professional Studies, the experts guide the MWL executives through the program and support them in better defining their business policies and procedures by using their knowledge in business development, procurement, project management, finance, and marketing. During procurement events held throughout the program, participants have the opportunity to network with purchasers from various Columbia campuses and gain access to resources from other partners.
This past summer, the program introduced a "Marketing Expert in Residence" who was available for one-on-one virtual meetings to discuss pivoting a business during the pandemic. The Marketing Expert has now helped 14 alumni by providing strategies for social media, web marketing, and other digital initiatives. Starting this spring, two "Construction Experts in Residence" will join the team to provide high-level construction expertise in partnership with the School of Professional Studies' Construction Administration Master's Program.
"The program could not have assigned me a better coach than Deborah Romain," said Shazia Anjum, president of Webnest Construction Company and a member of the fifth cohort. "I am grateful for the opportunity to learn and expand my network and I enormously enjoyed my first chat with my coach, and can tell already from the first conversation how this program will expand my thinking about my business!"
Since its inception in 2017, 62 firms have completed the program. CU Grow has also awarded over $48 million in contracts and approved 48 of the graduating firms to become Columbia vendors. Vendors who successfully complete this year's program are expected to graduate in December 2021.

The expert coaches and vendors in the fifth cohort include:
Cohort Five
VENDOR

Fernando Papale, BP Architects, PC

COACH

James Sugaste, Columbia University
VENDOR

Betty Brano, Brano Design

COACH

Carola Martinez Finlay, Columbia University
VENDOR

Ivona Pomianek, Construction by Regalis, INC.

COACH

Samuel Pierre, SMP Global Consultants
VENDOR

Kojo Idun, Costrak Consulting LLC

COACH

I.Javette Hines, CITI
VENDOR

Angel Marquez, Custom Design Innovations LLC

COACH

William Diaz, ESC Cabling
VENDOR

Michael Reed, Elite Construction Company of NY, LLC

COACH

Robert Dixon, Columbia University
VENDOR

Santiago Helman, H&O Engineering, DPC

COACH

Michael Divitto III, Columbia University
VENDOR

Yungbum Hahn, H2 Architects

COACH

Michele Wood, Michele Wood Consultant
VENDOR

Marlene Pacheco, Harrison Reid Safety Consultants Inc

COACH

Lloyd Grant, KIP Total Marketing Solutions
VENDOR

Esther Schwartz, Imperial Painting & Fireproofing, Inc.

COACH

Donald Niccoli, Columbia University
VENDOR

Mashal Ali, Infra Tech Engineering LLC

COACH

Jose Morel, Columbia University
VENDOR

Sylvia Cothia, Jetway Heating Cooling and Refrigeration

COACH

Diana Benjamin, New Genesis Pathfinder
VENDOR

Joanna Pertz, Joanna Pertz Landscape Architecture PC

COACH

Anna Abelson, AA Marketing Consultancy
VENDOR

Pauline Charles-Ajim, JPR BUILDERS 07 INC.

COACH

Patricia Warner, Convent 7
VENDOR

Arif & Niles SONI, Metropolitan Construction Corp.

COACH

Danielle Douglas, Inspire Enterprise
VENDOR

Andrea Addeo, Northeast Electrical Contractors

COACH

Kim Chen, Columbia University
VENDOR

Barrett Feldman, PSF Projects Architecture D.P.C.

COACH

Tuesday Brooks, AJOY Management Enterprise
VENDOR

Shazia Anjum, Webnest Construction Company

COACH

Deborah Romain, Deb Romain Consulting, LLC
VENDOR

Stephen Wilder, Think Wilder Architecture PLLC

COACH

Patrick Danville, Facebook
VENDOR

Yolanda Castillo, Venus General Construction Inc.

COACH

Dennelle Clark, Columbia University
VENDOR

Joslin Johnson, Where to Get It Services, LLC

COACH

Diana Benjamin, New Genesis Pathfinder