COSMOS-NewLAW Summer Program Teachers Receive Awards from National Science Foundation
By
Karen R. Cheng, Columbia Engineering
March 11, 2021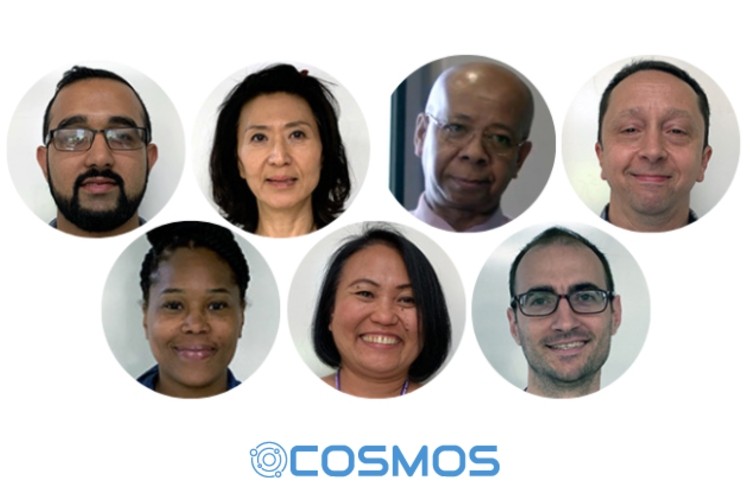 The 2020 Cohort of COSMOS-NewLAW summer program teacher participants presented at the annual National Science Foundation (NSF) Research Experience and Mentoring (REM) Virtual Meeting on Feb. 11-12th, 2021. At this annual meeting, REM grantees highlighted institutional work done to build upon the NSF's commitment to increase participation in STEM from individuals of underrepresented groups. During the two-day meeting, faculty, teachers, mentors, and students engaged in workshops, research presentations, and networking in an effort to build a greater community of STEM researchers and educators.
The teachers presented their work from this past summer's Research Experience for Teachers (RET)/Research Experience and Mentoring (REM) program, jointly run by Columbia 's School of Engineering and Applied Science, Columbia Data Science Institute, and NYU Tandon School of Engineering. They highlighted their experiences, takeaways, and outcomes from the RET/REM program. Out of the six awards for excellence in presentations given during the Virtual Meeting, three were awarded to COSMOS-NewLAW teachers: Brooke Williams (Arthur Tappan PS/MS46), Juditha Capa Damiao (Martin Van Buren High School), and Richard Foster (Parkside Preparatory Academy) for their outstanding presentations. 
"I'm grateful for the experiences these past two summers to better understand what the COSMOS wireless testbed is and how it integrates with the Wireless Education Toolkit. It has provided me with knowledge that I'm now able to mentor non-COSMOS program teachers in my school and I can now show them how to operate the Wireless Education Toolkit and how to use it with their students," said Brooke Williams, who teachers math and science at Arthur Tappan PS/MS46 in Harlem, where the COSMOS testbed is being deployed. Williams worked alongside other teachers in the 2020 Cohort to extend Wireless Education Toolkit lessons to accommodate for virtual and remote learning experiences, in light of the ongoing pandemic and its impact on K-12 learning.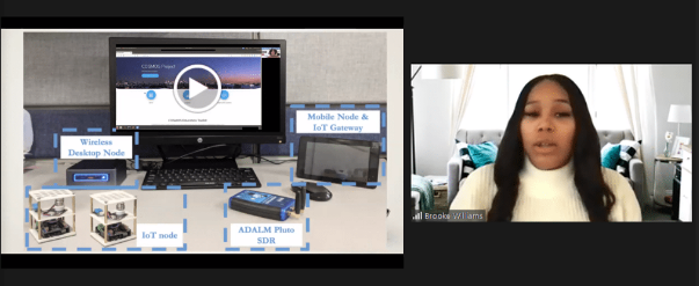 "I'm now transitioning into teaching my students different things about network security and how it relates to math and functions. To have my students be able to see those connections and make those connections has been really rewarding for me," Williams added.
Juditha Capa Damiao and Richard Foster, both three-year veterans of the program, shared Williams' sentiments on the meaningful impacts of the Wireless Education Toolkit on their students' learning as well as the professional development from participation in the program. 
Capa Damiao is both a math teacher and assistant principal at Martin Van Buren High School in Queens, New York. She said, "Being a part of the COSMOS-NewLAW program has really given me the opportunity to explore the aspect of making math alive in the classroom, beyond the traditional pencil and paper method of learning. We had the opportunity to find out how the Internet of Things nodes and the Wireless Education Toolkit work ourselves before we implement it with students." 
As the teachers worked hard during the program to adapt the lessons for virtual learning, Capa Damiao noted the challenges and milestones achieved, "Since we were hit by the pandemic this last school year, we tackled the challenge of how we can implement these lessons with our students remotely through creating teacher guides, student guides, student worksheets and vocabulary support, and also video for teachers and students and for setting up the toolkit." The opportunity to adapt their STEM curriculum to coincide with real-world wireless technologies came right in time, as teachers nationwide sought professional resources for moving their teaching and learning online.

"This program has been a tremendous help in my professional growth as a science teacher," commented Foster, a science teacher at Parkside Preparatory Academy in Brooklyn, New York. He goes on to quantify the positive impact that these wireless lessons and activities have had on his students' learning and academic growth. "The first two years using the Wireless Education Toolkit with students was remarkable. The toolkit was what captured their attention and excitement. There was increased interest and excitement in my science class when I used the Toolkit. More importantly, there was clear evidence that there was learning in my classroom. When I taught a particular lesson about Properties of Waves in 2017 (prior to me being involved with the COSMOS-NewLaw program), the number of students passing the class test on Properties of Waves was around 22%. In comparison, after using the Wireless Technology Toolkit with students on this science unit in 2018 (after the first year I became involved with the program), the number of students that passed the class test on Properties of Waves increased to 88%." 
The COSMOS-NewLAW program will soon start recruiting teachers for the summer 2021 cohort. Details will be available in the COSMOS, Columbia Engineering Outreach, and NYU K12 STEM websites.
---
The program is co-organized by Karen Cheng (Columbia Engineering), Ben Esner, Panagiotis Skrimponis, Nikos Makris, and Virgilios Passas (NYU Tandon) along with Professors Thanasis Korakis (NYU Tandon), Zoran Kostic, Harish Krishnaswamy, and Gil Zussman (Columbia Electrical Engineering and Data Science Institute). The COSMOS RET/EFRI NewLAW REM program is supported in part by REM supplement to NSF award EFMA-1641100 (NewLAW EFRI), RET supplements to NSF award CNS-1827923 (PAWR COSMOS), and the Columbia Data Science Institute.