A Conversation with Harlem Poet And Playwright Jaylene Clark Owens
Owens spoke about her upbringing in Harlem, how the community has inspired her work, and more.
February 15, 2023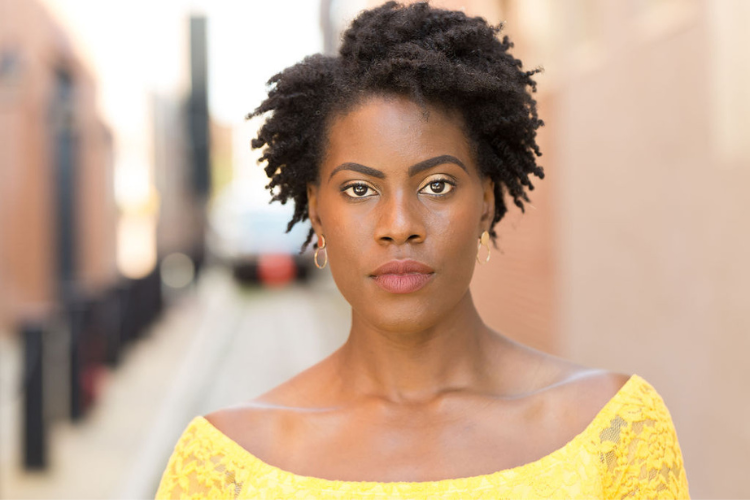 Nearly a decade ago, before heading out to perform at an open mic in Philadelphia, Harlem-bred poet and playwright Jaylene Clark Owens took to Facebook to announce her resurgence in the spoken word space.
She poetically posted: 'I need to jump back into this sea world of poetry like I'm Shamu, heavy / Too much gentrification going on in Harlem to get lite / Time to spit killer lines, with killer rhymes of killer tales / Cause Harlem is looking more and more like the belly of a killer whale.'
Little did she know that metaphor would serve as inspiration for the creation of the critically-acclaimed stage play Renaissance in the Belly of a Killer Whale; a project that she co-wrote with Hollis Heath, Janelle Taylor, and Chyann Sapp that explores how gentrification has changed the landscape of Harlem through the lens of Uptown natives.
Standing on the shoulders of visionaries who shaped the Harlem Renaissance Owens—the co-founder of the arts-centered collective Harlem KW Project—is using creative expression to speak truth to power. She spoke with Neighbors about her upbringing in Harlem, the inspiration behind her work, and how the arts can build community. 
If you could describe the aura of Harlem in one word, what would it be and why?
Harlem is effervescent. I use that word because I feel like Harlem is so alive for me. Every time I step foot in Harlem, I can feel my own personal history but also the history of this village. I feel the importance and the weight of the Harlem Renaissance and the Black Arts Movement. Harlem has such a rich history. It's always bubbling underneath my feet. Whenever I am here, I feel it. I feel at home and it feels very alive.
What was your upbringing in Harlem like? How did it influence your path in the arts?
My upbringing was very, very Harlem. I grew up on 137th Street near Edgecombe. I only went to two schools before college, P.S. 171 in Spanish Harlem and Frederick Douglass Academy in North Harlem. My first theater company experience was when I was in fifth grade with The Standing Ovation Theater company that held their rehearsals in El Barrio. I studied the arts at the Harlem School of the Arts starting in 2004 through 2006. It was there where I honed my acting skills and learned theater techniques, singing, and worked on my spoken word.
My childhood friend, who is also a Harlem native, introduced me to Urban Word NYC. I did their slam poetry competition in 2005 and that is what really catapulted me into the spoken word world and I've been in it ever since. I would go to poetry events at the Sugar Shack which was right around the corner from my house. All my first starts with theater, singing, and the arts, in general, were in Harlem whether it was at church, school, or after school. Harlem is very much so intertwined with why I am the artist that I am today. 
What is your earliest memory of seeing yourself reflected in the arts?
I would say at church. My church really loved the arts. The church was housed inside the former National Black Theatre. The dance ministry was amazing. Every Easter they would do a production called My Father's Will which was a spectacular theatrical musical performance. I loved it. I first saw myself reflected in the space through that production. 
What was the inspiration behind Renaissance in the Belly of a Killer Whale?
In November 2010, I was living in Philly and I was getting ready to go to an open mic. I wanted to write a Facebook status about jumping back into the poetry world because I'd taken a break. I wrote, "Time to spit killer lines with killer rhymes of killer tales/Cause Harlem is looking more and more like the belly of a killer whale." I did not intend to write about gentrification, whales, or anything, I intended to just write a status that said I'm going back into the poetry world. I hit post and a former teacher of mine from the Harlem School of the Arts saw that status and invited me to submit work inspired by the metaphor to a play series at the Schomburg. I had never written a play, but I knew the Schomburg was historic and I would have loved to do something there.
I got together with three of my friends. We wrote this piece, premiered it at the play reading on March 16, 2011, and things took off. From there we moved to the Times Square Arts Center and we performed it off-Broadway and performed on college campuses. The last time we did a show was in 2020 at The Wilma Theater a week before everything shut down due to COVID.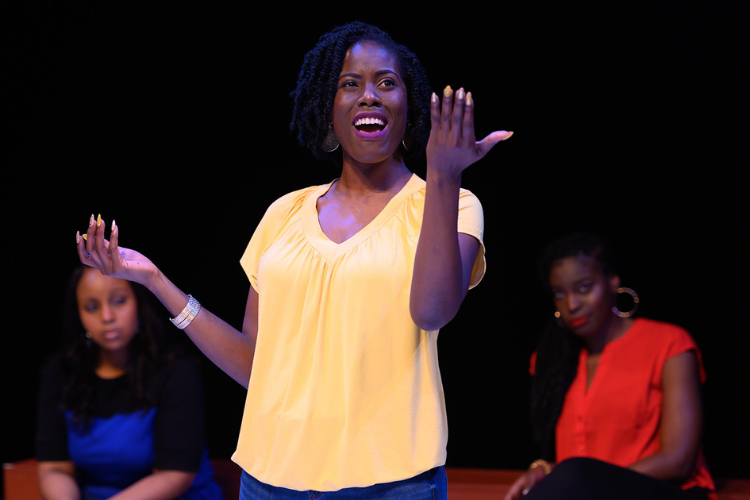 How can the arts be used to build community and evoke social change?
The arts are an entertaining way to not only educate, but it allows you to transport the audience members through history and even into the future just for a few minutes. You can transport them where you want them to go through your art. The arts can evoke empathy. They can put you into the shoes of someone else and help you to understand someone else's point of view. If your story is reflected, it helps put a voice to all the things you've been grappling with.
The arts can also capture a moment in time based on when it was created. The story can tell you how things were at that time. It almost serves as a time capsule. We wrote Renaissance in the Belly of a Killer Whale in 2011 and then we updated it along the way because things were changing. Harlem was changing. Some of the things that applied in 2011 didn't apply to 2013 or 2016. Currently, the play is set in 2013. A lot of the language and things that you hear is from that period. The arts are a great tool for preserving and educating about history and also evoking empathy in others. 
If you could choose one book, poem, play, or film that illustrates the power of using the arts as a means for social change, what would it be and why?
I'm going to back myself on this one. I have a poem that I wrote called My Voice, My Choice. It's about code-switching, specifically from the perspective of a Black woman. In sharing it online, I've had such a big response. People have shared how they didn't even realize they were code-switching and how the poem has inspired them to truly embrace their authentic voice and that means so much to me. It exemplifies how someone else's words can be used to speak to your own experience. It's truly made an impact. I think it is affecting social change because people are changing how they present themselves socially within this world. I love that.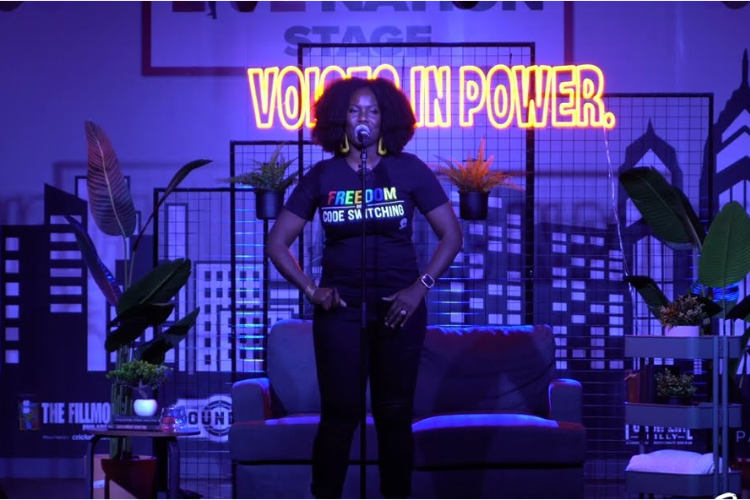 Who is a creative visionary that inspires you and why?
Tabitha Brown has inspired me. There are a lot of parallels between our careers. When I recited the My Voice, My Choice poem I wore her shirt that says 'Freedom Over Code-Switching.' I just love watching her success and her rise. She's doing it all while being true to herself. I love the fact that she's not afraid to embrace and celebrate her spirituality. I'm so proud of her and I'm constantly inspired and motivated while watching her.
What's on the horizon for you?
I am a part of a show called Multitudes. It's a collaboration between World Café Live in Philly and the Pennsylvania Academy of the Fine Arts. They have an exhibit at the Pennsylvania Academy of the Fine Arts that is called Making American Artists and they commission five music artists and three poets to create pieces based on the exhibit. I love the multi-disciplinary nature of this event. I have a lineup of college performances. I'm returning to New York City for the Rose Garden Open Mic in April. Beyond my poetry, I have a podcast called #PoppaPank. It's a joy-forward arts and culture podcast that I host with my friend Justin Jain.
---
Learn more about Jaylene Clark Owens by visiting her website and following her on Instagram.