Construction Update: Weeks of 3/16/20 and 3/23/20
The latest updates on what to expect and construction updates related to the Manhattanville campus.
March 13, 2020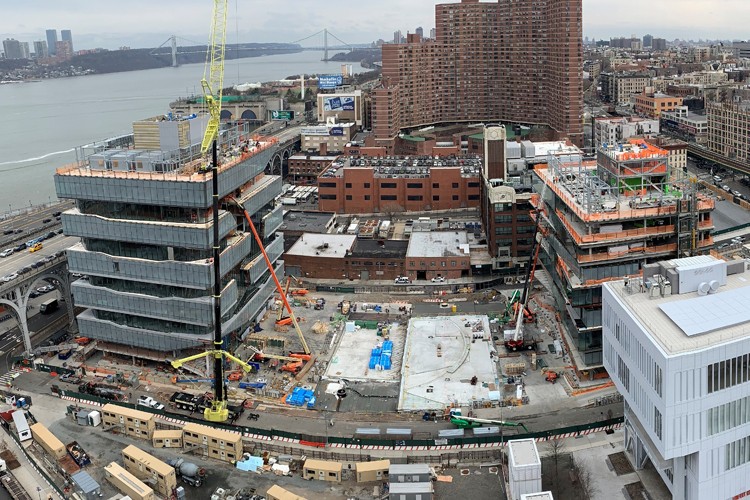 View a PDF version of this week's update
What is Happening
Columbia Business School
Site 7 (Western Site)
Elevator rail installation is in progress
Plumbing and ductwork are in progress up to the roof level
Curtain wall installation (Wall Type-B and Wall Type-C) is in progress on levels 3 through 11
Urban layer wall Type-A glass is in progress
Interior wall layout and framing is in progress up to level 11
Overhead mechanicals is ongoing
Rooftop equipment rigging is complete
Site 6B (Eastern Site)
Interior wall layout, framing, and overhead mechanical, electrical, and plumbing is in progress up to level 7
Exterior east elevation metal panel framing is installed up to level 6; panel installation is in progress
Exterior wall panels installation is in progress on levels 2 through 8
Riser ductwork and pipe installation is ongoing
Storm/sanitary piping installation is ongoing
Prepping electrical and HVAC for Forum space in anticipation of the concrete pour
Rooftop equipment will be picked and set
Elevator rail installation is in progress
Below Grade Activity / W. 131st Street Utilities
Domestic water, sanitary, and storm-piping is ongoing at all levels
Air handling units on Site 7 and W. 130th Street energy transfer room are being hooked up with piping and ductwork
HVAC equipment installation in W. 130th street energy transfer room is progressing to completion
Fan coil units and package air conditioning units are being installed at sub-cellar level 1
Installation of sprinkler and fire alarm systems is in progress
Level 1 Plaza drainage, waterproofing, and topping slab development work is ongoing
CDS unit # 3 (a unit captures and treats stormwater runoff onsite before entering the city's sewer system) piping work and restoration work is complete
Closing leave out masonry openings at sub-cellar level 3 in mechanical rooms and elevator machine rooms
Truck ramp curb and island is complete.  Masonry walls at CDS platforms is ongoing.
Formwork and concrete encasing emergency power riser coming from the Studebaker building
Paint priming masonry walls
Foundation wall injections to mitigate water leaks
Waterproofing inside of CDS units 4 and 5
Stacking rails and building platforms at elevators is ongoing
W. 125th Street South Side Demolition
Demolition of 3191 Broadway is substantially complete.  Debris separation is ongoing.  Site fence relocation is scheduled for the week of March 16
Awaiting New York City Department of Buildings approval of the demolition plans for the warehouse at 614 W. 125th Street and trash enclosure
Submittal approvals for the Prentis east wall parging were returned to the demolition contractor
Please note that all activities are subject to change based on weather and other field conditions.
What to Expect
Construction Activity
Regular weekday work hours: 7:00 a.m. to 6:00 p.m. Saturday and Sunday work hours: 7:00 a.m. to 5:00 p.m. 
Material deliveries to site is ongoing
Temporary Traffic and Transportation Impacts
Refer to street signage for the west side of Broadway from 129th to 130th Streets -- parking is allowed after 6:00 p.m. and on weekends
W. 131st Street between Broadway and 12th Ave. is opened for one-way westbound traffic
W. 130th Street between Broadway and 12th Ave. is closed for traffic through March 20, 2020