Constitution Day: A Founding Father's Harlem Footsteps
Ahead of Constitution Day, we've rounded up a list of historic spots in Harlem where Alexander Hamilton once roamed.
September 14, 2022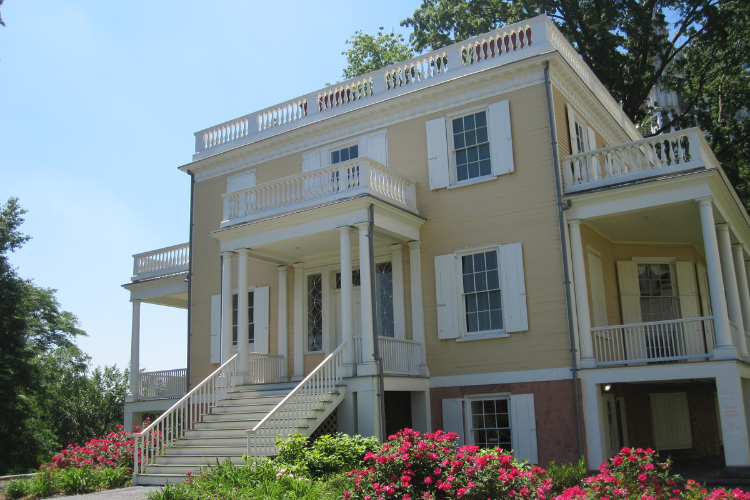 From the creation of the Bank of New York to sitting at the helm of Columbia College, American revolutionary Alexander Hamilton's New York City connections run deep. Although his footsteps can be tracked throughout the city, Upper Manhattan was an integral backdrop along his journey and harbors significant remnants of the founding father's legacy.
Ahead of Constitution Day—which falls on September 17—we've rounded up a list of historic spots in Harlem where the revered statesman once roamed.
Hamilton Grange National Memorial
414 W 141st Street
Nestled in St. Nicholas Park on 141st Street, this 19th-century home sticks out like a sore thumb in the midst of a bustling metropolis. During the latter years of Hamilton's life, Uptown is where he called home. The Grange was an architectural passion project for Hamilton that he often referred to as his "sweet project." He acquired land above the city limits in Upper Manhattan and moved forward with plans to construct a Federal-style, country residence for him and his family. Pulling inspiration from his Scottish roots, he named the home The Grange. Construction was completed in 1802 and Hamilton lived there for two years until he was killed in a duel with the third vice president of the United States, Aaron Burr, in Weehawken, New Jersey in 1804.
After his death, the home took on a life of its own, and has moved through Harlem over a 200-year span. Hamilton's wife Elizabeth Schuyler Hamilton sold the property in 1833. After years of decay, it was purchased by St. Luke's Episcopal Church, which raised the home and moved it to Convent Avenue, a few blocks from its original location. In 1924 it was acquired by the American Scenic and Historic Preservation Society and transformed into a museum filled with artifacts that gave a glimpse into Hamilton's family life. In the early 1960s it was taken over by the National Park Foundation and was designated a National Memorial by Congress. In 2008, it was moved to its current location in St. Nicholas Park. It's one of the last-standing historical treasures where the founding father lived.
Morris-Jumel Mansion
65 Jumel Terrace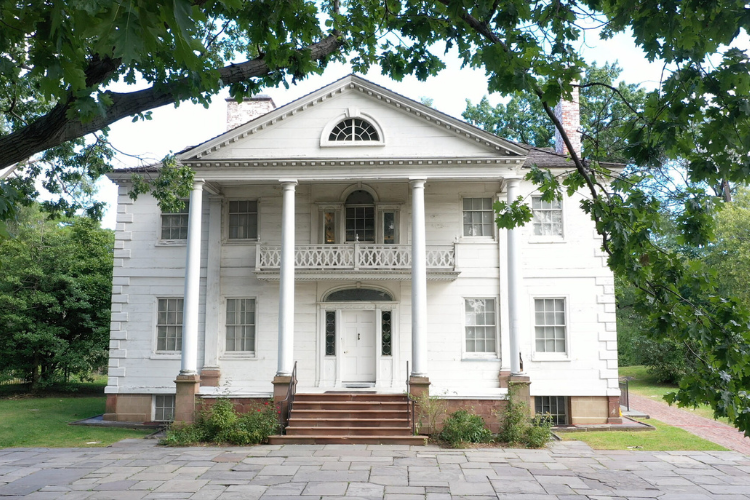 Morris-Jumel Mansion—Manhattan's oldest surviving home—stands some blocks north of The Grange and is another Upper Manhattan treasure that is an integral part of Hamilton's rise in politics. During the American Revolution, the site served as the headquarters for General George Washington, Hessian troops, and the British military. It was in this home where Washington led his first cabinet meeting after becoming the country's first president. Hamilton was present during that convening alongside Thomas Jefferson; both statesmen were eager to find their place among the highest levels of America's political leadership.
Columbia College
Hamilton Hall, 1130 Amsterdam Avenue
It was education that brought Hamilton from the shores of Nevis in the Caribbean to New York. He enrolled in King's College in the fall of 1774 and studied mathematics. It was during his time at King's College that he fine-tuned his political voice; penning pamphlets in support of the Continental Congress and delivering speeches about the Boston Tea Party. In 1784, Hamilton played a pivotal role in transforming King's College into Columbia College alongside state legislator and King's College alum John Jay. He served as a regent of Columbia between the years of 1784 to 1787, and was a trustee for the institution from 1787 until his death.
The school was located in lower Manhattan during Hamilton's time, but the legacy he left at King's College has a strong presence Uptown. Hamilton's Federalist Papers—a collection of essays that he penned along with John Jay and James Madison to support the ratification of the U.S. Constitution—live in Columbia University's libraries today.
Although Hamilton has been touted for shaping America's political and financial landscapes, he left behind a complex legacy. His involvement in slavery has been pushed to the forefront of a national conversation. Although he co-founded the New York Manumission Society—which called for the "gradual" abolishment of slavery—he reportedly used this form of oppression to build his wealth; purchasing enslaved individuals for his in-laws. Hamilton's tale encompasses both triumphs and ugly truths that all provide a lens into how the foundation of America was shaped. To read more about how Columbia is wrestling with its own complex history, visit columbiaandslavery.columbia.edu.