CLOTH Helps Fight Hunger in the Heights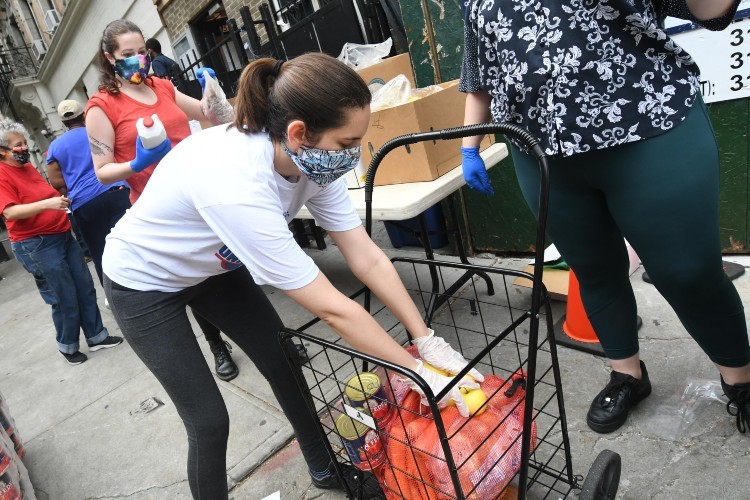 Community League of the Heights (CLOTH), founded in 1962 to provide resources to young people, has grown into a multi-service organization providing affordable housing, workforce development training, community health worker certification, and more to residents of Washington Heights and Hamilton Heights. During the COVID-19 pandemic, the food pantry that the group has managed since the 1990s has become even more important.
The pandemic has dramatically increased hunger and food insecurity around the city, and CLOTH has seen the effects up close. As a result, on March 17 the initiative has expanded its food pantry from two to five days a week and now serves 500 families every day, a 60% increase in its food relief efforts.
During the first weeks of the pandemic, CLOTH employees had concerns about being able to keep up with the increased demand. Since then, partially with support from the Columbia Neighbors Food Relief Fund, they have been able to keep up with the need for food in the neighborhood. 
"When the COVID-19 crisis hit, CLOTH jumped into action quickly and effectively to help feed those facing food insecurity," said Ross Frommer, Vice President of Government and Community Affairs and Associate Dean at Columbia University Irving Medical Center. "CLOTH is no doubt one of the most highly regarded community based organizations in Northern Manhattan and its executive director, Yvonne Stennett, and her staff do a fantastic job providing services to people in this community."
In addition to food insecurity issues, CLOTH employees report that many of their clients, including the elderly, are struggling with technology as they attempt to arrange distance learning in homes that are not set up to be full time classrooms. The group also has experienced staffing shortages due to the loss of discretionary funds and Summer Youth Employment Program support. Some of these gaps have been filled by partnering with a local catering company to provide balanced, nut-free meals five days a week to families where students have recently lost a family member.
Despite these difficulties and the ongoing increase in demand for food pantry services, Stennett is confident that they can continue to meet community needs by approaching the challenges strategically and staying smart. "This will take partnership," she said. "We must do this together. Look at ourselves, understand the true meaning of community, and live that true meaning. Good partners take responsibility. Practice the spirit of community."
Individuals in need of food pantry services can visit CLOTH's website for information about distribution days, or reach out by email with specific questions.
Due to the uptick in services provided, CLOTH is seeking volunteers to staff the extra days of the food pantry. More information on how to support CLOTH and similar organizations can be found on the CUIMC GCA website. Additional opportunities can also be found in our October volunteer opportunities guide.