Albert Thompson, Part Namesake of Thompson-Muñoz Scholarships, Dies at 89
It is with great sorrow that we announce the passing of our colleague and friend, Dr. Albert J. Thompson, Columbia College Class of 1954 and Columbia Dental Medicine Class of 1960. Dr. Albert J. Thompson of Riverdale, New York died peacefully on the morning of Oct. 6, 2021, surrounded by his family. He was 89.
In 2014, the Thompson-Muñoz Scholarship was created by Columbia College and The Fu Foundation School of Engineering and Applied Science partially in honor of Dr. Thompson. The scholarship is awarded to up to 40 undergraduate students from the surrounding community who receive funding to meet their full financial need.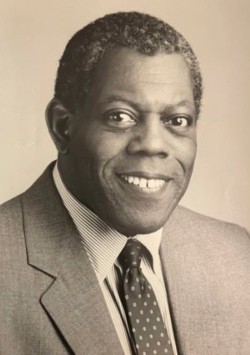 The following is from the obituary of Dr. Thompson in The Riverdale Press:
A lifelong New Yorker, he was born at Presbyterian Hospital and grew up on West 116th Street, where he was forever formed by the rich cultural history of 20th century Harlem. Always an animated storyteller, he would faithfully recall the tales of his father's journey fighting with the French in Europe during World War I as a Harlem Hellfighter, and of the hours he and his younger brother Benn Thompson would spend in front of Sugar Ray Robinson's gym, across the street from their apartment building, waiting to catch a glimpse or a handshake from the champ.
He excelled in both academics and sports in his youth. He attended George Washington High School, where he served as senior class president and earned three individual New York City high school titles in track and field. He continued his academic and athletic pursuits at Columbia University, where he would expand his trophy collection.
Learn More about Dr. Albert J. Thompson
In 1953, during his junior year, he dominated the Ivy League in throwing events, winning titles in the 35-pound weight throw and the shot put at both the indoor and outdoor Heptagonal Championships. That season, he was one of the best shot putters in the country, ranked fourth nationally overall for the duration of the season.
His title run continued through his senior year, and in all, he graduated with six top-three finishes in the shot put, discus and weight throw in the Ivy League and the IC4A championships. He also set the school record for shot put, which has remained unbroken for six decades.
Read the full obituary of Dr. Thompson in The Riverdale Press. 
Our deepest condolences to his wife Angela Crosdale Thompson and his extended family. Funeral services will be private and a future memorial will be planned by the family.  Notes of condolence can be sent to Mrs. Thompson at [email protected]