Where Can I Get Thanksgiving Dinner Supplies in Uptown NYC?
With the holiday approaching, here's where you can find the supplies you need to make the meal memorable or find a little help with takeout Uptown.
November 09, 2021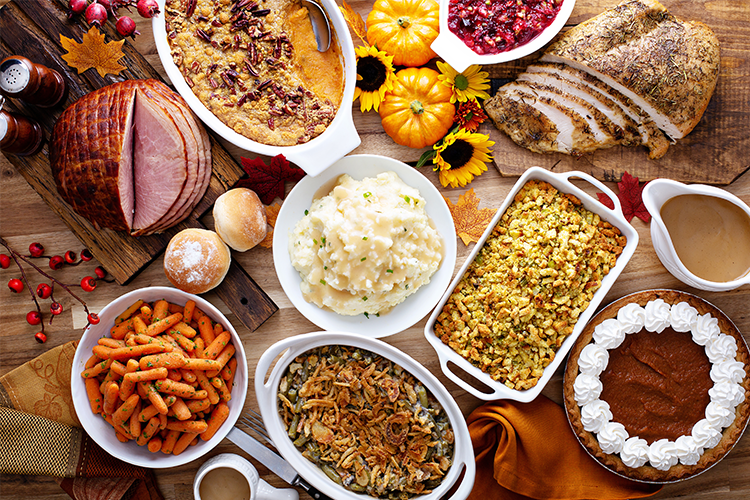 Thanksgiving is around the corner and that means it is time to gather with family and friends. The joy of that gathering can get a little lost in the hubbub of preparing a meal for all to enjoy. 
Not to worry! Columbia Neighbors has you covered with this guide on where you can find the supplies you need for Turkey Day and even where you can find a prepared meal to make everything just a little less hectic. You can also take a look at our full Shop & Dine Local resource guide for more shopping ideas in your neighborhood.
Set Your Table
Looking for a little floral arrangement or table accoutrement to warm up the Thanksgiving table? Check out the following:
Flowers by Valli | 2881B Broadway, (212) 283-2140
In addition to bouquets of any kind of flower you can imagine, be sure to check out their autumnal displays that reflect the vibrancy of the changing leaves. 
Franz James Floral Boutique | 2114 Frederick Douglass Blvd., (212) 531-1400
At this local boutique flower shop, the mission is to "raise floral design to an art form."
NiLu | 191 Malcolm X Blvd., (646) 964-4926
Boasting a wide array of home decor, we particularly recommend the selection of locally made candles sure to light up your Thanksgiving table setting. 
Fill Your Cup
Find beverages to accompany any dish at these local purveyors.
Harlem Brewing Company | (844) 588-2337
From an IPA to a stout, if craft beer is your thing, keep an eye out for Harlem Brewing Company at local retailers. 
Harlem Wine Gallery | 2067 Adam Clayton Powell Jr Blvd., (646) 912-9365'
This purveyor of wines carries the largest selection of wines by black winemakers and by black-owned wine companies in the New York City
HH Bespoke Spirits | 245 Lenox Avenue - Ground Floor
You don't want to miss the rum, vodka, and gin produced by Harlem's "first family of fashion."
International Wine and Spirits | 2903 Broadway, (212) 284-1850
Wines and liquors at a variety of price points. 
Pompette Wines | 420 Lenox Avenue, (212) 368-9463
Translating to "tipsy" in French, Pompette is built on the idea of conviviality - enjoying life, great wine and friends.
Vino Fino | 1250-52 Amsterdam Avenue, (212) 202-0388
Looking for someone to help you pair a wine to your turkey day meal? This is your spot.
The Main Event
Now's my chance to remind everyone of the Butterball Turkey Talk-Line, which will answer your turkey questions on cooking turkey throughout the holiday season via phone call or text. And check out this helpful list from Mommy Poppins detailing free Turkey and Thanksgiving giveaways across New York City. 
Casablanca Meat Market | 125 East 110th Street, 212-534-7350
Fresh, quality meats from a friendly source.
Frank's Market | 807 W. 187th Street, 212-795-2929
Frank's Market is offering a holiday dinner special, specifically.
La Granja Live Poultry Corporation | 1355 Amsterdam Avenue, 212-662-6773
Fresh live poultry and good people.
Milano Market | 2892 Broadway, 212-665-9500
Looking for prepared entrees and sides? Milano has you covered. 
Morton Williams Associated Supermarkets | 2941-2949 Broadway, (718) 933-5910
Morton Williams even has a website devoted to turkeys, lamb, and all the Thanksgiving sides. 
Looking for fresh produce? Check out the Columbia Thursday Greenmarket, PS 57 Farmstand, and Inwood Greenmarket. 
And: Uptown Grand Central has a great listing of food markets for all zip codes uptown. 
Top It Off With Dessert
Lee Lee's Bakery | 283 West 118th Street, (917) 493-6633
Handmade rugelach from Mr. Lee!
Levain | 2167 Frederick Douglass Boulevard, 917-464-3789
If you're not into pie, you can get signature Levain cookies or even pumpkin ginger spice cake.
Make My Cake | 2380 Adam Clayton Powell Jr Blvd, (212) 234-2344
There's no better time than Thanksgiving for sweet potato pie. 
Pabade Cafe And Bakery | 135 East 110th Street, 646-982-6772
Global pastries, including pies, baked fresh. 
Settepani | 196 Lenox Ave., (917) 492-4806
Delicious pies and treats, coming right up!
Sprinkle Splash Sweet Shoppe | 1590 Park Avenue, 646-548-6880
A festive, custom, tiered cake might just fit your autumnal festivities. 
Sweet Chef Southern Style Bakery | 122 Hamilton Pl, 212-862-5909
Pies, pies, pies, and more delectable pies to be found here. 
Cooking? Nah! Here's Where You Can Get Thanksgiving Prepared for You
What could be better than a Thanksgiving that significantly reduces the number of dishes you need to clean afterward? Here are spots you can order takeout Thanksgiving from ahead of time. 
Amy Ruth's | 113 West 116th Street, 212-280-8779
Holiday meal platters for takeout or in-house dining. 
BLVD Bistro | 2149 Frederick Douglass Blvd, (212) 678-6200
Catering and seatings are available on Thanksgiving with this prix fixe menu. 
Dinosaur BBQ | 700 W 125th Street, 212-694-1777
Pit-roasted turkey and all the trimmings. 
Melba's | 300 W. 114th Street, 212-864-7777 
Comfort food, need we say more?
Miss Mamie's Spoonbread Too | 366 W 110th Street, 212-865-6744
If you want your Thanksgiving sides to have a southern flair, look no further.
West Side Market | 2840 Broadway, 212-222-3367
Turkey (cooked or uncooked, carved or not) and all the fixings, including your choice of pie.
---
What else should we add to the list? We're all ears: [email protected].