West African Brothers Open Cafe at 125th Street and Park
By
Yolanda K. Jones and Cassandra Nathan
December 18, 2019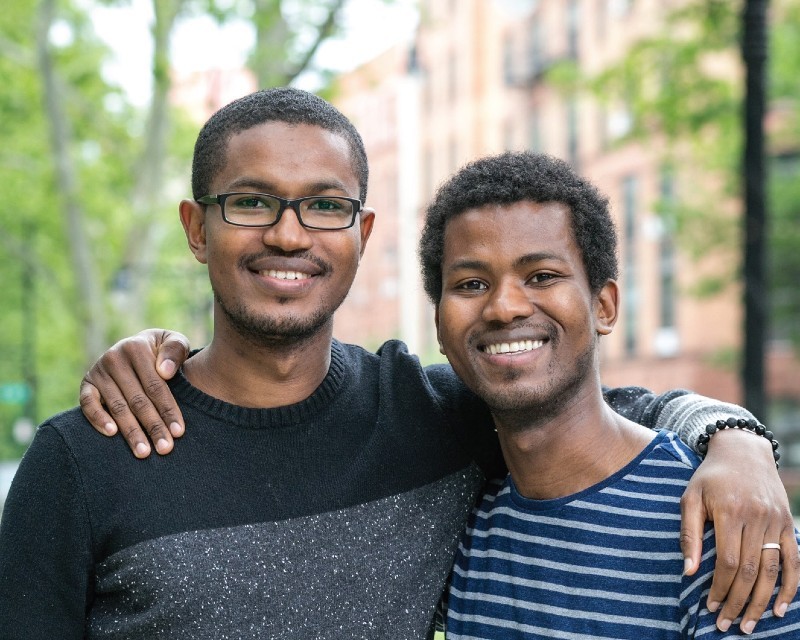 Brothers Mohammed and Rahim Diallo, graduates of the Columbia-Harlem Small Business Development Corporation's (SBDC) Harlem Local Vendors Program (HLVP), recently accomplished a major milestone, opening the Ginjan Café on 125th Street. Their journey began years ago when they emigrated from Guinea to the United States as teenagers. Despite very challenging obstacles in their youth, they went on to earn several higher education degrees and establish careers in insurance and engineering.
As immigrants, they often longed for authentic West African food, and while the cuisine satisfied their nostalgia quests, the drinks were often hit or miss. The brothers noticed a gap in the market that they set to fill: taking African delicacies beyond local restaurants and into broader retail distribution. Ginjan Bros LLC was born, and the effort to create beverages with flavors that would capture the culture, with a standardized taste that was true to the vibrant notes of Africa, was underway.
Shortly after creating their company, the brothers were accepted into the HLVP, which is designed to provide local Harlem vendors guidance and assistance with their businesses and assist in securing supplier partnerships with retail partners, including Whole Foods Market and Columbia Dining. The brothers worked closely with HLVP adviser Glamis Haro, who guided them through their financial projections and business plan. In speaking about the brothers' dedication, Haro said that "the brothers are hardworking, consistent and tenacious." As part of the program, they were given space at Hot Bread Kitchen, an incubator that provides small businesses support and a shared commercial kitchen, where they were able to fine-tune their recipe and bottle their first offering, an all-organic West African ginger beverage sold under the brand name Ginjan. With the product ready to be sold and distributed, the brothers participated in a buyer fair arranged by HLVP and ultimately picked up a contract with Whole Foods Market to distribute their authentic ginger beverage. Haro said that she would love to work with the brothers again.
"The brothers' story is just the kind of journey and success we want for all of our participants. They took their hard work and went from selling door to door to now having a flagship store. We are very proud of them."
In speaking about why it was important to open up the café, Rahim shared that the idea of opening a shop was to "change people's perception of Africa and Africans." He said that people have a certain perception of Africa, one of famine, hunger, war and corruption. The Diallo brothers wanted to create an immersive space for individuals to "change their perspective of Africa in a space with African design, decor, music, food and drinks," Rahim said. Rahim and Mohammed plan to open more cafés in places such as Washington, D.C., California and Georgia.
The flagship Ginjan Café made its home as the first tenant in the long-empty Corn Exchange building at 85 East 125th Street, a place where developers sought to keep the integrity of the building with its red Philadelphia brick, copper moldings and slate roof. The interior of the café is adorned with African-inspired prints, vibrant colors and polished tree stumps. Spicy and sweet notes fill the air from the freshly pressed juices.
The café is conveniently located across the street from the MetroNorth station, blocks away from the Manhattanville campus at Columbia University.