Second Cohort of Local High Schoolers Graduate From Columbia's First Generation Entrepreneurs Program
Twenty students graduated from the Columbia Business School-helmed training program, which partners students with local businesses.
October 30, 2023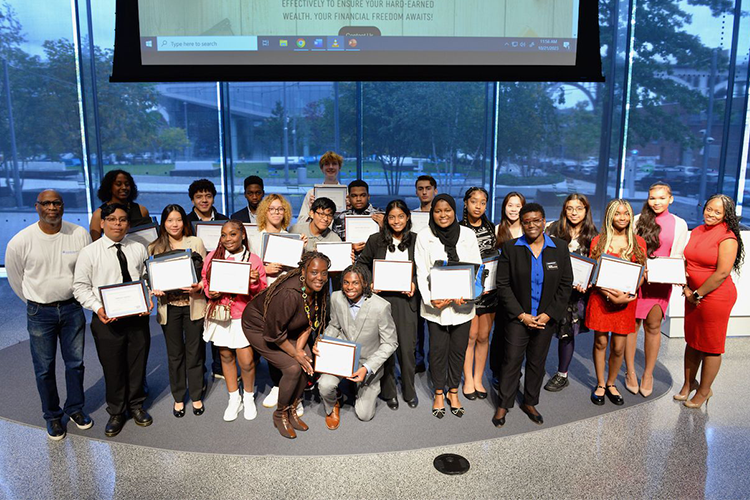 On Saturday, Oct. 21, 20 local high school students were celebrated in a graduation ceremony for the second cohort of the First Generation Entrepreneurs Program at Columbia Business School. 
The initiative, created for students entering their junior or senior year of high school in Harlem, Inwood, Washington Heights, the Upper West Side, and The Bronx, equips youth with knowledge about the ins and outs of bookkeeping and business management. This was the second year of a two-year pilot program sponsored by Congressman Jerrold Nadler and funded by Wells Fargo.
"We can't be what we can't see, so having peers within their networks to lean on for entrepreneurship, opportunities, that will be their support network through life," said Stephanie Barimah (BUS'24), one of the program instructors. "Myself, as an Executive MBA student, I know how important networks are and how opportunities come about just by being in the same room as other great minds. When Columbia puts these great minds together, the world is a better place because opportunities come alive."
The graduation celebration was attended by leaders within the Columbia University Small Business Development Center and Columbia's Business School community, local entrepreneurs, and the families of students. Jesse Gale, Vice Dean of Communications and Public Affairs at Columbia Business School, was the master of ceremonies, Pat Lilly, Senior Program Manager, gave remarks, and New York State Senator Cordell Cleare was the marquee speaker. 
This year's five-week program, held from July 10 to Aug. 11, included a Bookkeeping Clinic, where students worked with local businesses including Chasin Juice, Chef Marshall LLC, El Nuevo Amanacer Restaurant, Luzmack.com, Martin Brothers Wines, Morrisania Band Project, Ozemi Beauty, Rosie's Transportation, Tres Leches Cafe, and Tsion Cafe. 
"Now I have the confidence even to just go to a business owner and help with their stuff," said Xavier, one of this year's program graduates. "I would never have dreamt I could help a business owner. This starts to build your goals, this starts to build your characteristics as you become an adult. This can shape the best version of you that you want to be."