Remembering Rev. Calvin Butts III, Beloved Spiritual and Community Leader in Harlem
Calvin Butts III (UTS'75), who passed away on Oct. 28, 2022, is remembered by community members and Columbia.
October 31, 2022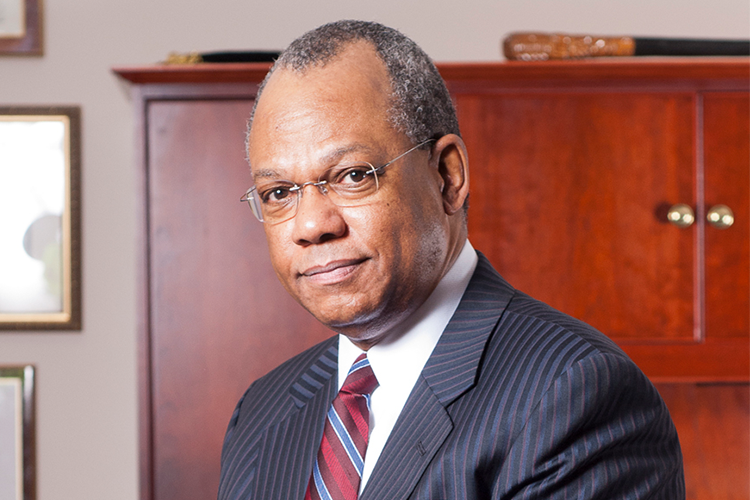 An in-depth profile of Butts in Sunday's The New York Times recognized his importance to both the Harlem community, where he directed more than $1 billion into local residential and commercial projects through the Abyssinian Development Corporation, as well as his political heft in New York City. He was also a forceful critic of racism and police brutality throughout his life. 
In 2014, Butts received the Unitas Distinguished Alumni Award from Union Theological Seminary, which bears witness to the faith and perseverance of living Union alumni/ae who exemplify the Seminary's academic breadth, its diversity, and inclusiveness, and the range of vocations its graduates follow.
Columbia University joins its neighbors in Harlem in offering its condolences to Butts' friends, family, and loved ones. Messages honoring Butts' legacy have been shared by numerous organizations and leaders. A few can be found below.
You can share your reflections on Rev. Butts' legacy with Abyssinian Baptist Church. A prayer vigil, viewing, and homegoing celebration for Rev. Butts will be held at the church throughout the week of Oct. 31 and information on those specific events can be found here. 
It is with profound sadness, we announce the passing of our beloved pastor, Reverend Dr. Calvin O. Butts, lll, who peacefully transitioned in the early morning of October 28, 2022. The Butts Family & entire Abyssinian Baptist Church membership solicit your prayers. pic.twitter.com/fBzJBoUe3v

— Abyssinian Baptist (@AbyssinianBC) October 28, 2022
I am deeply saddened by the loss of my very dear brother the great Rev. Dr. Calvin O. Butts lll - my deep friend of over 40 years! My love and respect for him are forever! God bless his precious wife Patricia and his family! #RevCalvinButts pic.twitter.com/oyb8BIouxr

— Cornel West (@CornelWest) October 28, 2022
Deeply saddened to hear of the passing of Rev. Calvin Butts of Abyssinian Baptist Church. He was a pillar of the Harlem community, mentor to scores of young people and a proud Morehouse man. This is a huge loss and the communities he served all have my profoundest sympathies.

— jelani cobb (@jelani9) October 28, 2022
I am saddened to hear of death of Rev. Dr. Calvin Butts III, pastor of Harlem's historic Abyssinian Baptist Church. He knew me since I was a youth activist running streets of New York trying to change world. He was also a college prez and community developer. A huge loss for NYC. pic.twitter.com/3EpS3uaLGw

— Kevin Powell (@kevin_powell) October 28, 2022
NYC has lost a giant.

The family of Rev. Dr. Calvin O. Butts, III, has announced that he passed away overnight, succumbing to a prolonged illness.

In countless ways his leadership shaped Harlem, NYC, and far beyond. Deepest condolences to his family and loving community. pic.twitter.com/hNo8AORU8e

— Mark D. Levine (@MarkLevineNYC) October 28, 2022