Queer Harlem Renaissance App is a Digital Time Capsule that Celebrates Uptown's Unsung Past
The app's co-creators delved into how augmented reality plays a crucial role in preserving Harlem history.
October 31, 2023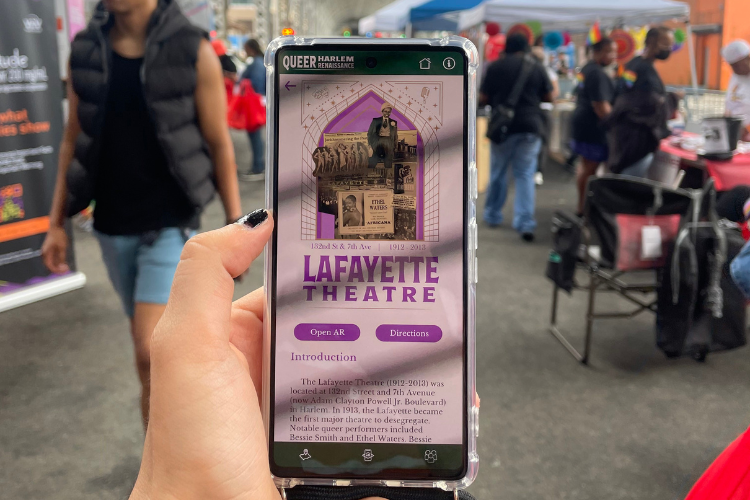 The sidewalks of Harlem harbor bygone histories that are often hidden in plain sight. When strolling past the residential building that now stands at 146 W. 133 St., many would be surprised to discover that in a past life, the structure was the epicenter of queer culture and creativity during the Harlem Renaissance.
Constructed in 1928, the former speakeasy—dubbed The Clam House—was the backdrop of electric performances delivered by LGBTQ+ icons like blues singer and pianist Gladys Bentley who proudly embraced her sexuality. From her signature top hat and tuxedo to her boundary-breaking lyrics, Bentley infused pride into her artistry.
The Queer Harlem Renaissance app is bringing these narratives to the forefront through the use of augmented reality. The platform encompasses an immersive and interactive map where users can virtually experience the Harlem spaces, histories, and memories of the queer community during the 1920s.
Columbia Neighbors spoke with the app's co-creators, Columbia alumna Abriannah Aiken (GSAPP'22) and UX consultant and XR designer Terry P. Vallery Jr., to talk about the role technology plays in preserving Harlem's history, the cultural contributions of Uptown's LGBTQ+ icons, and their walking tour series.
If you could describe the essence of the Harlem Renaissance in one word, what would it be and why?
Abriannah: I would say queer. There's a quote from historian Henry Louis Gates Jr. that reads the Harlem Renaissance was "surely as gay as it was Black, not that it was exclusively either of these." That's the crux of the entire Queer Harlem Renaissance project. As we were learning about the Harlem Renaissance and the spaces that no longer exist, but were important to the era, we realized there was this amazing sphere of subculture embedded within the Renaissance and neighborhood's history. There were so many queer artists, performers, and radical thinkers and writers during that time period. 
Terry: The word that comes to mind is liberation. It's what Harlem represented during that era. Coming right off of the heels of the Great Depression, after Reconstruction post-Civil War, and after slavery, Harlem represented a utopia in the aftermath of some of the darkest periods of American history. The Harlem Renaissance was a liberating celebration of the African American mind. Personally, learning these stories and being able to be immersed in this history was a celebration in itself.
What is the origin story behind the Queer Harlem Renaissance app? What inspired you to create it?
Abriannah: In 2021, at Columbia's Graduate School of Architecture, Planning, and Preservation (GSAPP), I served as one of the co-chairs of QSAPP; the school's queer student group. We collectively decided to pursue writing a book titled Disappearing Queer Spaces, following conversations with the NYC LGBT Historic Sites Project. They gave us an Excel spreadsheet of buildings that no longer existed, most of which were important to the queer community during the Harlem Renaissance. We started to realize just because a building doesn't exist anymore doesn't mean the history and the memories that happened in that space aren't as important.
We went to Harlem Pride, and we shared the book with the community. I've always wanted to take this project further and see how I could make it even more accessible, interactive, and immersive. I wanted people to go beyond reading about these spaces and be able to visualize them. The firm that I work at, DLR Group, provided me with a personal development grant to pursue the project further and create an augmented reality phone application. I was very honored and excited to amplify these stories further with the help of my firm.
Terry: This concept of accessibility and using augmented reality to tell hidden stories was something I had personally started dabbling with and was really excited about. I found out about Abri's project through a friend, and I immediately wanted to be part of it and contribute. The app is affordable and it's like a magic window. Every time I use it, it's like a magical world of the past emerges.
"We started to realize just because a building doesn't exist anymore doesn't mean the history and the memories that happened in that space aren't as important."
What are your thoughts on the importance of spreading awareness about the contributions of LGBTQ+ icons and the role digital platforms like Queer Harlem Renaissance play in preserving this significant part of Uptown history?
Terry: This project was deeply personal for me. As an African American queer man who grew up in the South, Black history was often taught with limitations. The history of my ancestors and my chosen queer family were actively withheld. Through working on this project, I discovered so many captivating stories. It's like being given a book with your entire family history. It's an overwhelming, moving, and eye-opening experience to take in the work of our LGBTQ+ ancestors and realize we've been doing this for over a century, we're not alone, and we're part of this rich tapestry that keeps growing. I'm happy to be part of sharing these stories with other queer people who are also trying to discover their roots and see where they fit into history.
Abriannah: It's all about bringing awareness to this amazing history that had been erased and lost to time. I think there was an intentional queer erasure, and that's why we don't remember these spaces. For example, if you look at the Savoy Ballroom the plaque that is there today—which is the only space that has any indication of what used to stand there—there's no mention of the amazing drag balls that used to happen there.
In general, there's been an erasure of the history and storytelling of marginalized communities. There's so much hatred and violence against the queer community today with all of the trans bans going on, and it's really important to amplify voices as much as we can and make sure we're creating visibility around this history and community to show how beautiful it was and is. This project has been an amazing experience for me because I identify as queer. I get to learn about Harlem's queer history. All of these efforts are urgent and important. We don't want to lose any other queer spaces.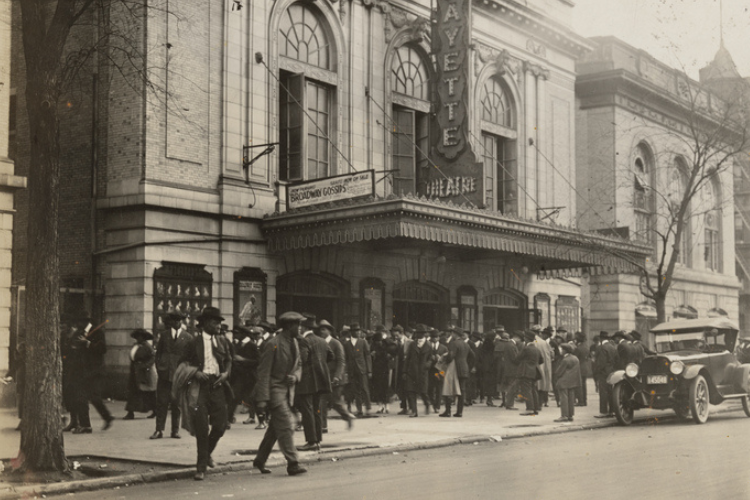 You're hosting a series of walking tours in conjunction with the app. Can you talk about the importance of adding an in-person element to the experience?
Abriannah: Reading through the pages of a textbook is a completely different experience than standing in Harlem and seeing an amazing piece of history up close. Our goal was to use the app as a way to enhance that storytelling and have people be immersed. We've had people along the tour—some of whom are Harlemites—share that they've walked past these places every day and had no idea of the history behind them or what used to exist there. Now they can visualize these spaces through augmented reality. It's really about those moments of impact. That's been the best part of this entire project for me.
"Through the tours, seeing the buildings in context and also feeling the electricity of the neighborhood has been special."
Terry: Through the tours, seeing the buildings in context and also feeling the electricity of the neighborhood has been special. It's one thing to look at the app on your phone, but when you're actually in the neighborhood you're able to contextualize it and feel the energy. All of a sudden your imagination expands beyond the interface of your device, and you can imagine people walking down the street during that era, the music coming out of apartment windows, and these icons living life and celebrating this community. I highly recommend the walking tours.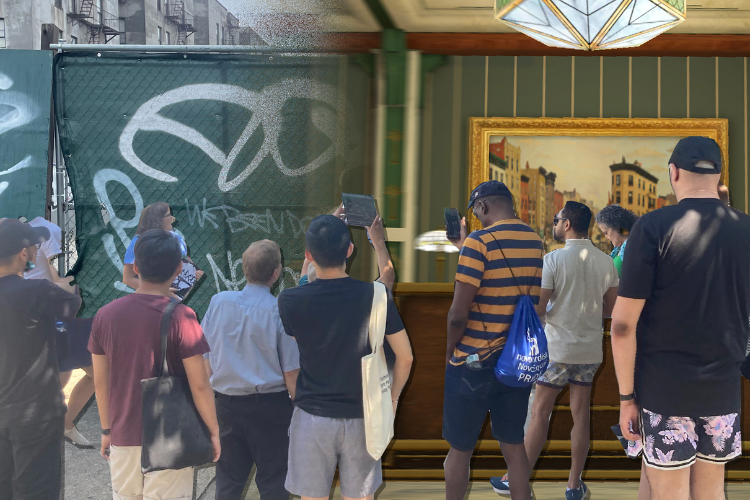 What do you want users to walk away with after experiencing the app and the walking tour?
Terry: I want users to walk away hungry for more information. The app is just a little taste of this community. I want people to seek out where they fit in in New York City, see what they can uncover, and hopefully walk around Harlem and their neighborhood with this newfound appreciation for this invisible history. One day, we will be history; make your mark, let yourself be known, and also celebrate those people who came before you. You can learn a lot from the people who inhabited your community not too long ago.
Abriannah: The app is accessible globally, so you don't have to be in Harlem to use it. I hope people are tapping into their networks and making sure this history is shared. I love the last line from the Disappearing Queer Spaces book which is "sustain and celebrate your queer presents of today and protect it from becoming a disappearing queer space of tomorrow."
Communities like Harlem are being gentrified, and a lot of these queer histories and spaces are being demolished. What can we do today that will help us preserve these buildings or at least the memories inside of them?
Abriannah: Hopefully, we can do more walking trails. We've discussed launching a website. Most importantly, we want to tell more forgotten stories through the platform. It's just the beginning of figuring out how to use architecture and digital storytelling to share all of these marginalized histories that otherwise would be lost to time.
Terry: Augmented reality is something that is going to stay with me forever. I will always be finding lost architectural spaces to recreate and restore using this technology. I'm excited about the ripple effect that Queer Harlem Renaissance will start. People are excited about the stories they are seeing and what can be done.
---
Download the Queer Harlem Rennaissance app on Google Play or Apple and register for the next walking tour happening on Nov. 9, 2023.