Get the Scoop on Three Upper Manhattan Ice Cream Shops You Should Try
We've rounded up a list of sweet escapes that are part of Harlem's ice cream renaissance ahead of National Ice Cream Day.
July 11, 2022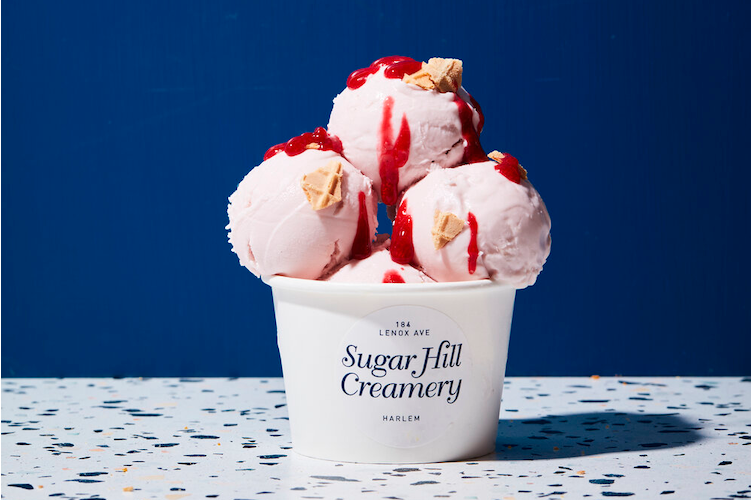 Along Harlem's bustling 125th Street corridor are fragments of bygone businesses etched in the community's culinary history books. Among them is Thomforde's Ice Cream Parlor. Founded in 1903 and nestled along the neighborhood's central thoroughfare, the eatery—where patrons indulged in banana splits, homemade ice cream sodas, and chocolate frostees for less than 75 cents—evolved into a Harlem mainstay. Thomforde's shuttered in 1983 after an 80-year run, however, there's been a resurgence of entrepreneurs in Upper Manhattan who are putting their own unique twist on the centuries-old treat.
Whether it's an homage to a storied family recipe that has traveled through generations, a sweet nod to local luminaries and cultural landmarks, or a nostalgic nosh inspired by 80s pop culture, innovation is swirled into every scoop. Ahead of National Ice Cream Day, on July 17, we've rounded up a short list of sweet escapes that are part of Harlem's ice cream renaissance.
Sugar Hill Creamery
3629 Broadway and 184 Lenox Avenue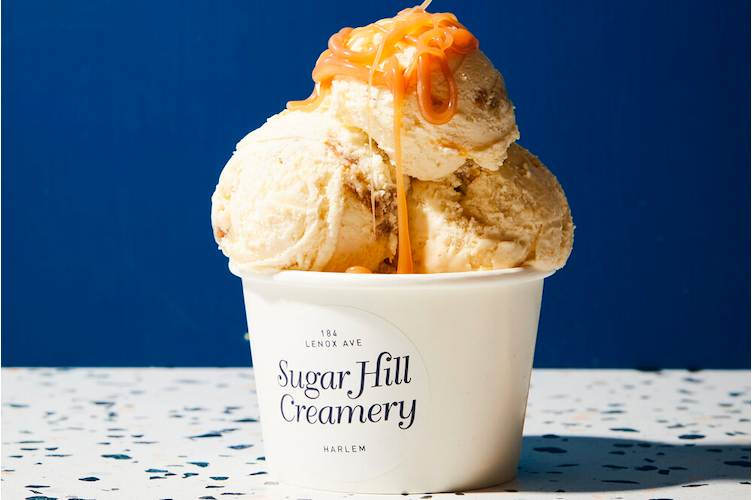 Rooted in community, Sugar Hill Creamery is a bespoke ice cream parlor known for cultivating chilled treats that celebrate individuals and places interwoven in the tapestry of Harlem culture. Its founders, Petrushka Bazin Larsen and Nick Larsen, also credit their Caribbean and Midwestern roots as the inspiration behind their ice cream creations. The shop serves handmade, small-batch ice cream and non-dairy frozen desserts. Sugar Hill Creamery's menu is outfitted with an array of seasonal and classic flavors including the "Rucker Park," a moniker derived from NYC's legendary streetball playground, and the nutty ice cream flavor "Neneh Cherry," influenced by the artistry of the Scandinavian musician.
The shop often collaborates with locals to develop flavorful desserts that embody the essence of who they are; a tangible representation of uptown flavor. Sugar Hill Creamery was ranked one of the 41 best ice cream shops in America. Visit Sugar Hill Creamery's Mount Morris Park location at 184 Lenox Avenue or its Hamilton Heights shop at 3629 Broadway.
Avrilililly's Creamery
1610 Amsterdam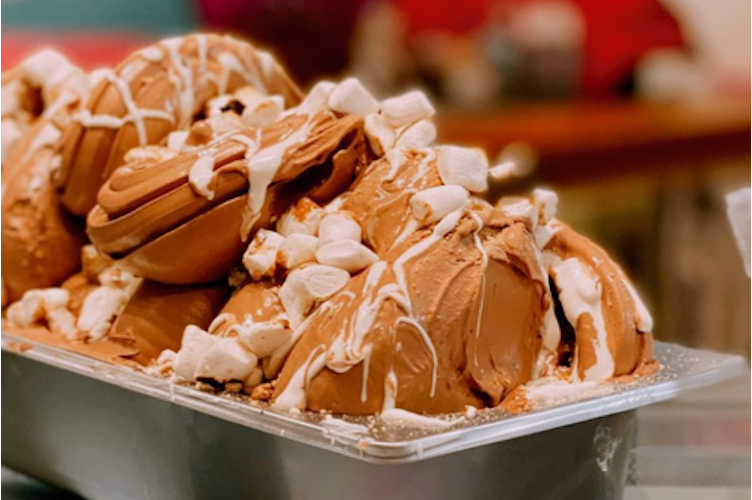 Located in the heart of Hamilton Heights, Avrilililly's Creamery is a small-batch artisanal gelateria that offers a whimsical twist on the Italian frozen dessert. The inspiration behind the creamery lies in the travels of its founder Avril Lekic—who co-owns the eatery with her husband Esad—who discovered her love for gelato while studying abroad in Bologna, Italy. Avrilililly's Creamery merges global flair with a mom-and-pop aura. Outfit your gelato, made fresh daily, with ice cream cones adorned with marshmallows and sprinkles or indulge in their chocolate chip cookie gelato sandwich.
The creamery also doubles as a bakery that serves specialty cookies, cupcakes and cakes. The Instagram-worthy visual vibrancy of their treats is translated through their flavors which are suitable for any palette. The Lekics strive to use their business as a vessel to uplift and empower the local community by extending discounts to members of Harlem-based nonprofits like The Brotherhood Sister Sol, as well as first responders, students, and teachers. They also donate gelato to youth empowerment organizations and provide complimentary feminine products for those in need. Swing by the creamery—located at 1610 Amsterdam Avenue—for your gelato fix this summer season and enjoy a taste of Italy in Harlem.
Trudy's Ice Cream
975 Columbus Ave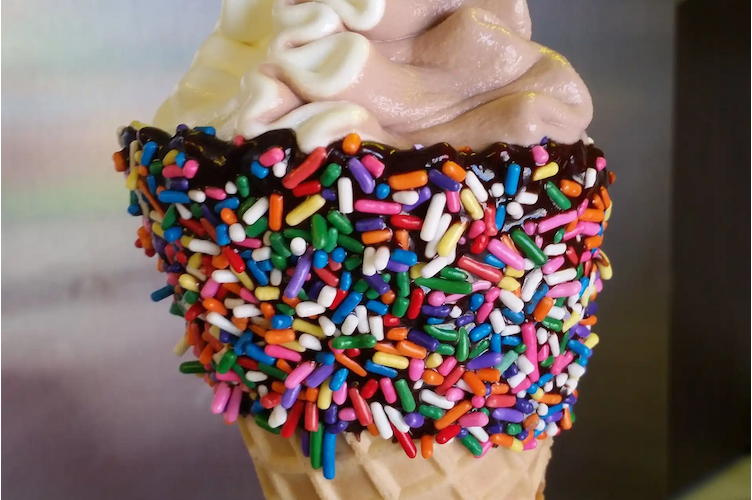 Trudy's Ice Cream is one of the latest additions to Upper Manhattan's collective of sweet spots. The parlor—created by actor-turned-restauranteur Steve Hlay—is an ode to the legacy of his family's ice cream business founded in 1949 in West Virginia. On the menu at the shop, which is named for Hlay's mother, the family's southern roots are infused in every scoop, with flavors like Bacon Maple Walnut and Coffee Toffee Crunch. The shop also boasts cinnamon, and coconut-flavored waffle cones and an assemblage of other delectable treats including frozen bananas, sundaes, splits, and shakes.
From the scoops to the signage, Trudy's—one of Columbia's retail tenants—delivers vintage flavor with a contemporary spin. Hlay is also behind Crepes on Columbus; a community staple just a few doors down. Visit Trudy's Ice Cream at 975 Columbus Ave.